Pig prices have continued to fall across most of the EU over the past month, reflecting insufficient demand, both on domestic and export markets, in the face of higher pig meat production so far this year.
Over the four weeks ending August 22, the EU average reference price decreased by over €6 to just under €145/100kg. This is the lowest level recorded since March. EU pig prices are typically quite stable over the summer months, so the recent falls mean the latest average is now 11% lower than the 5-year average for the time of year, AHDB analyst Bethan Wilkins said.
Prices have fallen in most key producers (except in Poland), but the biggest falls have been in Germany and Spain. The average price in both these nations has dropped by over 10% over the past 4 weeks.
"Spain is particularly affected by any weakening in export demand to China, while Germany continues to struggle with limited third country export opportunities due to ongoing African Swine Fever outbreaks within its borders," Ms Wilkins said.
The latest EU pig prices can be found here.
The continuing fall in EU pig prices has widened the discount relative to UK prices. Over the past three weeks the UK reference price has hovered about 36p/kg above the EU average.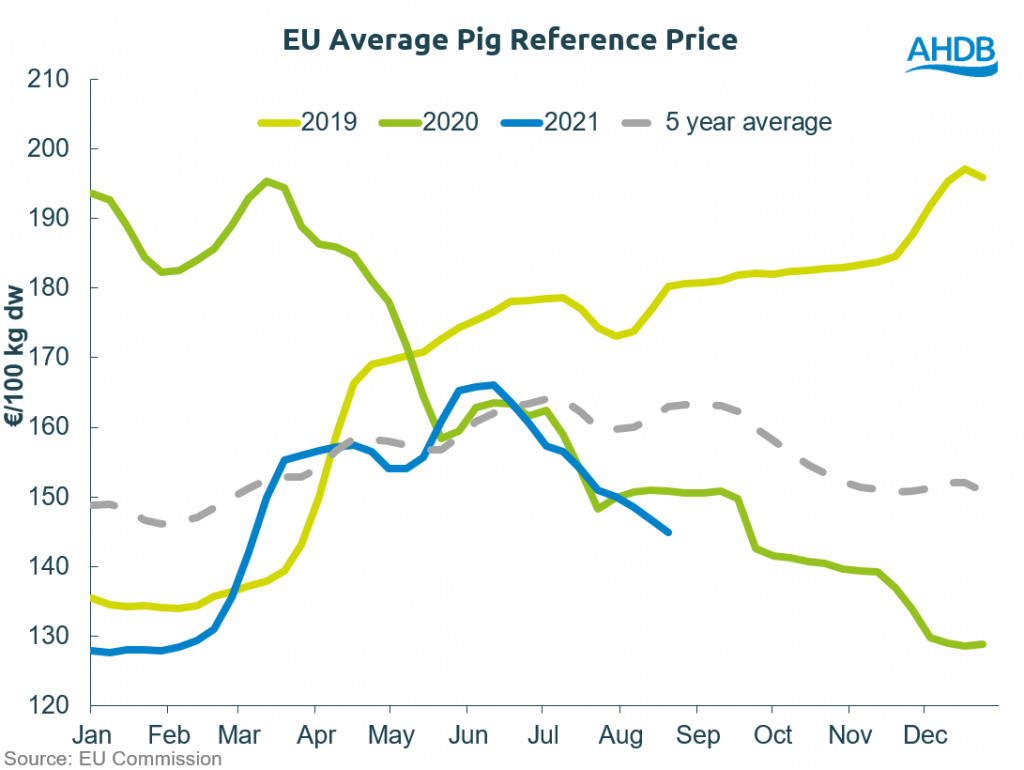 "This is a large difference, with the average over the past five years only around 13p/kg. We would expect this to exert downward pressure on the UK price," Ms Wilkins added.
EU production
EU pig meat production is higher in the year so far, and much of the increase has been exported, despite challenges with ASF in Germany.
"EU domestic demand appears to be just about holding its own, but there are cracks appearing in demand for that exported product. It may take lower prices to help build demand again in the EU, and that's what the market is now presenting," said AHDB lead analyst Duncan Wyatt.
For the first five months of the year, EU pork production totalled 9.9 million tonnes, which was 5% more than the same period a year ago. Clean pig slaughter was 4% higher year-on-year at 103.87 million head, indicating that carcase weights have been heavier.
The May figure for EU pig meat exports (including offal) was the lowest monthly total for the year so far, at 488,700 t. However, this was still 6% up on the same month last year and 21% higher than May 2019.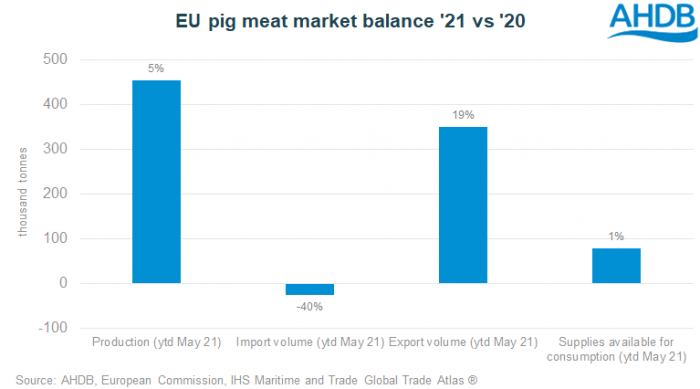 Exports for the year are 19% higher (cwe) and include more exports to China. The US has not had the same experience – its volumes to that market have already fallen this year. Reports suggest that the Chinese market is also now becoming more difficult for EU exporters, Mr Wyatt added.
"The EU market will again go through a transition period as foodservice outlets continue to reopen and out of home demand gains traction," Mr Wyatt added.
"The global pork market is set to become more competitive this year and next as China reduces its import demand, and that pork finds another home elsewhere. Feed prices remain high, and financial viability in the production sector is extremely challenged."