The EU exported 190,300 tonnes of pork in March, 8% less than last year, according to the latest data from Eurostat. Average prices also fell by 7%, and so the fall in the value of exports was down by 15% on year earlier levels, at €432 million.
Shipments to China fell by 11,000 tonnes compared to year earlier levels, leaving year to date volumes down by 27,000 tonnes.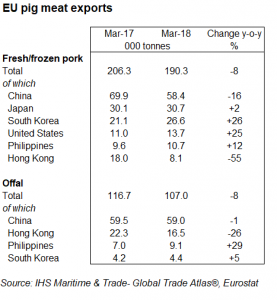 Duncan Wyatt, lead analyst at AHDB Pork, said: "This comes at a time when production across the continent is increasing, and in the past China has proven to be a valuable outlet for excess supply. However, pork prices in China are themselves challenged at the moment as domestic demand struggles to keep pace with a rapid expansion in production.
"The ability of the Chinese market to absorb European volumes is likely to be limited form some time to come. Exports to Hong Kong were also 10,000 tonnes less in March comparted with 2017."
Elsewhere in Asia the picture continued to be more positive. EU exports to Japan, the Philippines and South Korea in particular all gained ground. Against a background of increasing production in its own market, demand from the US was strong. Volumes increased 25% (+3,000 tonnes) on year earlier levels to 13,700 tonnes.
Offal exports were also lower in March 2018 compared with the previous year. At 107,000 tonnes, volumes were 8% less than year earlier levels, and again, lower average unit prices reduced the value of the trade by 22% at €126m. The pattern of trade echoed that of the pork market, with China and Hong Kong driving the change. Although in percentage terms the increase in trade to the Philippines was impressive, modest volumes limited its impact overall.
Meanwhile, in February, EU pig slaughtering increased 1% on the year to 20.5 million head, according to data from Eurostat. This showed a slight slowdown in slaughterings compared to January, bringing the total for the first two months of the year to 43.9 million head, 4% (1.9m head) higher than the same period last year.
Consistently heavier average carcass weights compared with a year ago raised EU pig meat production in February by 3%, to 1.9m tonnes. For the first two months of 2018, EU production was 7% (252,000 tonnes) higher than the same period last year, at 4.1m tonnes.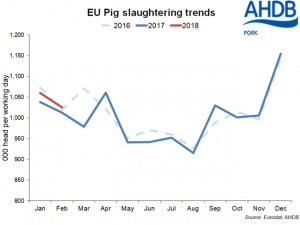 Felicity Rusk, a trainne analys at AHDB Pork, said: "The increase in EU pig slaughtering was supported by increases in throughputs from Spain, the second largest producer of pig meat in the EU. Spain reported a 4% increase in slaughterings year-on-year, as it actively grows both its white pig herd and exports.
"Denmark and the UK also reported increased throughputs on the year by 5% (72,000 head) and 12% (95,000 thousand head) respectively. These increases were more than enough to compensate for the decline in slaughterings recorded in Germany, the EU's largest pig meat producer. Slaughterings there fell by 3% (157,000 head) on the year in February, a development which contributed to the rally in European farm gate prices seen at the time."
However, a strong start to the year means that in the first two months of the year in total, German slaughterings were still 2% ahead (190,000 head) than at the same time in 2017. The European price has since softened suggesting the dip in German throughputs was temporary, and the market as a whole is likely to be again in a position of slight oversupply.