EU exports of pig meat (including offal) totalled 305,300 tonnes in June. While this is still up by 10% on the year, it is considerably less than the annual growth seen in April and May.
EU pig meat exports in June were:
Fresh/frozen pork up 11% year-on-year, at 182,400 tonnes;
Offal up9% year-on-year, at 104,300 tonnes; and
Processed pig products up1% year-on-year, to 18,500 tonnes.
Shipments of pig meat to China remained consistently high between March and May. However, export volumes dropped off in June compared to the previous three months, falling to 144,000 tonnes. This reflected industry reports at the time, suggesting a slowdown in Chinese demand.
Anticipation of a future rise in Chinese pork prices, and shortage of supply, supported the initial boost to imports. However, prices did not rise as soon as some were expecting and so trade slowed down.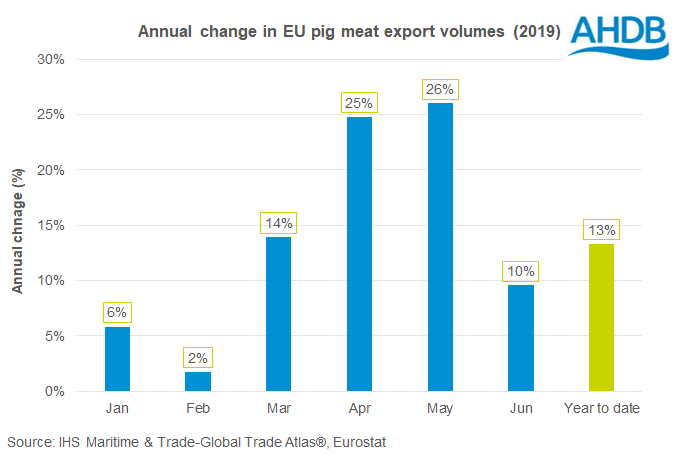 The slower pace of exports in June may also be a reflection of relatively tight pig meat supplies in the EU.On top of this, export prices increased noticeably in June (+14% year-on-year) which may have negatively affected demand from some buyers.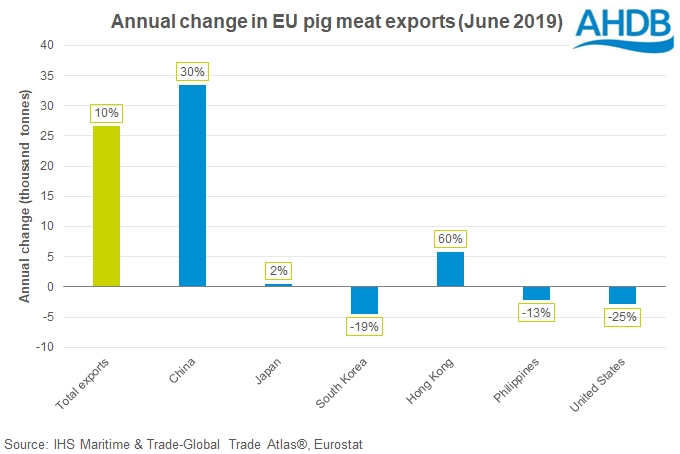 AHDB analyst Felicity Rusk said: "With Chinese pork prices now on a sharp upwards trajectory, it is likely that import demand will strengthen again, especially with the period of peak demand approaching.
"Overall, EU pig meat exports this year so far are just shy of two million tonnes, 13% more than the same period last year with a value of €4.2 billion (+17%)."