This week's Pig Marketing Summary from Thames Valley Cambac reported that domestic demand, or lack of it, was being cited as the main driver as to why only modest progress has been made in price increases.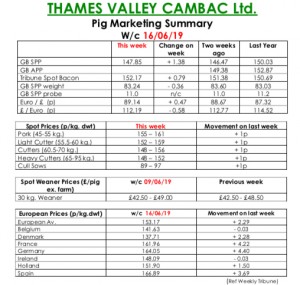 Many if not most processors are telling us that there seems to be no uplift in retail demand, and given we haven't really seen a summer as yet this could possibly ring true.
However, that said supplies remained on the tight side due mainly to poorer physical performance perpetuated through an increase in health challenges through the winter which is reducing slaughter numbers currently available.
Most contract contributions generally increased but only marginally by 1p giving a flavour of where the market is currently. Average weights eased slightly again, but are still tracking ahead of last year.
The fresh meat markets continued progressing mainly due to the competiveness of home-grown product against more expensive imports. The cull sow market edged up a little but given the German market coming off 2-euro cents, this was still positive. Price quotes in sterling enhanced by a stronger Euro that ended the week up 0.47p at 89.14p.
The Weaner Marketing Summary, for week commencing June 9, reported that Supply continued to improve with 7kgs weaners generally more plentiful. Fatteners struggled, however, to accommodate any batches over and above contracted numbers. The prices announced by the AHDB saw no quote issued for a 30kg store pig and the weighted average for a 7kg weaner rise by 99p to £37.24p.