This week's Pig Marketing Summary from Thames Valley Cambac suggested that demand is not what would be expected at this time of year especially with the weather the UK is enjoying.
According to the Summary, exports to China seem to have slowed and with the weaker pig price in Europe the differential between the UK and the EU is again not sustainable. An additional issue processors are also challenged with is the sudden shortage of CO2 gas Europe wide.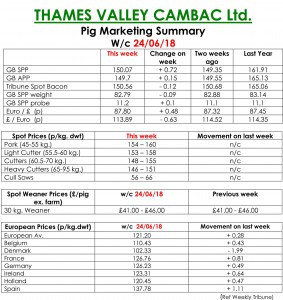 The Summary highlighted that the two major suppliers across Europe represent 80% of the supply and while one of these factories was on routine shut down for maintenance, the other has broken down. CO2 is required in all of the major processing plants for stunning and it's used within the refrigeration process not only in the pig industry but across the chicken processing facilities as well.
Most plants have sufficient supplies to get through until the end of next week but without further deliveries this could be a serious issue leading to plant shut downs or at best 50% run rates if electrical stunning is still available in some plants as a fall back. The sow market also remained relatively stable albeit some interruption to kill plans was felt as a consequence of the CO2 issue.
The Weaner Marketing Summary reported that the market for both weaners and stores is currently very thin, what trade there is, is on a mainly stand on basis. However, with finishers just forecasting a few more slaughter pigs to come out in the next few weeks this will potentially increase the demand for weaners and stores but with feed so expensive it is unlikely prices for weaners or stores will increase and unless we see some rest bite in RM's prices will have to ease on replacement pigs.