Two outdoor pig producers explained how pig sector had coped during the COVID-19 outbreak in Sunday night's Countryfile 'Mary Berry Special'.
The programme featured elements of farming that have influenced the chef ad TV presenter's life and career, including her fondness pigs, revealing she had kept pigs on the past and had sometimes taken the runt of the litter to bed with her.
You can view the feature HERE (from approximately 35 minutes).
Presenter Adam Henson visited Simon Watchorn's large outdoor breeding unit in Norfolk and a small organic farm in Gloucestershire to see how they have coped in the COVID-19 pandemic and to gauge their views on the future, including Brexit.
Mr Watchorn, who has 600 'content' outdoor sows, explained how his unit operated, including showcasing his feeding technique.
Commenting on the impact of COVID-19, Mr Watchorn said the cull sow market had 'really struggled' as a result of the disruption to plants and the market in the EU. "I have come down from £1.25/kg to below 50p. The is a big hit," he said.
But he also highlighted how, overnight, retail demand in the domestic market went 'through the roof, like Christmas without the three-month lead in period'. He praised the 'extraordinary response' of the entire supply chain to the sudden shift in demand.
On Brexit, he said the pig industry will cope 'as long as we can trade', with frictionless trade on equal terms to our EU competitors.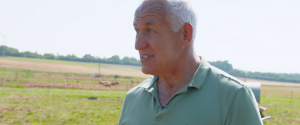 Mr Henson also visited John Newman's organic farm, in Gloucestershire, with eight breeding sows, supplying a farm shop, butchery and cafe. The feature highlighted some of the differences with organic farming, including eight-week weaning.
Mr Newman said the shop was 'overwhelmed' with the number of people turning up at the start of the COVID-19 outbreak, but felt it wasn't safe, so they were forced to shut the shop and café. He said, while Brexit will have a big impact on the farming side of the things, the 'direct connection' with the organic farm shop will be an opportunity for his business.