Following a reported 20% drop in Chinese sow numbers as African Swine Fever took hold, pig prices in both Europe and the United States started to climb sharply in March. However, the market reaction has slowed in recent weeks.
Chinese demand for imported pork, both real and anticipated, has increased in the past two months. Indeed, the latestEU export figures show an escalation in shipments. At the same time, reports suggest slaughter pig numbers have been tightening in Europe, lending further support to prices.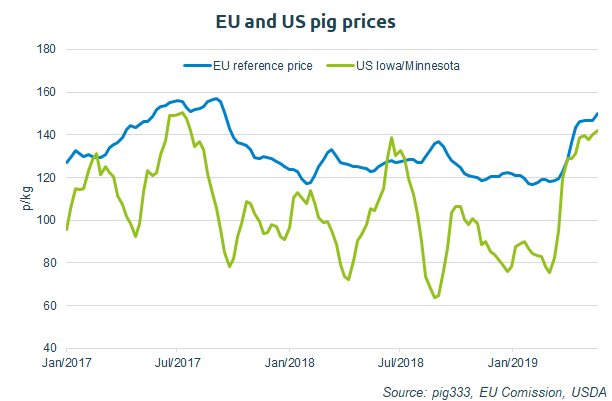 The situation is less straightforward in the US. While the USDA has recorded substantial weekly pork sales to China, these volumes have not yet been reflected inactual shipments recorded by US customs. There had been optimism that US-China trade negotiations would result in the removal of the additional 50% tariff on US pork exports to China. This may have helped boost forward sales, and support farmgate prices.
However, some of the optimism around US-China trade relations has abated in recent weeks. The Chinese cancelled some orders of US pork in early May, and futures prices have cooled. With no end to the China-US trade war in sight, the outlook for this market has become more cautious.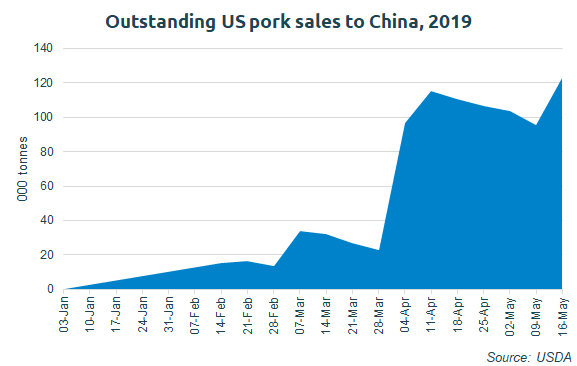 AHDB analyst Bethan Wilkins said: "Market reports from continental Europe also suggest Chinese traders are now not accepting further price rises. The Chinese government has insisted all frozen pork stocks must be tested for ASF by July 1. This may be temporarily dampening import demand, as stored pork is pushed onto the market. With this in mind, the small supply of slaughter pigs in the EU has become increasingly important in pushing EU pig prices higher.
"Despite these bearish factors, it remains the case that Chinese pork production will fall substantially this year. In the second half of the year, import demand should start to strengthen again as pork stocks are depleted. This offers the potential for further price support."
Meanwhile, the latest EU trade figures report a 15% year-on-year increase in pork exports in March to 218,900 tonnes, a considerable improvement from the 6% increase in the previous month.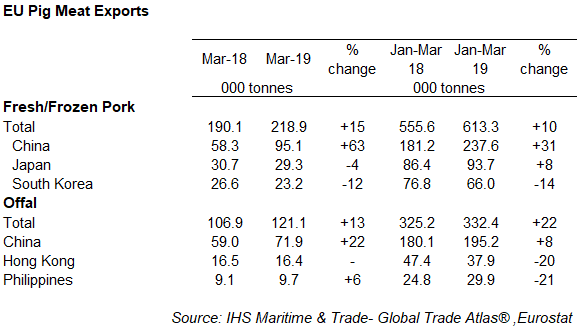 Ms Wilkins added: "The ASF-related surge in Chinese import demand has boosted the EU export market, despite shipments falling to most other key destinations. China's share of the EU pork export market reached 43%, with volumes up 63% (+36,700 tonnes).
However, exports to the US dropped back significantly (-38%, 5,200 tonnes), which is perhaps not surprising given expanding production there. South Korea also took less pork than last year (-12%, 3,300 tonnes).
Pig offal exports also strengthened by 13% in March, reaching 121,100 tonnes. Similar to the pork market, the Chinese market required additional supplies (+22%, 12,900 tonnes).