Record production costs resulted in pig producers losing, on average, £26/pig during the first quarter of 2021. 
While pig prices have risen during the current quarter, continuing high costs, underpinned by soaring feed ingredient prices, are ensuring margins remain 'a way off profitability', according to AHDB.
GB pig production costs rose by 10p/kg in the first quarter of 2021, to 174p/kg, the highest level since the series began in 2009.
Feed costs were also the highest on record at 117p/kg. This figure is based on monthly spot compound prices, meaning some businesses may have been less exposed if they entered into risk management strategies with their feed purchases.
However, in addition, there has also been some worsening in feed conversion ratio for both the rearing and finishing stage increased in the 12-months to March 2021, AHDB analyst Bethan Wilkins said.
Falling pig prices, with the APP declining by 13p/kg from the last quarter of 2020 to average 145p/kg in Q1, allied with the high costs, meant that producers lost on average 29p/kg (or £26/head) during the first quarter of the year.
This compared with an average loss of £6/head in the last quarter of 2020, which followed five consecutive profitable quarters. The last time comparable margins were experienced was early 2011.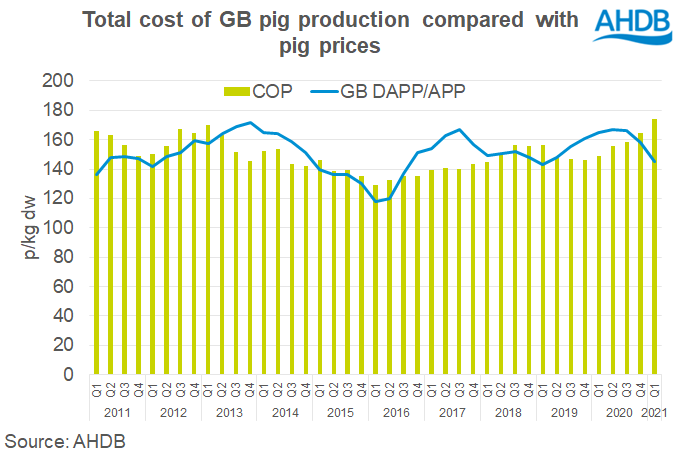 Ms Wilkins stressed that these margins are estimated on a full cost basis and actual financial performance can vary significantly between producers.
However, The rise in feed prices over the past year has been a 'considerable challenge for pig profitability'. Wheat prices remain at around the £200/tonne mark and soya at around the £350/t mark, alongside high oilseed and straw prices.
The good news is that prices have consistently risen for the past 10 weeks, with the APP now just short of 154p/kg.  The average APP for the second quarter to date is already 4p above the first quarter of 2021.
However, Ms Wilkins said there was no immediate prospects of costs coming down.
"Although UK wheat supply is forecasted to be larger for this year's crop, the UK is set to remain a net importer. A tight global supply and demand balance for oilseeds is expected to remain, so there aren't definite signs that feed prices will fall significantly any time soon. With feed now at 67% of production costs, it is certainly possible that costs will remain relatively high even if productivity can improve," she said.
"If the upward price trend continues for the remaining weeks of Q2, pig producer margins may well be a little better for this period overall, though still a way off profitability."