Firm prices "from start to finish" was the order of the day during the dispersal auction of outdoor pig equipment, held at Firsfield Farm, Coney Weston, near Bury St Edmunds, on October 31, according to auctioneer Peter Crichton.
Despite over 1,150 lots coming under the hammer, the sale was completed within 2¾ hours, reflecting the demand created by an impressive turnout of buyers from across the country.
"Over 100 Harvey 20ft x 10ft jumbo arcs readily sold with values according to quality and age, with a top price of £600 and the majority selling for between £200 and £500," reported Mr Crichton, "with an overall average of £323 each being achieved. An unused 32ft x 20ft John Harvey pig tent was sold after strong competition for £2,150.
"A selection of 318 Harvey farrowing arcs in varying condition saw a wide range of prices, with more modern ones topping the sale at up to £300 each and those nearing the end of their working life sold at £30. In the main, the older arcs were between £45 and £110 and the newer ones from £120 upwards, with an overall average of £126.51.
"A total of 330 fenders were sold separately from the farrowing arcs and met a generally strong demand despite, in some cases, being in well used condition. Prices ranged from £18 each to £45 per fender to average £37.50 per lot.
"A total of 270 wallows were also easily sold according to their condition with prices, in the main, ranging from £22 to £42, smaller items included cube drinkers selling at £42 per set of five, electric fencing stakes from £28 – £32 per 25, groups of 8ft Harvey hurdles achieved strong prices with the majority selling for between £170 and £400 for sets of between 12 – 20 hurdles, but with older, smaller ones at more of a discount.
"A selection of five Peter Allen Rotafeeders saw a top price of £5,500 paid for an almost new 3t model, with a 6t double hopper Rotafeeder selling at £3,600. Two 4t editions each made £2,050 and an older 3t example £1,800.
"A modern 16ft Hydralift trailer realised £4,250 and 20t bulk bins made up to £1,350.
"Tractors and farm machinery included a 2013 Claas Scorpion 7030 telehandler with 2,600 hours recorded selling at £31,000, a similar 2012 model with 4,000 hours made £29,500, muck grabs to fit telehandlers sold for between £400 and £880, telehandler 500kg front buckets made £300 and a 1,000kg Tiptoe model £540.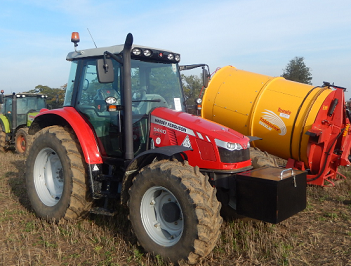 "An extremely tidy and well maintained 2012 MF5440 4WD tractor found a new owner at £22,000 and a Teagle big bale 2012 straw mill realised £5,400 (pictured above).
"A selection of surplus pig equipment from Harvey Engineering was sold as included lots and met plenty of demand with individual farrowing feeders selling to £120 each, combination pairs of wet and dry farrowing feeders to £210, long troughs (in kit form) made £60 each and fully assembled long troughs sold between £130 and £190 in the main, with 1t wiggle feeders selling at £260 each and nipple drinker bars to £110 per set."
This was Mr Crichton's final auction sale for 2105, a year which has included a total of 12 auctions of over 9,000 lots held in many parts of East Anglia and the West Country.
"It looks as though we already have a busy 2016 in prospect," he added, "with provisional bookings for two farm machinery auctions, one outdoor pig equipment sale and our regular Wetherden and Hall Farm, Fornham Collective Auctions."
Headline image shows several views from the busy auction.