EU exports of fresh, chilled and frozen pigmeat increased by 68% in April 2016, year-on-year, according to the latest monthly statistical report from the European Commission (EC).
"Pigmeat is one of EU's agri-food flagship products, accounting for around 5% of total agri-food value," stated the report, noting that it is also one of the products most affected by the Russian sanitary ban, which started in February 2014, and the broader Russian embargo, which followed in August 2014.
"Prior to the ban, in 2013, Russia was the main destination of EU pigmeat exports, taking one quarter of total EU pigmeat exported to third countries. By 2015, pigmeat exports to Russia had disappeared completely. Nevertheless, EU global exports of pigmeat have increased substantially, particularly in 2016."
While covering all foods on a monthly basis, the EC report always includes a special focus report which, for April 2016, features pigmeat.
"Over the past two years, EU pigmeat which was formerly exported to Russia has been reoriented mainly towards certain Asian countries such as China, Philippines and Hong Kong, which were already growing destinations before 2014," it continued, adding that the EU's trade balance for pigmeat is largely positive, with annual exports worth nearly €6 billion (£4.65bn) in recent years.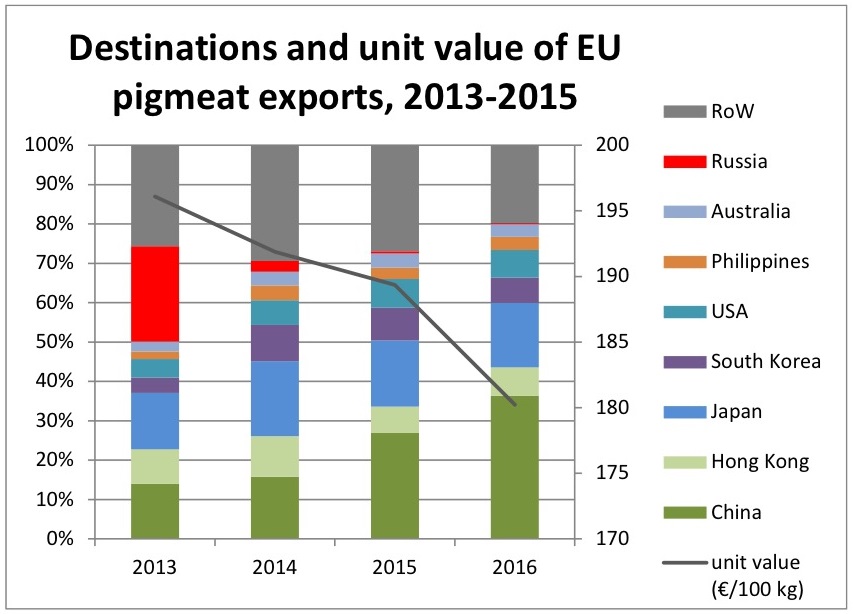 The EC does acknowledge, however, that its pigmeat export success story is based on rising sales volumes rather than value.
"Pigmeat from the EU has been very competitive in the last couple of years with prices lower or comparable to those of its main competitors, the US and Brazil," it is stated, with the report concluding that this therefore translates into lower returns for the EU pigmeat sector.