As new data shows the UK pig sector has moved within touching distance of its 2020 antibiotic targets, ambitious new four-year targets have been announced, taking a holistic approach to the problem. ALISTAIR DRIVER reports
The UK pig sector was once considered the 'bad boy' of the industry when it came to its use of medicines. And not entirely without justification, as habitual routine use has been, in the past, all-too-common, resulting in unnecessarily high overall industry usage.
It is a very different story today – the sector is now considered to be a pioneer in recording and reducing antibiotic use, within UK farming and on the global stage. But there is still more that can be done.
All of this was evident when the latest antibiotic usage figures, showing a continuation of the downward trend, were published alongside the next set of four-year antibiotic targets, including a further 30% reduction for the pig sector.
Usage figures
Data from AHDB's eMB-Pigs database showed average industry usage of 104mg/kg Population Correction Unit (PCU) for the first six months of 2020, meaning the sector is still on track to meet its 2020 target of 99mg/kg PCU.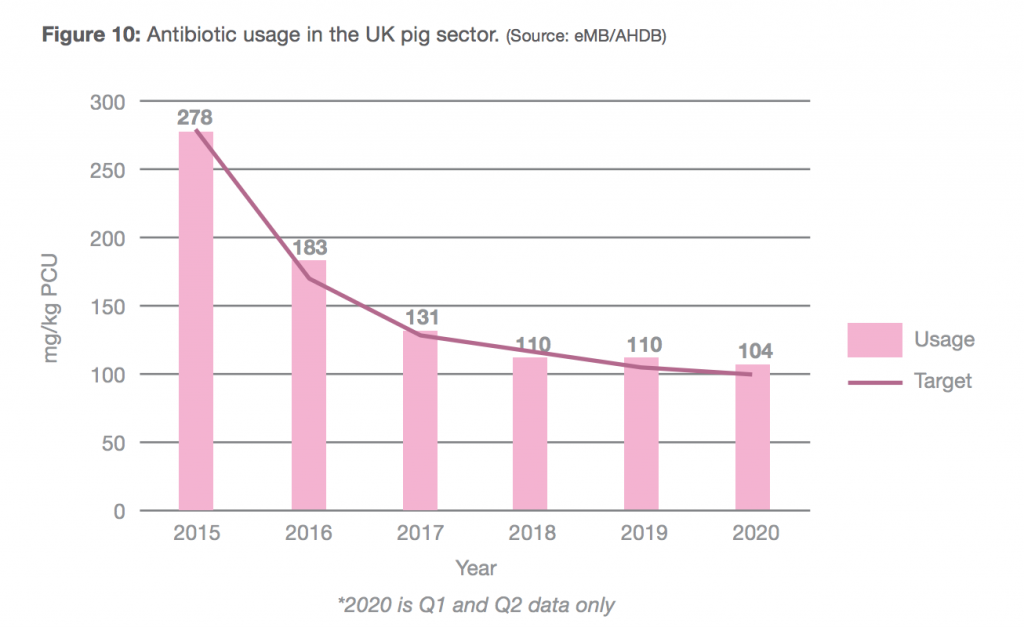 This represents a welcome return to the downward trend after the 2019 figure held at 110mg/kg PCU. Analysis of the 2019 data showed this was due to increased use of tiamulin and lincosamides to treat last year's swine dysentery spike, highlighting, if anything, the continuing need for responsible use of antibiotics where necessary to protect pig health and welfare.
The latest figure means industry usage has fallen by 63% from the 2015 baseline figure of 278mg/kg PCU.
Just as importantly, the use of Highest Priority Critically Important Antibiotics (HP-CIA) continues to fall and is now at very low levels. Average use of HP-CIAs in 2019 was just 0.04mg/kg PCU, compared with a 2015 baseline of 1mg/kg PCU, with fluoroquinolones accounting for three-quarters of the 2019 figure and colistin usage at negligible levels (0.002 mg/PCU).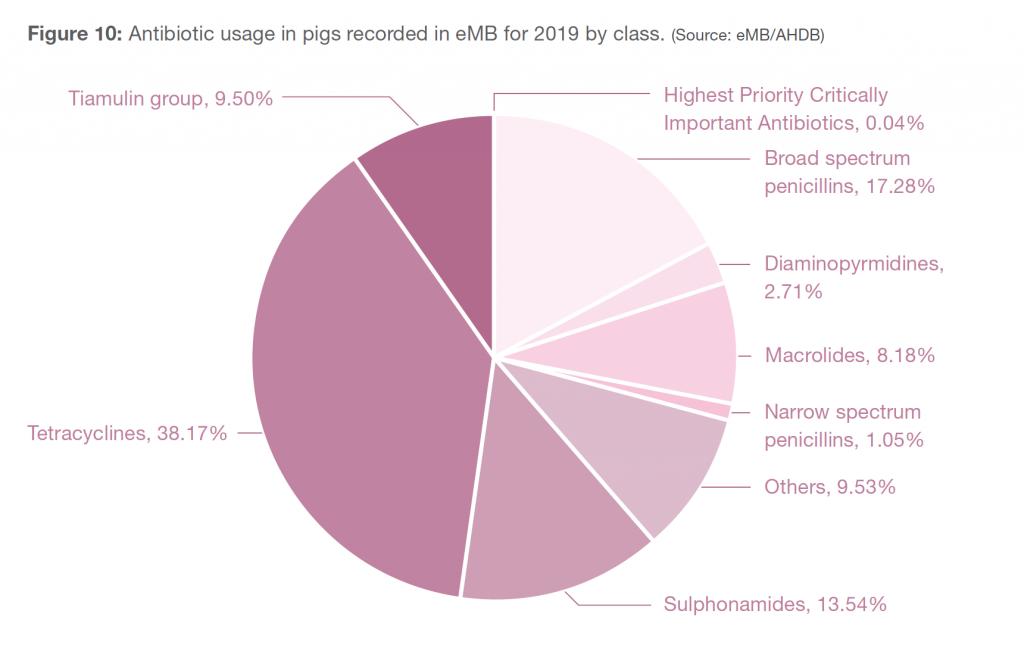 AHDB acting head of animal health & welfare Mandy Nevel said it was 'extremely encouraging' to see the fall in antibiotic usage, while NPA senior policy adviser Rebecca Veale said the figure 'demonstrates the sustained efforts from producers, vets and wider industry in terms of responsible and reduced antibiotic usage'.
New targets
Huge strides have been made by many large pig businesses and smaller independent farms in conjunction with their vets, feed companies and other parts of the supply chain, to improve the overall health of their herds and reduce reliance on medication.
Lots of businesses are now reporting low usage levels, in some cases in, or near, single figures.
This means, by definition, that there are still some relatively high users out there with, for whatever reasons, usage well above the industry average.
This is one of the focal points of the new set of targets for pigs announced in a report in mid-November by the RUMA-led Targets Task Force II (TTF II), which covered 10 UK livestock, poultry and fish sectors.
The TTF II comprises producer and veterinary experts from each sector. For pigs, these were NPA chairman Richard Lister and Pig Veterinary Society past-president Richard Pearson, while the Pig Health and Welfare Council's AMU sub-group also played a big part in developing the targets.
The headline target is the further 30% reduction in overall usage by 2024, the final figure to be confirmed when the full data for 2020 is in. But, if for example, the 2020 figure remains at 104mg/PCU, the target for 2024 would be 73mg/PCU – just over a quarter of the 2015 figure.
There is also a target to keep HP-CIA levels at equal to or below 2020 baselines, once these are confirmed, by 2024.
But the big difference between this set of targets and the initial TTF targets announced in 2017 is the equal emphasis on some new non-numerical targets.
High users: The most eye-catching of these is a target to identify and support reductions among those deemed to be Persistent High Users (PHUs), with the aim of reducing the number of producers using 'significantly higher levels' than the national average.
PHUs will be defined as the top 5% of antibiotic users in each of the main categories of production recorded by eMB, except boar studs and gilt units, calculated using the last four quarters' rolling data from eMB-Pigs. This definition will be kept under review.
The top 10% of users in each category will be advised that they are at risk of being categorised as a PHU within the eMB system.
The report stresses the need to support those identified as PHUs – there will be a mix of carrot and stick.
A programme will be implemented to support and encourage PHUs to undertake efforts to reduce antibiotic usage – the PHWC AMU sub-group has developed a template and guidance for an Antibiotic Reduction Plan for producers.
Support may also be available in future under the Pig Health and Welfare Pathway, while the forthcoming consultation on Red Tractor standards will propose a new requirement for assured farms identified as PHUs to implement a reduction plan.
In-water administration: The targets have been set against the backdrop of new EU regulation that will ban group prophylactic use of antibiotics and impose restrictions on in-feed use.
The new targets therefore encourage a move from in-feed to in-water administration of antibiotics, to deliver 'more accurate targeting and thus more responsible use', something already practiced by a number of businesses. It is again hoped grant funding will be available under the pathway to help producers make the switch.
The report stresses that, ultimately, the mode of medicine administration is dependent on the vet's clinical decision at the time, while any mass move to in-water medication is complicated by wet-fed systems, which, operated by about 30% of producers, will limit scope for uptake.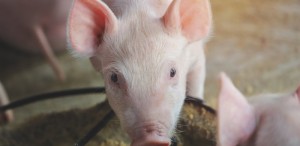 Weaner plan: The 2022 ban on use of therapeutic zinc oxide in piglet diets is also factored in, with a target to develop a best-practice plan for weaner management in the face of the pending ban.
Industry stakeholders, including AHDB, vets and producers, will formulate a plan, but the report notes that, given how the risk factors for post-weaning diarrhoea vary significantly from farm to farm, a unit-specific review of weaner management will be required, with coordinated support.
"The overall aim is to prevent the removal of zinc oxide becoming a significant driver for increased antibiotic use in the pig sector," the report states.
It is hoped Government grants will be available to support producers.
Training: There will be a review of current training opportunities with a view to developing new resources and encouraging increased uptake of training in responsible antibiotic use and understanding of antimicrobial resistance (AMR) across the pig sector.
Red Tractor's standards consultation will include a proposed new standard requiring at least one person responsible for overseeing medicine use on the unit to undertake training in the responsible use of medicines.
eMB data submission: There will be a target to maintain or increase the submission of accurate antibiotic usage data via eMB-Pigs, in line with deadlines, for all pig producers, including non-assured units.
Monitoring impacts: The effect of reduced antibiotic use on pig health and welfare will be monitored by encouraging use of reliable data sources, such as the AHDB Pig Health Scheme, partly to quickly identify any negative consequences from antibiotic reduction.
"The aspiration to reduce antibiotic use must not be at the ultimate expense of pig health and welfare," the report states.
There will also be continued monitoring of AMR relevant to the pig sector.
The wider industry picture
The Targets Task Force II reports on progress towards 2020 targets for 10 UK livestock, poultry and fish sectors, setting out new four-year targets for each.
While progress is being made in all sectors, with the poultrymeat sector, for example, achieving significant reductions, the report highlights how the pig sector is leading the way in recording and reducing antibiotic use.
For example, while the eMB-Pigs database now covers 95% of slaughter pigs, data recording is lacking elsewhere, notably in the cattle and sheep sectors.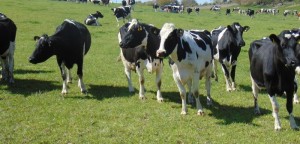 A new AHDB Medicine Hub for ruminants is only now being developed, with the aim of capturing data by 2024 from 95% of dairy herds, 50% of calf rearing units and just 10% of total beef and dairy herds.
The report is clear that where comprehensive recording is in place, for example, in pigs, greater progress is made towards targets.
The other sectors' approaches to overall usage include:
Beef and sheep – no reduction goals.
Dairy – 15% reduction.
Calf-rearing – 25% reduction.
Laying hens – maintain birds treated below 1%.
Broiler chickens – maintain usage below 25mg/PCU.
Gamebirds – 40% reduction.
Salmon – maximum 5mg/kg annually.
This is alongside non-numerical targets, including, for ruminants, a focus on disease prevention, herd/flock health planning and a new network of 'Farm Vet Champions'.