The Indonesian Ministry of Agriculture has finally confirmed that African swine fever (ASF) is present in the country.
An outbreak was confirmed in North Sumatra on December 12. The disease has been suspected in the country since late September, with increased pig mortality reported in the province and some others.
In November, the FAO reported that more than 9,000 pigs had died in North Sumatra, with dead pigs found in the Kilangan River, prompting fears of further spread.
In its latest update, the FAO said it was liaising with Indonesia's Directorate General of Livestock and Animal Health Services, which has requested advice on containing and controlling the virus. The FAO team is drafting recommendations on control, appropriate to conditions in Indonesia.
The picture in Indonesia is complicated by the fact the classical swine fever, also known as cholera, is also present in the country. According to reports, more than 27,000 pigs have been killed by the disease.
Indonesia now becomes the eleventh country in the region to become affected by ASF, after the virus was confirmed in China in August 2018. The virus has also been confirmed in Vietnam, Cambodia, Mongolia, the Philippines, Myanmar, Timor Leste, Hong Kong, North and South Korea and Laos.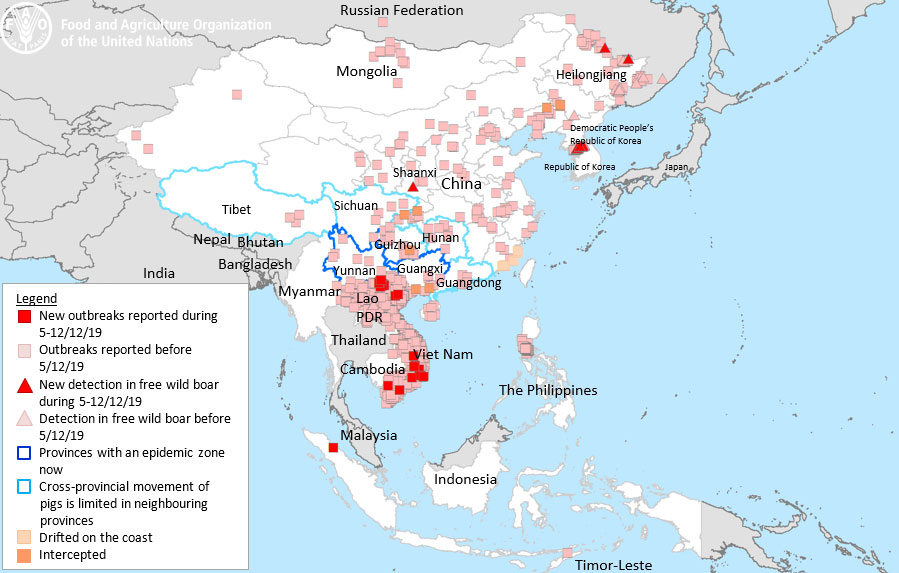 The news has put Australia on even higher alert. Agriculture Minister Bridget McKenzie said the news was concerning, especially as Indonesia, and Bali in particular, was a popular tourist destination for Australian tourists, according to a report in Australian publication, The Land.
"There are about 188 flights a week from Indonesia direct into Sydney, Melbourne, Brisbane, Cairns, Perth, Adelaide and Darwin," she said.
"Bali is a favourite holiday destination for Australians and it's also a region with a lot of pigs.
"It can be spread by people going into an affected area and taking the virus out on their shoes, or through pigs eating scraps that contain affected product.
The Australian Government announced last week an extra 130 more biosecurity officers would be placed at Australian airports at a cost of $66.6 million to do half a million more passenger screenings and deploy an extra six detector dogs.
Biosecurity officers have seized a staggering 32 tonnes of pork from air travelers in less than a year. Tests show about 50% of the seized product contained the ASF virus.