This week's Pig Marketing Summary, from Thames Valley Cambac, reported a slight increase in the numbers available when compared to the previous six weeks albeit not back to full numbers by any stretch of the imagination.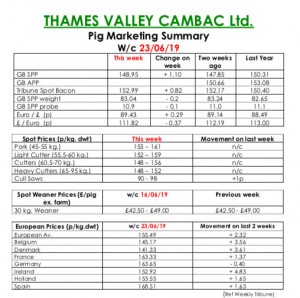 Last summer's infertility effect and the health issues that challenged the winter growing period appears to have run its course. The SPP continued its upward momentum adding a further 1.10p making it 148.95p. Processor input prices rose again seeing most weekly inputs increasing by another 1p with four weekly input prices rising 5p -7p.
However, domestic demand is still lethargic at best although it is well reported that exports are up and continuing to increase many processors are tracking at lower kill levels than would be the norm re-enforcing the fact that overall demand is not as buoyant as we the supply base would like.
The fresh meet marked was a stand on week, with a few extra numbers sold where opportunity arose. We need the summer to arrive and consumers to dust the BBQ's off, we then could see some increase in retail demand which is the one large missing piece of the jigsaw leading to what would be a return to our price point against the Europeans. Sow prices up 1p, with Germany reporting a two euro cent rise.
The Weaner Marketing Summary, for week commencing June 23, reported that weaners and stores continued in a similar vain to the last few weeks with very few surplus to contract pigs available but demand from finishers is thin. The AHDB quote a 0.53p drop in 7kg values but a clear stand on for the 30kg store market.