A new #BiteIntoBritish take on a staple Christmas tune was delivered in Yorkshire today by a committed ensemble of Save GB Bacon campaigners.
The singers delivered their version of 'We wish you a merry Christmas', with new lyrics from Anna Longthorp and musical direction from Hugh Crabtree at the Hayton festive Tractor event in East Yorkshire.
We wish you'd #biteintobritish
Please give us a follow and retweet, tag a friend in your reply for your chance to WIN A £50 hamper full of #british 🇬🇧 #highwelfare #lowfoodmiles produce
Enjoy the vocals 🎤#backbritishfarming pic.twitter.com/dCKoyBHI31

— BiteintoBritish (@BiteintoBritish) December 23, 2021
The performance, delivered following an afternoon of rehearsals at the Longthorp's farm, was a harmonious attempt to generate publicity and engage with consumers about the pig and wider farming industry and why they should be supporting it.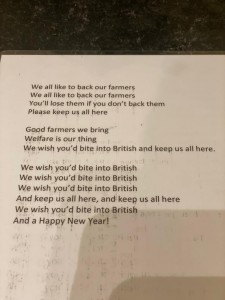 One of the organisers, Vicky Morgan, said: "This was great fun – and thank you to everyone who took part and particularly Hugh for his musical direction.
"This event and others that follow are all about a positive promotion of the #BiteIntoBritish message. We are doing to tell our story and to encourage consumers to Bite Into British and, in turn, get the entire supply chain fully back British farmers."
The Morgan family have around 3,000 extra pigs on their units, and there is little sign of the situation easing.
"The situation is incredibly tough on pig farms across the country, and it is going to be a difficult start to 2021. So, it is really important that the industry gets behind this message. If we don't act, and if things don't change soon, there won't be a British pig industry for much longer."