Nuffield scholar Angela Kirkwood has posed some key important questions for the British pig sector. Chloe Ryan reports
The UK pig industry needs to develop a coherent British brand with clear values if it is to thrive and maximise the opportunities of a growing world population.
That is the conclusion of Nuffield scholar and Yorkshire pig farmer Angela Kirkwood in her report Growing the British pig industry.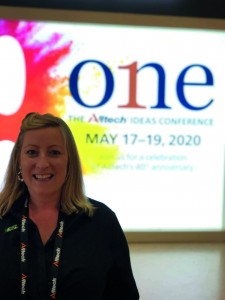 Ms Kirkwood said that, unlike other countries, Britain has no clear strategy of how to grow its pig sector, or what the British pig industry represents.
"What's the aim of UK pig farming? No one could really give me a clear answer," she told Pig World.
Ms Kirkwood's Yorkshire farm has 950 breeding sows on a farrow-to-finish basis, and she supplies supermarkets as well as running a butcher's shop on the farm.
In the course of her research she travelled to China, the Philippines, Singapore, Japan, the US, Germany, Denmark, Netherlands and Ireland to highlight best practices and offer recommendations to encourage sustainable growth in the British pig industry.
CLEAR MISSION
Other countries, she said, have a clear mission for their pig sectors. China, for example, although currently battling with African swine fever ASF), wants to make its pig industry the most modern and environmentally friendly in the world.
Ms Kirkwood highlighted China's Belt & Road initiative, a five-year plan to connect it to the world, which will enable rail travel between the UK to China. "Phase two of the plan is to improve China's key industries, and agriculture is highlighted as one. They are looking to massively commercialise their pig industry and invest in really modern infrastructure," Ms Kirkwood said.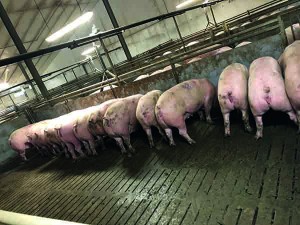 Backyard production in China is a huge risk to animal and human health, as has been shown through the devastating spread of ASF. But Ms Kirkwood believes the outbreak will actually help China implement its plan to modernise the industry. "ASF will speed them up," she said. "There will be a clear out and they can start again with good genetics and modern infrastructure."
When Ms Kirkwood visited the Philippines, there was an equally clear vision, which all farmers were able to communicate. Its pig industry was focused on three pillars: producing affordable food, being resilient to climate change, and generating a good income for farmers. "When I visited trade shows, the Philippines' trade stands clearly communicated these messages," she said.
FOCUS ON EFFICIENCY
Ms Kirkwood also visited North Carolina, in the US, where the clear vision was efficiency. Teething, tailing and castration of piglets was widespread and seen as necessary for pig welfare and eating quality.
Pig toys and enrichment were not evident. All of the commercial pigs were housed indoors and the use of gestation (sow) stalls is the norm. The justification is to allow for individual sow care and feeding, although the practice has, of course, long been banned in the UK and more recently in the EU. Indeed, the US pig production model is markedly different from the systems we have in place this side of the Atlantic.
Nonetheless, it is clear, Ms Kirkwood argued, that the UK industry needs to learn from such coherent strategies – and make the most of what the UK does best in order to grow at home and abroad.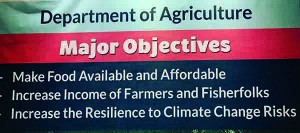 PRICE VOLATILITY
Her report discusses the huge challenges faced by the British pig sector in recent decades, with price volatility one of the main issues.
"During my 18-month study, pig prices plummeted, hitting a low in February 2019 at 135.08p/kg. Costs of production rocketed to an estimated £156p/kg with feed representing 62% of the cost of production. Net margins for many pig producers were running at a loss for at least a four-month period. In comparison, a peak price of 164.75p/kg was experienced in July 2017, highlighting the income uncertainty faced by the industry," Ms Kirkwood said.
Financial pressures have included high feed costs, production inefficiencies, health challenges and increasing labour costs.
So what next for the British pig industry? The challenge is to produce pork at a competitive price relative to other meats and other pork producing countries – but also giving consideration to economic and environmental sustainability, climate change resilience and good animal husbandry. Future UK domestic agricultural policy must not stifle the industry, she said.
SELF-SUFFICIENCY
The UK is currently 52% self-sufficient in pig meat, with, unquestionably, ample home and export market growth potential. Ms Kirkwood believes the UK industry should look at the things that make it special. "We've got two production systems, indoor and outdoor, which is completely unique. Nowhere else in the world has commercial outdoor production," she said.
While 60% of the UK breeding herd is housed in specialist indoor facilities, the remaining 40% live outdoors on sandy, free draining soil. This sets the UK in good stead to develop a national USP.
"If we were to have a strategy, it would give the whole industry something to drive towards," Ms Kirkwood said.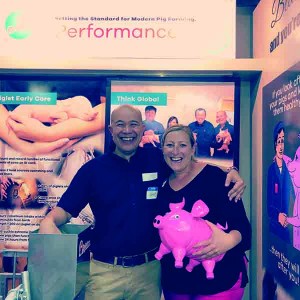 BRAND BRITAIN
Ms Kirkwood believes the UK pig industry needs to develop a brand based on serving all parts of the market, producing premium outdoor pork but also a value offering for the home market. It needs to increase its resilience to extreme weather and also do more to show its environmental credentials.
But UK environmental legislation regulation must deliver what it sets out to achieve, rather than becoming a restrictive burden, she added.
As the brand concept evolves, a simple approach focusing on economically beneficial improvements will be required – including producers and the supply chain engaging to measure performance through farm benchmarking; open discussion and working groups to improve performance; and financial support to improve farms' environmental impact, while offering a future global competitive advantage.
EXPORT OPPORTUNITIES
Pork is the world's most consumed meat protein, with, typically, over one billion pigs farmed globally each year, producing over 110 million tonnes of meat.
Given the tools to promote investment in infrastructure and environmental improvement, the pork industry can become one of the major flagship industries for 'Brand Britain', Ms Kirkwood said.
In 2018, the UK exported a record 347,000 tonnes of pigmeat (including offal), about 57% of which went to the EU. The surge in Chinese demand has helped push UK exports even higher in 2019 – overall volumes were up another 10% in the first nine months of the year. Pork exports to China have nearly doubled and China will continue to present big opportunities.
One note of caution, however, is that the UK is currently heavily dependent on sow meat exported to Germany, a trade that could be threatened by new post-Brexit tariffs. If this can't continue after Brexit, new sow trading opportunities will need to be found in countries outside the EU.
OPTIMISTIC OUTLOOK
Before researching the report, Mr Kirkwood felt there was 'lots of negativity against producers', but in the course of her research she has rediscovered her enthusiasm for the British pig industry.
"My travels have left me so positive. Globally, pork is the most consumed protein and its growth potential is massive. Around 48% of the pork eaten in the UK is imported.
"Now we need to get the industry in a position to maximise the opportunity. Even if in the future, consumption per person decreases, the increase in population will more than counter that," she said.
"More food needs to be produced. We need to be proud of what we're doing. We're all producing food; we're doing something amazing."