Medicating groups of pigs via water, rather than feed, can deliver significant benefits in reducing antibiotic usage on farms, improving pig health and boosting the bottom line.
But producers need to be aware of the potential pitfalls associated with water medication if they are going to derive maximum benefit from it, according to experienced pig vet Paul Thompson, based at the Garth Pig Practice, in East Yorkshire.
Water versus feed
As the pig industry becomes increasingly aware of the need to meet the antibiotic challenge, Garth's overarching principle of prescribing 'as little as possible and as much as necessary' has never been more apt, he said.
While a big part of the industry drive to reduce antibiotic usage is focused on curbing mass medication, there will always be occasions when groups need to be medicated.
Doing so through feed can be an ineffective way of going about it.
Mr Thompson said: "With in-feed medication, you are governed by the frequency with which you fill up your bin. Often when you want to medicate for an acute disease, you will find your bin is already half-full and you have six tonnes to get through before the medicated feed reaches the pigs.
"And because you are ordering medication in quantities of full bins, by default you end up medicating for longer than you actually need to.
"With water medication, you can be much more precise when you start medicating and when you finish, so there is less delay and less waste.
"Also, when pigs are sick, the first thing they do is drop their feed intake, so the healthy ones receive medication they don't need, while the ones you are targeting are not getting therapeutic doses."
Feed, water and injection – targeting use of antibiotics

In-feed: Useful to deliver medication to a whole group or a particular stage of production and has the benefit of being accurately mixed by the feed mill, but is generally a less-targeted approach
Water: Greater ability to target the right pigs and, on balance, less wasteful, but must be done well
Mass injection: More expensive but necessary, for example, when pigs are off food and water
Individual injection: The most targeted form of medication
However, water also becomes ineffective if pigs are 'really sick' and stop drinking, he added, in which case mass injection becomes the most appropriate method of treatment.
Mr Thompson said: "Generally, there has been a move away from mass medication, as people see the need to reduce usage but also the economic benefits of more targeted use.
"Some farms have moved on board with targeting it via water rather than in feed and, increasingly, we are seeing people only use in-feed medication in creep and link diets. But it varies massively from farm to farm."
Delivery system
The system of delivery must be right if water medication is to be effective.
Mr Thompson said: "A farm's water might come from the mains or from a borehole, which may be of varying chemistry and that can interfere with some antibiotics.
"For example, high calcium in water tends to reduce the usefulness of some tetracyclines. The water also needs to be of a clean bacterial standard."
Farmers need to have the means to add antibiotics into their water system. "Sometimes water comes straight from the mains with no access to that pipeline," Mr Thompson added.
"Other farms have header tanks, but if you have one big header tank serving a lot of pigs and mixed age groups, you can't target the pigs you want to, for example, if weaners and sows are getting the same water. Ideally, you need header tanks for each groups of pigs.
"Header tanks are often situated in the most inaccessible parts of buildings. If you can only reach them by ladder, with 30-40kg pigs barging around it, there can be some major health and safety implications."
Even when header tank delivery is appropriate, ensuring the dose is correct can be a challenge. If the tank holds more water than pigs can drink in a day, they can get
lower daily doses than required, whereas a small tank that has to be regularly refilled can result in the first pigs to drink getting the biggest doses.
Mr Thompson added: "One way around this is to tie up the ballcock of the header tank, so you top the water and antibiotic up together and maintain an even dose. But that is dependent on members of staff remembering to untie it when it runs out!"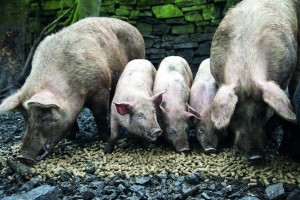 A second line
The ideal set up for delivering antibiotics accurately through water is to have a second line available for when it might be needed.
While this is not always possible for old buildings, this should always be considered for new constructions, Mr Thompson said.
"It is obviously an extra cost but, if you have a second line independent of the main line, you have the ability to medicate individual pens, rather than the whole house. This means you can target small groups without wasting medication.
"This will deliver the best results, in terms of targeting antibiotics effectively, and also save the producer money."
For Mr Thompson, the most effective way to medicate via water is to use a water proportioner, such as a Dosatron.
He explained: "A Dosatron is a pump that works off water pressure and is connected to the main water line, so it requires no electrics.
"It sucks the antibiotic out of a reservoir. If it is set at 1 per cent, for example, every time 100ml of water goes through the pump, it draws up 1ml from the reservoir, so every drop that comes out is medicated at the right concentration.
"It is vital to medicate a Dosatron accurately. You have to be aware of the daily dose required and also how much the pigs are drinking. We recommend keeping a check on how much of the reservoir has been used each day – you can then calculate how much the pigs have drunk."
Some farmers use a flow meter on their water system to gauge how much pigs are drinking.
Mr Thompson added more words of caution. "Very young pigs are notoriously variable in their water intake and water proportioners can be less accurate at very low flow rates," he said.
"And whatever the system of delivery, it is vital to ensure an accurate estimate of the weight of pigs being treated, as antibiotic dosages are based on pig weight."
But, Mr Thompson stressed, if individual pigs are not drinking their full daily water requirement, as might be the case in an acute disease situation, individual injection is likely to be required.
Pig companies move away from in-feed medication
Some of the big British pig producing companies are increasingly moving away from in-feed medication.
Speaking at a recent conference, Tulip's agricultural director Andrew Saunders said the company's farms 'have stopped using any in-feed medication whatsoever'. "All our focus is now on utilising water systems," he said.
JSR no longer uses any in-feed medication on the majority of its farms, including its award-winning Southburn unit, near Driffield.
Nigel Pritchard, JSR's production manager, said: "We'll do individual medication via injection but we have got good stockmen here and I can't remember the last time we did any mass medication.
"We have the option of using the Dosatron water medication system, if required, but it's very rarely needed and we only use it as a last resort.
"It's now more about preventative management, using good vaccination programmes."
Stopping in-feed medication and administering antibiotics through drinking water and topdressing has played a central part in efforts to reduce antibiotic usage in the Netherlands.

The NPA view
Georgina Crayford, senior policy advisor
"More targeted administration of antibiotics is going to be crucial in light of proposed changes to EU law, which will only allow antibiotics to be used for treatment and prevention of disease in animals where the risk of infection is very high.

"Clearly medication via water is a more targeted approach. However, for many pig producers, effective water medication may require significant investment in new water systems, although you can expect a decent return on your investment by way of improved health, not only from water medication but hopefully due to improved water quality as well.

"Perhaps even more important is prevention of disease in the first place through improved biosecurity and herd health programmes – after all every infection prevented is a treatment avoided."