AHDB knowledge exchange manager Andrew Palmer explains why a well maintained and clean water system is a must for producers
It's worth producers asking their vet whether water medication could be a suitable option for their pig unit. Firstly, though, they need to check that their water system is truly clean and working effectively.
If not, improving quality and management of the water itself could well reduce the need for medication in the first place, with potential gains to be made in pig health, growth and feed conversion ratios (FCRs).
Treating pigs via their drinking water may then offer a more targeted and practical way to treat pigs than via feed – provided water systems are set up and managed in the right way, after detailed discussions with the vet.
Here, AHDB summarises what producers need to know about water system management and water medication options, including the latest results from one of its strategic farms, which has focused over the past 18 months on improving water quality.
TEST AT DRINKERS
Many producers might be reasonably sure their water is clean and that flow rates are adequate throughout the unit. However, they often find there is room for further improvement when water and systems are properly tested, according to AHDB knowledge exchange manager Andrew Palmer.
"One of our strategic farms tested the water quality at the drinkers on one of its finisher sites and found that, even though they were cleaning their water system in between batches, it had not lowered the bacterial counts as much as they had hoped," he said.
"The water quality on the farm was fine at both the source and the drinkers when the first batch of pigs went in, but started to get worse towards the end of the batch.
"After the next batch we helped them introduce a new 'shock clean' protocol, which reduced the total viable counts (TVCs) dramatically from more than 600, measured after previous cleans, to around 30 (see Figure 1). Farm staff have maintained the same good results for a further two batches by following the same step-by-step guide, without any input from AHDB. That gives us confidence that the process is effective and easy to follow."
The overall herd manager worked with AHDB initially and then trained the unit manager to follow the same process, for which he now takes responsibility.
It's important to review the impact of new water hygiene procedures to make sure progress is being made and maintained. However, it can take a while to fully understand the particular challenges for a unit, depending on water source and how the pipework is set up, Mr Palmer added.
CLEAR BLOCKAGES
Producers should dismantle and thoroughly clean out water tanks, pipework and nipples at least on an annual basis, if not between batches. "When we dismantled the system on the strategic farm, we found there were some blocked and ineffective nipples." Mr Palmer said. "Once the debris and residue were removed, it improved flow rates significantly throughout the system."
IMPROVED FCR
In the three batches since the shock cleaning procedure was introduced, average FCR reduced to between 2.33 and 2.41, compared with 2.50 and 2.44 for the two previous recorded batches, following the original water cleaning process.
Feed consumption has also increased in recent batches. The team at the strategic farm believe that the cleaner water has contributed to an improvement in pig health and performance (see Table 1).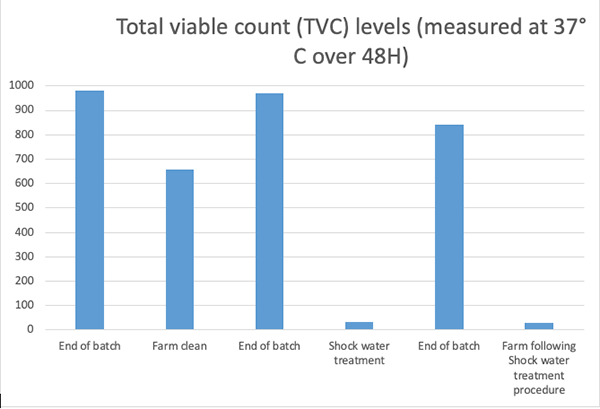 WATER MEDICATION
Pig veterinary surgeon Mandy Nevel, who leads the Animal Health and Welfare team at AHDB, said: "Where pigs need to be treated, water medication can provide a more flexible approach, as long as the antibiotic prescribed is suitable to be administered that way. "Not all antibiotics are and it is vital that these discussions are had with your vet," she said.
"Similarly, not all watering systems, or the water itself, are suitable and this needs to be assessed and, if necessary, altered. This can be costly in terms of time and money, so it is important it is done with good advice from a reputable water system adviser.
"Sick pigs will usually drink, even if their appetite for feed is reduced, so they are more likely to receive the required amount of medicine via water than via feed, although it will depend on the particular medicine prescribed. It also avoids the need to use up excess medicated feed and issues with residual feed in the pipeline or hopper."
Water medication usually involves administration of a specific dose of a product to a group of pigs over a number of hours. It can be done by adding the product to a header tank within each shed or via proportional dosing using an automatic metering device that continuously delivers the correct dose into the shed's drinking water supply.
Medicating via water can work well when, for example, only 10-15% of animals in the shed need treatment, meaning it is not necessary to treat the whole shed but there are too many pigs to treat individually.
Some farmers have installed a second water line to supply a small number of pens with water that can be medicated via an automatic metering system. If there is already a second water supply to the shed to tap into, the costs for internal pipework amount to hundreds, rather than thousands of pounds, plus the labour.
Others are using small tanks or barrels for each pen that needs treatment, although the medicated water supply is not pressurised in the same way as an in-line metering system so may be less accurate.
POTENTIAL PITFALLS
Water medication may not be suitable for all farms or treatments, hence it is recommended that any changes are discussed with the unit's veterinary surgeon.
Also, there is still a risk of variability in dose rates between different pigs, and the specifics of each farm's water system need to be fully understood and managed.
It is absolutely essential that the unit's water system delivers clean, high-quality water in adequate amounts to all pigs, which can take some work to achieve, Dr Nevel added.
High bacterial counts in water or contamination with heavy metals can reduce the effectiveness of medicines, as well as reducing growth rates.
Biofilms are a particular problem inside water pipes and can reduce antibacterial and disinfectant efficacy, so more bacteria survive and can reinfect pigs or infect the next batch. For example, when E.Coli is within a biofilm, its resistance to treatment with chloride is 3,000 times higher than when it is in water only.
"Clean, uncontaminated water can only be delivered through a clean, uncontaminated system," Dr Nevel said.
"Paying attention to the cleaning of water pipes and ensuring sufficient water reaches all pigs – even those at the end of the shed when someone is power washing – is vital to achieving good production efficiency and effective medication via water."
WATER SUPPLY ESSENTIALS
Acidification
A pig's water intake directly drives feed intake – 85% of growing pigs drink within 10 minutes of eating
There must be enough good quality, clean and palatable water to supply demand, even at peak times
Test water at the point of drinking as well as at the source, because low TVCs from samples taken at entry to the unit do not guarantee they will remain low at the drinker
Clean pipelines and drinkers regularly, using cleaning products correctly to prevent biofilm and bacterial build-up
If fitting water medication metering devices, check they will work within the existing system design so as not to affect flow rates.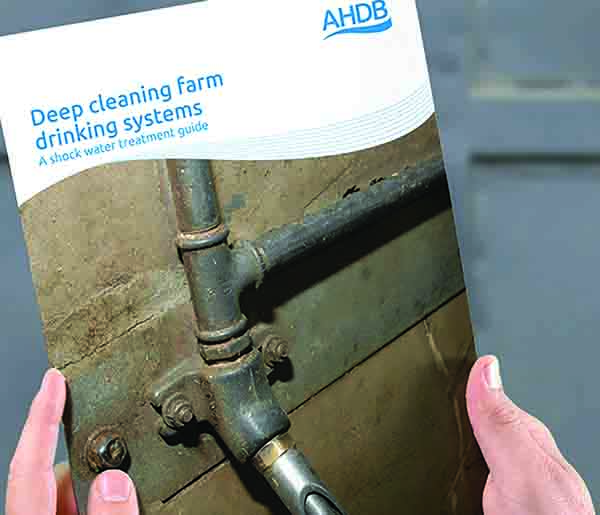 Help is at hand
AHDB has produced two guides to help producers carry out a 'shock clean' of their water systems. They take you through each step, including how to treat systems to remove biofilm and key considerations for clean water management. The guides can be downloaded from the AHDB website: https://ahdb.org.uk/knowledge-library