Pig farmers could soon find themselves facing up to a future without access to zinc oxide for medicinal use in piglet diets.
The implications of a ban are potentially far-reaching. Yet, even as the evidence base is being reviewed, there are lingering suspicions that the agenda is being driven more by politics than science.
Why do we use zinc?
Currently, most EU member states authorise the use of zinc oxide in veterinary products for therapeutic purposes in piglet feed for 14 days after weaning.
Although the precise mechanism is not well understood, the products are used widely to prevent and control post-weaning diarrhoea (PWD) and bowel oedema disease, as piglets make the transition to grain-based diets. According to the National Pig Association (NPA), 70-90% of starter diets in the UK contain zinc oxide at therapeutic levels.
With PWD associated with piglet mortality rates of up to 25% and costing up to £250/sow in severe cases, a ban would cause 'a widespread deterioration in pig health and welfare' and have a big impact on productivity, according to NPA senior policy adviser Georgina Crayford.
"We would also expect to see increased use of antibiotics, which may result in further development of bacterial resistance," she said.
Zinc is also permitted at much lower, non-therapeutic levels in older pigs.
Why is its future in doubt?
In December, the European Medicines Agency's Committee on Veterinary Medicinal Products (CVMP) recommended that the European Commission should ban the use of veterinary products containing zinc oxide to be administered orally to food producing species.
The committee acknowledged the product's benefit to piglet health but concluded the overall benefit-risk balance for its use was 'negative' because of concerns zinc leaches into soil and water after being used in piglet feed. The recommendation was driven by the Netherlands and France, neither of which use the product, prompting some to openly wonder whether their motivation was more about a desire to prevent competitors gaining a commercial advantage.
Where's the evidence?
The CVMP has not published the new evidence that seemingly came to light to prompt it to shift its previous stance on zinc oxide. Well-placed sources have suggested the committee didn't even receive some of the key evidence from the product licence holders prior to reaching its position due to an email mix up.
What's more, it is understood the evidence base will not be published until after the European Commission has made its final decision on the recommendation. All of which means the alliance of EU industry bodies fighting the ban across is being forced, to an extent, to do so in the dark.
Following industry appeals, the committee has at least been asked to review the evidence base and fill in some of the gaps from its previous assessment.
Once the CVMP's revised recommendation, expected in mid-March, is published, the Commission will initiate the formal decision-making process. A final decision is expected in mid-April.
'Do not underestimate the impact of a ban'

The industry will need to start preparing for life without zinc as a medicinal product, according to Sian Nichols, Trouw Nutrition GB's pig technical manager.

While still hoping for a change of heart from the CVMP, she accepts it is 'highly likely that usage will be further limited, if allowed at all'.

With over 50% of piglet starter feeds medicated with zinc oxide, the impact must not be underestimated, Dr Nichols said.

"Removing the safety net zinc provides at weaning opens the door to an array of gut health issues, probably leading to an increase in antibiotics use," she said. "Severely compromised pig performance will also increase days to slaughter, resulting in a greater environmental footprint per pig.

"Farms will need to embrace an holistic approach on an individual unit basis encompassing farm management, including housing, biosecurity, feed and water management, alongside a tailored health management plan with an appropriate nutritional programme."
Does zinc damage the environment?
The UK coalition fighting the ban, including the NPA, the Allied Industries Confederation (AIC), the Pig Veterinary Society and AHDB Pork, has put together a strong case challenging CVMP's environmental claims.
An NPA briefing for the Veterinary Medicines Directorate (VMD) points out that zinc content in soils is highly variable across the EU, with UK levels well within legal limits set by Defra. It stresses that there appears to no correlation between zinc levels in topsoil and pig production in the UK, as highlighted by low levels recorded in East Anglia.
The alliance has also gathered evidence to demonstrate the extent to which slurry from pigs treated with zinc oxide is diluted with that from untreated pigs, mitigating the environmental risk. An NPA survey indicated this occurred on 79% of farms.
What are the options if zinc oxide is banned?
Currently, there are few alternatives beyond increased use of antibiotics, mainly colistin, which is now considered 'critically important' and should only be used a last resort.
According to Dr Crayford, there are vaccines available against different types of E.coli that cause PWD.However, whereas zinc oxide is effective in protecting against all E.coli and, possibly, Salmonella strains, these vaccines are targeted at specific strains, so are ineffective where a different strain is involved.
Pharmaceutical industry insiders have warned that, in a highly regulated environment, it can take up to 10 years and cost up to €1m (£843,950) to get an alternative product to replace zinc approved for sale.
Changing management systems to move to later weaning is unlikely to be the answer, costing an estimated £120,000 in additional accommodation for a typical 450-sow herd, without necessarily even solving the problem, Dr Crayford added.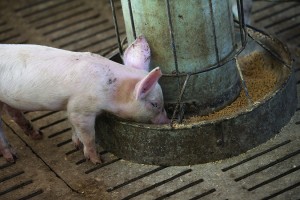 Is there another way?
The chances of a complete u-turn are close to zero. However, the UK coalition and its EU counterparts have put forward possible compromises.
These include a regional approach that recognises the varied levels of risk from zinc pollution across the EU, a policy that would benefit the UK.
Arguments are also being put forward to reduce permitted levels of zinc oxide in order to retain the vital health benefits of the product, while further reducing any environmental risk.
The feed industry has come up with an alternative proposal that would cut permitted zinc intake in the following ways:
• Wean to 14 days (therapeutic use): reduce to 1,500mg/kg from the current 2,500mg/kg
• Up to 30kg: 150mg/kg (same as current levels)
• 30kg to slaughter: reduce to 100mg/kg from current 120mg/kg
Paul Toplis, who represents AIC on the Responsible Use of Medicines in Agriculture (RUMA) alliance, said: "This would still allow for effective medicinal zinc oxide to be used from wean to day 14. But it would provide an estimated 23% zinc intake reduction from the current programme, the same target as set out by the CVMP in their proposal to ban therapeutic use."
He said there was a growing body of science showing that high levels of the enzyme phytase makes zinc oxide effective at lower doses. This should also be explored as part of the approach to reducing zinc levels, he said.
What are the prospects of retaining zinc?
Even as the CVMP started reviewing its evidence in early February, the Commission published a consultation seeking views from member states on 'a proposed transitional period before the withdrawal of these products is implemented'.
NPA chief executive Zoe Davies said the Commission appeared to be pre-empting the final decision, without any sign of a clear evidence base to justify it.
In its response, while continuing to strongly oppose a ban, the NPA has called for a 10-year transition if one is imposed. It argues that, while the negative environmental impact over this period would be 'negligible', it will take a decade to bring viable alternatives to market, deliver sustainable reductions in antibiotic use, achieve a stable outlook post-Brexit and for pig producers to invest in new, more hygienic, buildings.
Dr Davies said: "We have always been adamant the animal health benefits of using zinc oxide far outweigh any, still unproven, risks to the environment. A ban would have a significant impact on piglet health, so we would need the longest transition period possible."
Is the UK Government supportive?
Farming Minister George Eustice said the VMD stressed at the most recent CVMP meeting that 'withdrawal of these products may have a significant negative impact on pig production'. He said the UK would aim 'to achieve the best outcome for all stakeholders'.
However, this does not necessarily mean the UK will vote against the recommended ban, according to Dr Crayford.