Lisbeth Shooter, executive director, innovation at Danish agricultural research institute SEGES, explains how the Danish pig industry is approaching the forthcoming zinc oxide ban
The pig industry is facing a dilemma. How can we produce 7-30kg pigs without using therapeutic, high-level zinc oxide at weaning – and without increasing the use of antibiotics to keep the pigs free from diarrhoea? We need to have alternative strategies in place by 2022 when medicinal zinc oxide at weaning will no longer be allowed in the EU. In Denmark, we have in recent years been working on finding solutions to help our pig producers.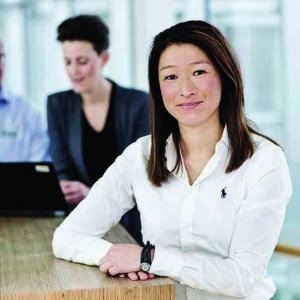 First of all, it is important to remember that zinc as a mineral is vital to pigs' normal growth. Maximum allowed inclusion, according to feedstuff legislation in Denmark, is 150ppm in feed for weaned pigs. Then there is medicinal zinc oxide for control of E.coli diarrhoea in weaned pigs.
In Denmark, it can be used to a maximum level of 2,500ppm in feed, the EU limit, for a maximum of 14 days post-weaning. The use of medicinal zinc oxide requires prescription from the vet.
Since 2015, the total usage of zinc oxide in Denmark has declined (figure 1). In the same period, the use of antibiotics has also fallen (figure 2), indicating that pig producers have managed to prevent diarrhoea in other ways, not just treating and medicating pigs.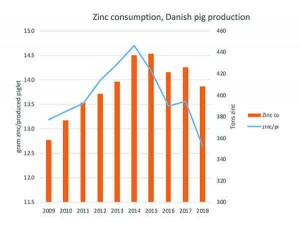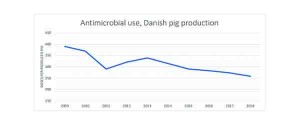 Although a SEGES trial from 2017 (trial report no. 1101) showed no effect of yeast, probiotics or seaweed as alternatives to zinc oxide, the study showed that pigs allocated 1,500ppm zinc oxide had the same productivity and antibiotic usage as pigs allocated 2,500ppm zinc oxide.
These results have primarily driven the reduction in zinc oxide in Denmark, as this reduced dose of medicinal zinc oxide in piglet diets is already implemented on many Danish pig farms. A few farms have also fully phased out the use of medicinal zinc.
Many factors play a role when farmers must wean successfully and still avoid post- weaning diarrhoea, but studies have shown feeding is still the best 'tool in the box'.
In a SEGES trial from 2018 (trial report no. 1147), where four commercial feed concepts fed to pigs in the 7-30kg period were tested, results showed that pigs fed on the Trouw Nutrition concept performed better than pigs allocated 2,500ppm zinc oxide, but it cost net approximately €1.10 per pig.
Pigs fed the Vitfoss concept performed on level with pigs allocated 2,500ppm zinc oxide, but it cost net about. €0.90 per pig.
The remaining two concepts from FraMelco and Evonik did not differ from the group given no zinc oxide. The problem was that none of the four concepts improved productivity to such an extent that they were able to cover the increased feed costs compared with the two control groups. The effect on diarrhoea and the savings on antibiotics were not enough to neutralise the increased feed costs, meaning the concepts would not be financially sustainable solutions for the pig producers.
Consider Alternatives
However, one perspective from the results in this trial was that 'alternatives' to zinc oxide may have to be included in the feed throughout the entire 7-30kg period and not only in the weaner diet, as with zinc oxide.
The results also indicated again that zinc oxide cannot be replaced by a single compound or additive. The effects observed in trials may be attributed to low protein content, combinations of additives, lower calcium content and different amino acid profiles compared to the Danish
standard norm.
Following on from this trial, the effect of four different protein strategies in the three diets from 7-30kg was tested. Lower protein levels in the first and second diets were tested with increased protein levels to compensate in the third diet. The thought behind it was that lower protein levels reduce the amount of undigested protein in the hindgut and decrease the risk of osmotic diarrhoea.
Lower protein levels also prevent protein fermentation and reduce colonisation of E.coli. However, lower protein levels also have an adverse effect on productivity.
This trial from 2019 (trial report no. 1175) demonstrated that two of the four protein strategies reduced the number of diarrhoea treatments among weaned pigs.
Weaned pigs fed low-low-high protein levels in the three growth phases, 6-9kg, 9-15kg and 15-30kg, respectively, had significantly fewer (30%) diarrhoea treatments per feeding day compared with the control group given no zinc oxide.
Pigs fed according to a very low-medium- high protein strategy tended towards fewer diarrhoea treatments. The trial confirmed that reduced protein content in pig feed is a potential tool for affecting diarrhoea when medicinal zinc oxide is no longer allowed in pig feed.
But the two protein strategies that lowered diarrhoea occurrence also led to a 15g drop in daily gain in the entire 6-30kg period.
As mentioned earlier, several other factors also play a role in ensuring a successful weaning with low levels of diarrhoea (figure 3).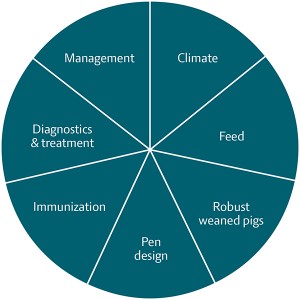 A large field study, where information and data from 26 pig farms that had all phased out the use of medicinal zinc oxide in weaner diets, showed skilled and experienced staff was one of the key factors.
Staff Stability
In 20 out of 26 farms, the manager of the weaner department had an employment period on that specific farm of more than a year. In 18 out of 26 farms, the manager of the weaner department had worked with piglets for more than three years. This indicates a level of stability among the staff looking after the piglets, allowing for competence to build up, rather than the youngest or the unskilled being responsible for the weaner piglets.
Moreover, all farms except for two had taken special measures to increase feed intake after weaning. The most common approach was extra feeding on the floor, extra feeding spaces in troughs and extra drinking space (figure 4).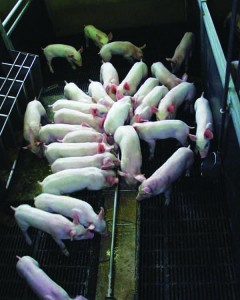 Good hygiene and lower protein levels in the weaner diets were also identified as key factors in weaning pigs without the use of medical zinc oxide.
The outcome of this study, combined with existing knowledge, will form the basis of a concept designed to facilitate weaning of healthy and robust pigs without using zinc oxide. This concept will be tested on a number of commercial farms during 2020.
No Common Solution
Although a substantial effort has been put into place to help Danish pig producers find ways to manage without the use of medicinal zinc oxide in weaner diets, there is still work to be done. The goal is cost-effective solutions without increasing antibiotic usage, but it is still not an easy task for the majority of Danish farms.
Medicinal zinc oxide is still a common approach to control post-weaning diarrhoea in Denmark. The challenge lies in that there is no common solution and each pig producer needs to learn what works on his/her farm. That requires an extra effort and increased focus – field experiences show examples of pig producers who have implemented best practice and all the latest knowledge with success.
Pig production has over many decades evolved – production systems have been refined, management strategies optimised, feed formulations adjusted etc. Some of it has been driven by legislation, some of it by innovation and increased knowledge about how to improve productivity.
Evolving Strategies
Although the ban on medicinal zinc oxide is driven by EU legislation and is initially seen as a huge challenge, it also opens the opportunities to have a good look at how we feed, manage, house and prepare weaner piglets for the transition from sow and milk to life on solid feed.
New, evolving feeding strategies and better management routines will not only reduce the risk of diarrhoea, but also generally improve productivity. A holistic and general overhaul of how we manage weaner piglets may actually result in a positive impact on the bottom line.
However, pig producers must prepare now and learn, while they can still use zinc oxide. It is important to test different initiatives in their own herds to gain the crucial experience. In the end, they may find that when they pull off the 'medicinal zinc oxide plaster', it will be with minimal pain and bleeding.