After 40 years with the Meat and Livestock Commission, BPEX and AHDB, 'industry icon' Mick Sloyan retired at the end of June. Alistair Driver met him to reflect on an extraordinary career and the huge changes in the pig sector over those years.
Mick Sloyan recalls a meeting early in his career at the Meat and Livestock Commission (MLC) 40 years ago.
"There was an old boy who used to buy a lot of pigs and, as we went round the table, he said: "You're from the MLC – there's only one problem with the MLC." I thought 'Only one? That's good'. He went on: "It's like walking around with somebody else's hand in your pocket".
"I was quite shocked and it took me a while to think of a response. So at the next meeting after he raised another objection, I said: "The legal position is, yes, I do have my hand in your pocket and that's the law. So either they change the law or we all decide what I do with the hand. That is the best way of thinking about it."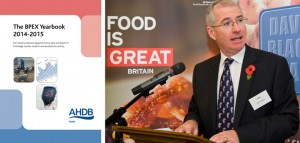 The story sums up Mick's approach during four decades that has spanned extraordinary change within the pig sector, including many highs but also some very dark hours. "I have been challenged all the way – and quite rightly," he said, when we met at AHDB's Warwickshire headquarters, before he stepped down as AHDB pork strategy director at the end of June.
But his willingness to discuss the controversial issues with his critics, usually with a smile, however difficult the situation, allied with his passion for the sector and a knowledge of it described by NPA chairman Richard Lister as 'encyclopaedic', Mick has not only endured, but departs his role as one of the industry's most influential and respected figures. He was also described by Mr Lister as an 'industry icon'.
Mick grew up in south-east Birmingham, with little hint that he was to spend a career in agriculture, beyond the odd visit to relatives who farmed in Ireland. It was a degree in agricultural economics at Newcastle University between 1973 and 1976, where he was inspired by the 'brilliant' John Ashton, a former civil servant who helped write the 1947 Agriculture Act, that got him hooked on farming.
After his first 'proper job' working on a cost-benefit analysis for writing off the debt incurred by the move of the Covent Garden market, he did an MSc at Aberystwyth University, focusing, ironically as the wheel now turns a full circle, on agricultural policy in our early years in the European Union.
Then, in 1977, a job came up at the MLC as a junior economist, working across beef, lamb and pigs, including on pig price reporting and, with Bob Bansback, on the early days of the pig price index AAPP.
It was a very different industry then, with lots of farmers, generally with good, profitable, expanding businesses, while the UK was home to world-leading breeding companies. There were ups and downs, as the pig cycle did its thing. "The old adage people used to work to was three good years in five and good pig producers never lost money in the other two," Mick said.
"But by the mid-1990s, things were fundamentally pretty good – prices were decent, we were about 83% self-sufficient, demand was strong, the industry was taking advantage of export opportunities and productivity was reasonable."
Having worked on the BSE crisis the year before, in 1997, following an MLC restructure, he took on a new role of pig strategy manager, focusing exclusively on the sector.
What happened over the next five years took the industry to the very brink, but ultimately shaped it as it is today, as those that survived came out stronger.
Nobody was closer to what happened than Mick, who highlighted how, in the build- up to the summer of 1998, the picture was artificially rosy.
We had a 'blind spot' about how rapidly the rest of the world, notably Denmark, was expanding productivity, while the devastating impact of BSE on beef sales artificially boosted pig prices and the 1997 classical swine fever outbreak in the Netherlands tightened the European market. "We were due a downturn, but prices remained high," Mick said.
In the early 1990s, a Private Members Bill banning stalls and tethers in the UK had made it onto the statute book. The ban was due to come into force in 1999 and, feeling flushed by good prices, many producers invested heavily in new buildings to comply. The EU wasn't going down this route – but, no need to worry, the UK retailers assured the industry they would be supportive of this move to higher welfare.
Then in June 1998, the Japanese economy crashed, quickly followed by the Russian economy, and global commodity prices 'fell apart', precipitating freefall in an already imbalanced UK pork market. In two months, the AAPP went from the mid-120s, around the cost of production, to the low 80s. "You couldn't even get a spot price," Mick recalled.
Many producers were forced out but the industry could have withstood this, Mick believes. However, more pain was to come, first via classical swine fever in East Anglia in 2000 and then foot-and-mouth in 2001, bringing debilitating movement restrictions and export bans.
But the final straw was that investment had ground to a halt as a result of all this, so that by 2003/04, the industry was producing, on average, fewer than 17 pigs finished/sow/year. "You can't make any money on that," Mick said.
Meanwhile, retailers continued to import vast quantities of pork produced to standards that were illegal in the UK. By 2003 – the 'lowest point' – the sow herd had dropped from 800,000 to just 318,000.
"But two distinct types of people survived who saw a future for themselves in pigs," Mick added. "There were those who could produce pigs efficiently, had invested, particularly on the breeding side, and had access to feed, for example, owning their own mill. But they didn't have room to finish pigs. There was another bunch who loved pig production and had the expertise and, most importantly, the buildings, but would no longer risk the price volatility. These two groups found each other, so the growth of contract finishing came about."
This has also enabled a consolidation in the industry, with production increasingly in the hands of fewer, larger companies, a trend Mick described as 'necessary and inevitable'.
"But it needs people who have the confidence to invest, and pig production has never been for the faint-hearted," he added. The crisis also transformed how the industry was represented. In July 1998, Mick received a call from Yorkshire pig producer Stewart Houston about a crisis meeting being held at Bishop Burton College.
"He guessed there would be 40 to 50 coming – when I got there, there must have been 480," he recalled. "What came out of that meeting was people with enough vision to say we are going to be better together, rather than fighting apart. As a consequence, the NPA was born and it has done some fantastic things."
With MLC bearing much of the brunt of pig farmers' anger, the upheaval also led
to the establishment of a dedicated pig levy body, BPEX (which became AHDB Pork in 2015), with Mick as strategy director, alongside, initially, Mr Houston as its chair.
By 2005/06, the NPA and BPEX had helped gain the support of the UK retailers.
"That was hard-earned," said Mick, who is particularly proud of the 'eye-watering' BPEX advertising campaign for the new pork Quality Mark in the early 2000s.
One full-page newspaper advertisement highlighted retailers' double standards over the UK's BSE-related meat and bonemeal ban, which was not in place in the EU. Under a picture of a sow and her piglets was the slogan: "After she has been fed, they could be fed to her."
The campaign, in reference to the stall ban, also highlighted the fact that 65% of all pigmeat imported into the UK would be illegal to produce here on welfare grounds.
With one or two notable exceptions, that retail support remains strong today. Meanwhile, productivity has been steadily expanding – last year, we produced an extra pig/sow/year – allied with higher carcase weights. Even though sow numbers have only recovered partially to just over 400,000, in terms of tonnage of pigmeat produced per year, we are now nearly back to where we were before the 1998 crash – a 'tribute to everyone in this industry', according to Mick.
We are also extracting more value from domestic markets and especially exports, now worth £470 million a year, about one-third of total UK pork output. "We have managed to keep our price differential over the rest of Europe and we are proud of our export success, too," he added.
Mick and Mr Houston spent a lot of time in China, backed by Defra, laying the groundwork for the most lucrative of those markets, now worth an estimated £8/pig to UK producers. He stressed that the UK's export drive is as much about value as volume. "The question is where can we maximise our value regardless of where the customer is?"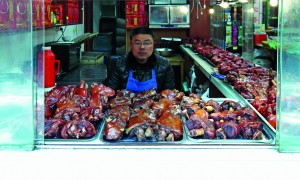 Given the volumes of pigmeat traded both ways, the nature of Brexit trade deals will be critical to the outlook of the UK pig sector, Mick added. We import four times as much as we export, so even small additional costs on EU imports could benefit UK producers, overall. But the worst possible outcome is an asymmetric trade deal, where exporters face EU import levies, but EU pork imports to the UK don't, he added. The other big danger is trade deals with third countries that, once again, permit pork produced to lower standards into the UK. "This would undermine the fact we have a higher cost system – we need that recognised through some kind of trade protection arrangement directly or some sort of mandatory labelling," Mick said.
Many people, including me, have never known a pig industry without Mick Sloyan as a voice of reason on these big issues. He will be missed and he is clearly going to miss it, although he is not disappearing altogether.
He will stay involved as a pensions trustee at AHDB and will represent the levy body on the International Meat Secretariat. More importantly, rounds of golf were already booked for early July and he is off on a well-deserved holiday to New Zealand with his wife, Gill, in November.
"The best thing has been all the people, the great characters, in this industry. They have not always agreed with everything I have said. They are very challenging, but why wouldn't they be?
"We are a statutory levy body by law – it is enforced co-operation, which, in farming, isn't a bad thing. We have achieved a heck of a lot and that is down to dedicated and committed teams working for levy payers at AHDB.
"We might not always get the credit but, if you look back to 1998, it's an achievement that we're still here because enough people told me MLC – not me personally – was part of the problem.
"We are now seen as part of the solution, working with NPA and others, for example on eMB-Pigs and antibiotics. That is the biggest legacy. We have changed people's attitude. And the industry is in a much better place than it was."
AN INDUSTRY ICON
"Mick is an industry icon. He has been an ever-present through all of our lives in pigs, fighting for us and still doing it today. It has been fantastic to have someone with that passion who has worked incredibly well for us over all these years. His knowledge is like the Encyclopedia Britannica of the pig world and I hope it will still be made good use of, even he after he retires. We wish him the very best."
NPA chairman Richard Lister
"As everybody in the British pig industry knows, Mick Sloyan is an absolute industry legend. We will sorely miss him and his wisdom and his ability to communicate difficult messages, but be absolutely trusted in everything he says. He leaves with our gratitude – and I'm sure he will have a great time playing golf!"
AHDB chairman Mike Sheldon
"I'm grateful to Mick for the support and wise counsel he gave me as Chair of BPEX through some very troubled times. The industry should be thankful for his insight, clear thinking in adversity and strategic vision. Mick was the driving force behind the industry's  Road to Recovery Strategy in the aftermath of the pig crisis born of the crash in the pig price following the CSF outbreak in 2000, and the FMD horror of 2001.
"Other strategies followed, including salmonella reduction and herd health improvement, but I have to highlight his organisation of the first (proper) World Pork Congress in 2002, which sent a message to rest of the world that Britain was 'open for business' after the drama of the previous three or four years. Mick then led a grand tour of pork export destinations, revitalising exports now valued at one third of the pig price."
Former NPA and BPEX chair Stewart Houston 
NEXT IN THE HOT SEAT…
A tough act to follow, for sure, but Mick Sloyan's successor as AHDB pork strategy director has made a good impression so far.
Angela Christison, a former head of global business development for Genus (pictured), joined AHDB in early April to ensure a handover period with Mick, to whom she paid a warm tribute.
"AHDB is there to do things individual levy payers would find time-consuming or too expensive and Mick has had 40 years of making incremental, beneficial changes. He has done so much for the industry," she said.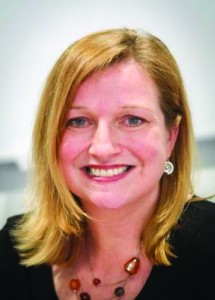 But she is keen to stamp her own mark on the role, identifying better use of data – to and from farms – as a priority.
"I see the industry as incredibly match fit going into Brexit and beyond. Working together, we need to optimise the markets we are in, open new markets and improve our understanding of what the consumer wants.
"We are going to have to become more sophisticated with data. There is the challenge to capture the right data on markets and production and make it ready quicker. We can be proud of how we produce pork in this country and I also see the ability to use data to take those messages to the market."