At the recent Pig & Poultry Fair, Tulip's Andrew Saunders and the NPA's Ed Barker delivered some interesting insights as the Pig Outlook Forum discussed how the industry should prepare for the road ahead. Jane Jordan reports
Continued productivity gains, rather than sow herd expansion, should be the focus of the UK pig sector as it looks ahead to a time of unprecedented change, according to Andrew Saunders, Tulip's agriculture director.
Speaking at the packed Pig Outlook Forum, 'Preparing for the Road Ahead', Mr Saunders suggested the road could be rocky, stressing that while the general outlook at the Fair was positive, there was a great deal of uncertainty ahead.
He predicted UK pig trade economics would be just as unstable after Brexit as they have been throughout the UK's 45- year EU membership. Prices might be firm now, but the gap between EU and UK prices is diminishing, and that cannot be ignored.
The continental pig sector is also in recovery. Restructuring is being seen in Germany, where volume production is increasing. "Germany is a barometer and an important market for us. What happens there influences our business," he said.
Mr Saunders also urged producers to keep a close eye on inputs as the weak sterling is pushing up import prices and this will chip away at margins. Tulip is now sourcing more of its raw materials from the home market in a bid to control costs and minimise risk.
"Transparency and traceability is the key, and we want total assurance across our supply chain and sourcing raw material on the world market is less predictable," he said.
Asked whether, given the upbeat mood within the sector, there was an appetite within the supply chain for serious growth of the UK pig herd, he said any expansion must be managed wisely over the next few years, as over-supply could jeopardise future profit potential, particularly in what will be an increasingly globalised market. The industry must continue to push for greater production efficiency to improve
its competitive edge, Mr Saunders added.
He said Tulip was unlikely to increase its breeding herd as efficiency gains and rising productivity across its supply chain was more than capable of producing the volume growth the company was aiming for.
"There's no reason to add to sow numbers unless we can increase consumer demand for our products," he said. "Our industry's ability to sell pork and make it relevant every day is a challenge, so we must try and alter home consumption patterns and encourage more commercial involvement in pork product innovation."
TRADE SHIFT
Frictionless trade with the EU is a post-Brexit priority for the UK pig sector, but further global expansion is expected as UK pigmeat exports continue to thrive. The pork export trade was worth £470 million in 2017 and processors are keen to add value to fifth quarter products and shoulder meat via export growth.
Tulip and others want more access to the Chinese market. Demand is strong – they like the British label – but Mr Saunders 
said some of the much-publicised 'success stories' reported in recent months, including access to China for UK trotters, have yet to be 'rubber stamped'. Processors are really frustrated by bureaucracy and the time it's taking to sanction new trade deals. "What government says is happening is not the reality. Many of us are still waiting for access to this very valuable market," he said.
While there has been discussion on the potential benefits to the UK pig sector of the imposition of import tariffs under a new EU trade deal, Mr Saunders highlighted concerns that post-Brexit tariffs could damage pork's export potential, which,
in turn, could devalue domestic returns.
High-welfare production (RSPCA Assured) continues to be a significant selling point, both at home and overseas – perhaps more so than Red Tractor – but from a domestic stand point of view, Mr Saunders suggested differentiation could help deliver market security for the entire UK industry in the long term.
However, inflation, potentially higher food prices and fierce consumer demand for cheap food, might create disruption post-Brexit and it could prove very difficult to keep sub-standard imports off British retail shelves, as we enter into new trade deals, Mr Saunders said. The fortunes of British farmers and food producers will depend heavily on government policy and how Ministers decide to manage import tariffs and trade agreements. "Will they protect the UK pig sector or create more vulnerability? We just don't know," he said.
BORDERLINE DEFINITION
Ed Barker (pictured), NPA senior policy advisor, offered an inside view into how Brexit negotiations and future trade deals are panning out. He said it was unlikely any trade negations would take place before the Northern Irish border issue was settled. "Ultimately, this decision will define Brexit and how we go forward," he said.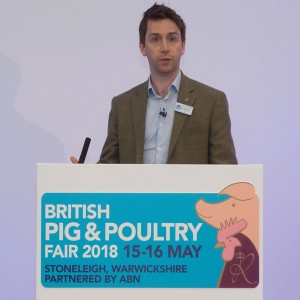 With the transitional deal set to ensure
a high degree of continuity to the end of 2020, Mr Barker predicted the negotiations could 'realistically, go on for years'. "The level of detail for agriculture alone is phenomenal and we must remember that the EU could veto any UK proposals at every stage. Predicting what might happen is impossible – we just have to fight our way through," he said.
However, Mr Barker was certain that 
an EU trade agreement would take precedence. "Europe is our principal market, it's on our doorstep and our standards are closely aligned. Personally, I'm sceptical about free trade with the US and think we are more likely to develop closer trading links with, say, Australia and New Zealand, economies that are good at negotiating trade deals," he said.
Developing more bi-lateral trade agreements with nations outside the EU might get easier, presenting further export opportunities for British pork. "The deal we have with China has proved very lucrative and we want to see further development. When you consider the GDP of Beijing alone is larger than Australia and New Zealand combined, it's clear that we must secure our interests here and in other emerging global markets," he added.
Mr Barker and Mr Saunders both highlighted the depth of industry concerns over potential policies that would reduce access to EU labour, which processors and producers alike rely heavily on.
Both also expressed concern about the lack of detail in Defra Secretary Michael Gove's Health and Harmony Command Paper and its seemingly non-food focus within the new 'public goods' agenda. Mr Barker assured the audience that the NPA was treading the corridors of Whitehall lobbying MPs and Ministers on this issue.
The pig sector has made and continues to make major progress on antibiotic reduction, sustainability, environmental protection, food safety and animal welfare. Collectively it now needs to shout about how it is already delivering public good. "The production sector and the allied trade and businesses it supports must be heard and taken seriously, Mr Barker said.
Lessons learned from wasting disease are relevant again
Profiting from pigs without antibiotics
is possible if you understand the disease profile of your herd and know the flash points in your system, according to pig vet Paul Thompson.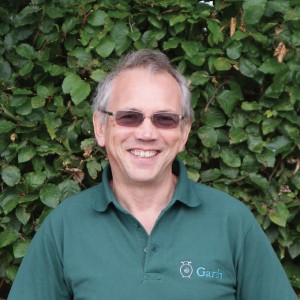 Mr Thompson (pictured), of the Garth veterinary practice, delivered practical advice about hygiene at a forum focused on reducing medication use on farm. He said basic details were often overlooked due to insufficient labour and inexperience. But many herd health problems could be alleviated with better stockmanship, improved cleanliness, good environmental manage- ment and uniform pig flow.
"We learned a lot about infection control and disease management when PMWS was rife – we went back to basics and did well, but we seem to have slipped back a bit, so we need to refocus our attention, as disease is still a major issue and we must manage it by using less medication," he said.
Effective disease
 control takes vigilance 
and disciplined management to maintain pig
flow. Pressure created by increased productivity is often implicated in disease breakdowns and herds might have to reconsider service targets, replacement rates and culling policies or investment in more accommodation to ease over-stocking issues, he advised.
He praised the working relationship between vets, farmers and the allied trade, stressing the value of collaborative thinking. 
It was reassuring to see increased interest in disease monitoring/surveillance and diagnostics at production level, too – services Garth's vets actively encourage within herd health plans, he said.
"Be aware of what diseases are circulating and what influences their activity. Know your clinical signs and get a prompt diagnosis – it can save time and money."