The quality of wheat and barley not only varies significantly between years, but within years too, according to Trouw Nutrition GB pig specialist Dr Sian Nichols.
"A failure to take account of this and to instead base diets on 'standard figures' can have cost and performance implications in both pig and poultry systems," she says. "While many appreciate that the actual growing year has implications for quality, fewer realise that there will also typically be significant variation during a trading year based on where crops are sourced.
"At the start of a harvest year, crops will tend to be sourced locally or regionally. During the year there will be a shift to crops sourced more widely along with a general realignment of the market, including milling wheat moving into the feed market once milling requirements are formalised and import/export requirements are fixed. All will influence feeding quality."
To provide a more accurate picture, Trouw has launched CerealWatch, a service available to producers and feed companies that monitors wheat and barley quality, focusing on starch and protein content. Dr Nichols says that these analyses are more accurate and reliable measures of feed value. Enzymatic starch in particular allows accurate prediction of cereal energy values. Table 1 shows results for wheat for the past three harvest years.
"The results show considerable variation in starch and protein levels and confirm that bushel weight, often the traditional indicator of quality, is actually an unreliable predictor of nutritional quality when used alone," she adds.
Looking at 2015 wheats, the bushel weight is good at 77(+/-3)kg/hl. Starch values, which are the best indicator of energy levels, are good and comparable with 2014. Wheat proteins are lower than 2013. Variation around the mean within the 2015 wheat harvest year is currently small, but this will alter during the year. The picture for barley is similar."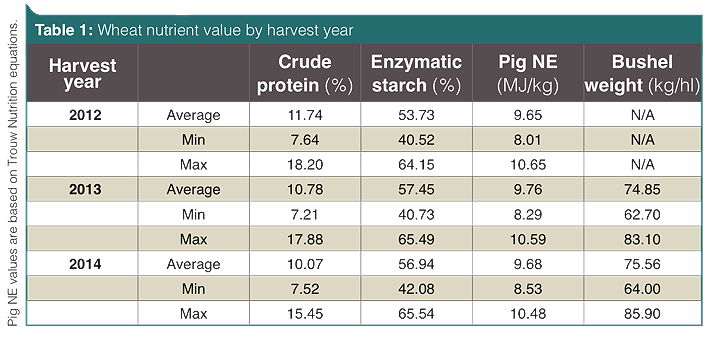 As cereals are the main energy source in pig rations, Dr Nichols warns that variation in quality will also have a marked impact on feed efficiency and costs in pig systems if not addressed in diet formulations.
Table 2 shows the effect of different wheat nutrient content on a typical finisher diet. Although not the main protein provider, varying cereal quality does also have a significant impact on dietary protein and amino acids, which should not be overlooked.
"Based on the 2014 data, the average wheat in combination with soya would result in a ration with 9.65MJ/kg NE," Dr Nichols says. "However, if the same ration contained the lowest energy wheat produced in the year, the NE would be 9% lower at 8.81MJ. Conversely if the highest energy wheat was utilised the diet would have a NE of 10.18MJ, 5% higher than the average.
"The implications for on-farm would be considerable if such differences in nutrient quality go unidentified, affecting both feed conversion and cost per pig reared."
Figure 1 shows the impact of feeding diets containing different quality cereals, modelled using the Trouw Nutrition NutriOpt swine model. It assumes identical production conditions, health and feed costs, with the only variable being the cereal quality. The diet based on poorer quality cereals will result in a significantly poorer feed conversion and about 5p/kg gain increased feed costs to slaughter.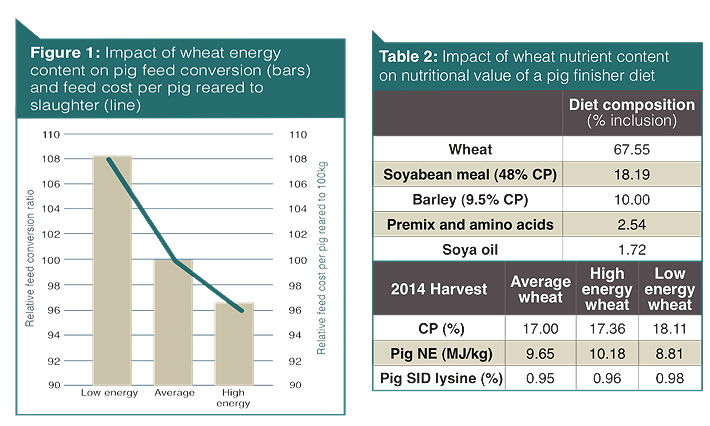 "Feeding the better quality wheat will improve feed conversion compared to average," Dr Nichols adds. "This will result in a significant drop in the cost of feed required to rear a pig to 100kg slaughter weight with implications for throughput and unit productivity.
"Precision nutrition is critical to efficient production. Having a routine grain analysis plan in place, together with use of tools such as the NutriOpt swine model, allows rapid and easy monitoring of any nutrient changes on animal performance and farm economics, which can then be acted on through diet reformulation when deemed necessary."
According to Dr Nichols, the message is clear. "To optimise physical and economic performance, it's important to know the quality of cereals being included in the diet," she adds. "The comprehensive data produced by CerealWatch means farmers, nutritionists and feed suppliers can monitor the nutritional quality of cereals on an on-going basis, load-by-load if required, and compensate for any significant variance during the year."