Building foundations and diet consistency are as important in piglet feeding as daily liveweight gain (DLWG) and feed intake, especially in light of the requirement for reduced antibiotic use, according to ForFarmers.
The industry is facing up to a future with reduced use of antibiotics, lower copper levels and, from 2022, without zinc oxide at medicinal levels in piglet feed. ForFarmers believes it can be part of the solution, by addressing gut health in young animals, which goes a long way to determining the level of medication required.
Research by the company's Nutritional Innovation Centre (NIC) and its international research network has demonstrated that early focus on optimal gut health is critical when it comes to managing performance without antibiotics. Recent on-farm trials undertaken by ForFarmers' piglet feed specialists have shown that by focusing on piglet gut health, producers see improvements in litter performance, a reduction in mortality and an improvement in DLWG at the end of the nursery period.
Responsible Use of Medicine in Agriculture (RUMA) alliance guidelines on reducing antibiotics and managing the health status of new born piglets state that: "A good programme of adequate nutrition, management, cleaning and disinfection and a good herd health programme are necessary to minimise the incidence and losses".
In this context, nutrition plays a vital role in maintaining performance, meaning it is vital to regularly review piglet feeding programmes that support good gut health and subsequently build solid foundations for future growth.

The challenges of reduced medication
"Promoting gut health in the young pig becomes the primary consideration for piglet producers in a world with reduced and strategic use of antibiotics, while the typical parameters of performance (DLWG and feed intake) remain an important factor," said ForFarmers piglet feed specialist Katie Stephen.
The company operates in the Netherlands, Belgium and Germany, as well as the UK and has seen how some other EU countries, notably the Netherlands, operate without in-feed antibiotics and reduced zinc oxide use. Its piglet specialists maintain that using nutritional means to promote a healthy gut flora and protect the integrity of the gut is critical to controlling post-weaning scour.
ForFarmers' UK team is working with colleagues in Belgium who are also looking to reduce antimicrobial use in feed, to share knowledge and best practice, including the use of Selko pH acid in water, which helps promote gut health and feed intake.
In the UK, the company has conducted trials on over 30 farms using VIDA piglet feeds. A handful of these trials were to establish what producers would expect to achieve by using diets without including antibiotics or zinc oxide, which is currently included in the vast majority of diets.
The results below are from a trial which used standard VIDA Maxima diets without any medication. According to ForFarmers, this shows that through building solid foundations, producers can achieve good growth, lower mortality and financial benefits.
The company has also carried out trials using lower density starter diets which did not contain medicinal levels of zinc oxide or medication. To date, these trials have shown that, while piglet growth was slower in the first week post-weaning compared to medicated diets, the focus on optimal gut health helped to ensure superior growth and performance through to finish (see graph, below).
This early work demonstrates that it is still feasible to achieve good pig performance despite a reduction in antibiotics and the removal of therapeutic levels of zinc oxide. However, producers might need to get used to a different growth curve, where a slower start is followed by accelerated growth later on.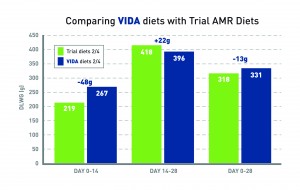 Building foundations pre-weaning
Ms Stephen added: "Feeding a well-designed pre-starter diet stimulates feed intake and supports gut health pre-weaning. The primary aim of pre-starter feeding should be gut conditioning to ensure a smooth transition through weaning.
"A quality pre-starter diet should be fed from four days of age followed by feeding a first stage diet five days before and five days after weaning.
"The benefit of this feeding strategy during the stressful weaning period is that it maintains diet consistency, in terms of raw materials and flavours of the diet, to achieve optimum feed intakes immediately after weaning. This is key to reducing the post-weaning dip and maintaining good health."
In addition to the pre-starter diet, complimentary nutrition solutions provide additional support to encourage feed intake, including offering ForFarmers Corn Cob Mix (CCM) to piglets.
"The nutritional fibres in CCM also condition the gut and provide a safe alternative to peat," Ms Stephen added. "Offered alongside pre-starter, CCM is a highly palatable introductory feed stuff, which is high in lactic acid, encouraging 'good' bacteria, such as Lactobacilli, to colonise the immature piglet's gut. These attributes make it ideal for supporting gut health."
The Holistic Approach – "Feeding the Next Generation Today"
Ever-improving sow productivity will result in more challenges for the piglet, such as variable piglet size and subsequent lower colostrum availability per piglet for much larger litters.
RUMA Guidelines stress that: "It is important that newborn piglets receive colostrum – the sooner the better… Newborn animals that receive adequate amounts of colostrum are far less susceptible to scours and other diseases." (see page 42 for details of RUMA's #ColostrumIsGold campaign)
However, with ever-larger litters this becomes more challenging, as there is the likelihood of reduced average birth weight with more variability. If colostrum intake is below optimum, this potentially reduces the immune status of the piglet. These concerns call for a focus on nutritional means to maximise piglet vitality and colostrum production in the sow, ForFarmers said.
This can be achieved by feeding the correct sow diets during gestation and lactation, it suggested, adding that its latest sow diet range, NOVA, has been developed by extensive research from the NIC and is built on the philosophy that good sow nutrition is crucial for the overall health and performance of the piglet, especially in the transition period between pregnancy and lactation.
Building the nutritional foundations to support piglet health alongside new management approaches will help continued growth to finishing and ultimately will improve returns for the producer.
Sharp decline in in-feed medication
ForFarmers has observed a 'sharp decline' in the inclusion of in-feed medication in its products over the past two years, as the industry has responded to the antibiotic challenge.

ForFarmers was the first feed company to offer its customers help in uploading data onto the eMB-Pigs database and, as a result, has been able to track medication trends. Antibiotic usage in the pig sector fell by 34% in 2016, with a further substantial reduction expected to be confirmed for 2017.
"What we have seen as a business mirrors what we see in the wider industry figures and that is testament to the proactive approach being taken across the industry by producers and their staff, processors, vets and organisations like NPA and AHDB," said Steven Read, ForFarmers UK's chief operating officer.
"We see ourselves playing an important role in supporting this process, partly relying on our experiences in the Netherlands, where the industry is already seven years down the road on reducing antibiotic usage. We have been right at the heart of those developments.

"It is about how we balance the nutrients together and how the different products are used at different stages of production to promote healthier animals. We also put a lot of effort into developing our people. We have a swine academy to train the people who support the farmers on application of diets on farm."

While acknowledging that there is 'no silver bullet' to reducing antibiotic use, Mr Read said the company had a vital role to play working side-by-side with producers and their vets in an approach combining nutritional expertise, health and vaccination management and herd management and biosecurity.
"We will continue to respond to our customers' demands, while also working with the industry on long-term solutions to reduce overall antibiotic use," Mr Read added.