Have you ever heard the saying 'no foot, no horse'? Without a foot, a horse is worthless. With pigs, it could be changed to 'no health, no pig', says AHDB
Health is the foundation of good pig production and without it you're in an uphill struggle and a battle you could easily lose. Every member of the pig team on a unit has a key role to play in ensuring the health and wellbeing of the pigs. In fact, every job that is done on the unit plays a role.
That is why it is important that all jobs, particularly routine ones, are done to the necessary standard, no matter who does it. When was the last time a fresh pair of eyes were cast over your routines? How do you ensure you don't slip into bad habits? We all risk slips if we don't continue to monitor what we do.
Everyone working on a pig unit needs to know what the daily priority tasks are for pig health and wellbeing. This is vital to delivering the herd's overall health plan and ensuring everything possible is done to keep out disease.
Keeping pigs healthy is clearly central to the job and every member of the team takes a share of the responsibility. There's a plethora of knowledge and tools out there that can help. Here, AHDB health and welfare officer Lauren Dimmack gives her views on some of the key things to focus on in the daily routine.
"The vet is always the first port of call to advise on the right routines and practices for a particular herd or site. Everyone on the unit needs to know what they are and understand their importance for pig health and welfare, as it relies on all the individuals to maintain them for them to be successful. Much of it is about being organised, tidy and sticking rigidly to routines," she said.
1. Before you start
TASKS FOR THE DAY
The first thing to check is whether all team members have a plan and know their tasks for that particular day. Having standard operating procedures (SOPs) and work instructions for specific tasks available on the unit is really valuable. "It may take a while to compile the SOPs initially but, once they're done, they provide everyone with the same information to help with training and make working processes consistent.
"If there are new starters, make sure they have a structured induction plan and that they are supported in learning all aspects of their job. Again, the SOPs are key to this."
RECORDING
Another area to think about every morning is recording. Everyone should know what information they need to record and how it should be recorded, whether it be pig performance, management changes, medicines used or pig behaviour, such as tail biting.
EQUIPMENT
Make sure everyone has the right equipment for the day ahead. It may sound obvious but it can slow things down or mean a job can't be completed. For example, if you're vaccinating, check there are enough clean needles and vaccine before you start, and that you have enough available staff for the task.
2. Don't forget
Throughout each day, whatever else is happening, there are a few things that everyone in the team should always remember. Again, they may be things they already know but it's essential that they are done consistently. It can only take one small slip in biosecurity to let disease in.
WHEELS AND WELLIES
Animals coming onto farm are the biggest risk, followed be visitors, their vehicles and their boots, which are key routes in for pig disease. Ideally, lairage and loading facilities, feed bins, deadstock storage and parking (for staff and visitors) should all be at the unit perimeter so that no vehicle needs to enter the farm. If that isn't always possible, there should at least be different 'clean' and 'dirty' routes to different ends of the unit. "At each farm entrance, there should be clear signage to prevent entry, with a contact number for an available member of farm staff," Ms Dimmack said.
"Fresh disinfectant should be available and, ideally, a knapsack sprayer, or similar, to apply it, along with clean overalls and boots for all visitors. The important thing here is that disinfectant is made up correctly. The solution will become inactivated if there is lots of organic matter in it, so clean boots first to remove 99% of the risk, then the disinfectant does the last 1%. If visitors don't actually need to go onto the unit and can meet in an off-site office instead, that's even better."
Farm staff, themselves, must always change into boots and overalls specific to that farm. The 'Danish/bench' entrance system is good to follow where there is no walk-through shower facility and a solid bench differentiates clean and dirty areas.
There is more information on this and other aspects of people and vehicle biosecurity in the Pig Health and Welfare Council's SOPs for prevention of PEDv virus – the same principles apply for all diseases. They are available at pork.ahdb.org.uk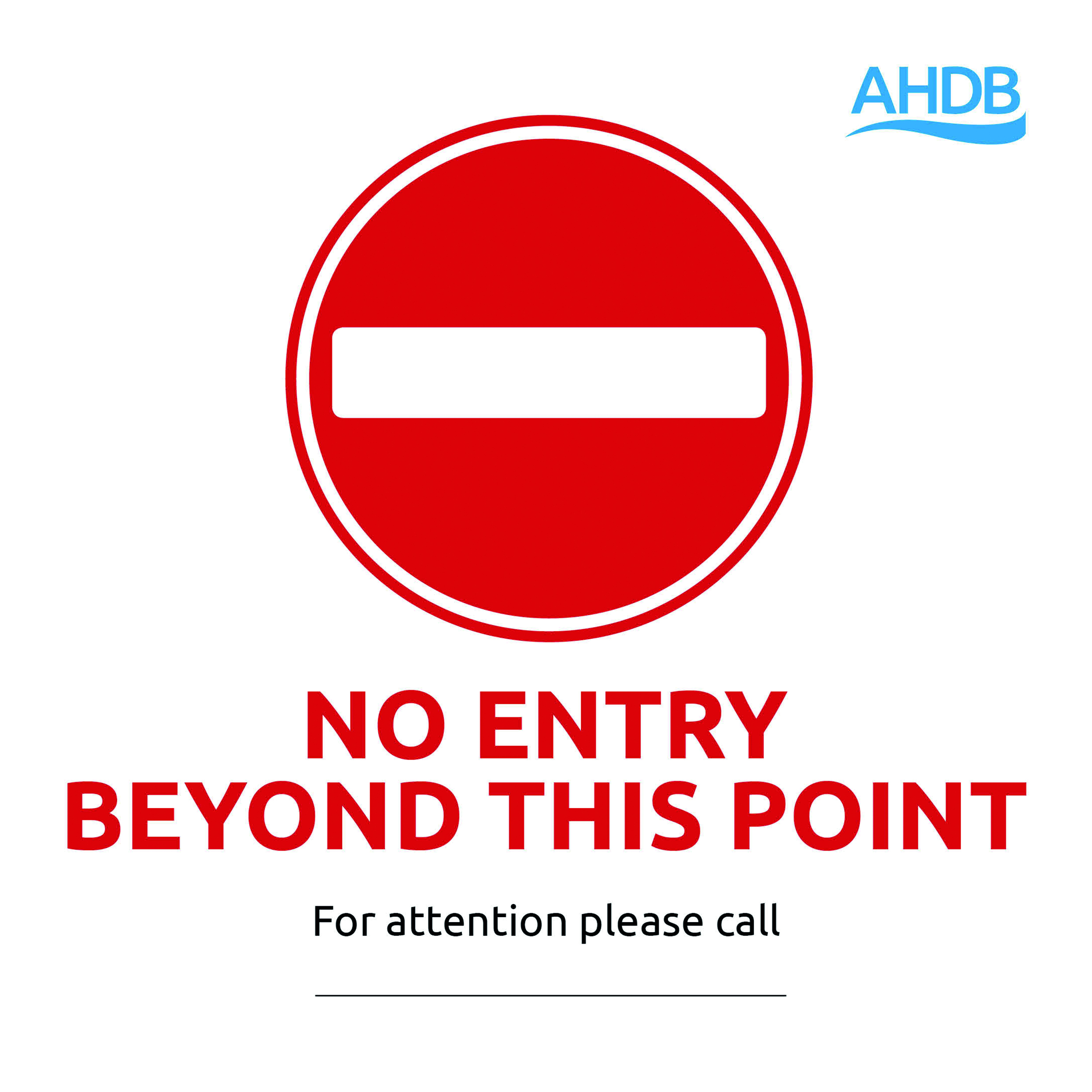 CHALLENGE VISITORS/ #MUCKFREETRUCK
"Any member of staff has the right to challenge any visitor and refuse entry if they are not sure whether they are 'pig free' or have properly cleaned and disinfected, or if the visit is actually necessary," Ms Dimmack said.
Livestock lorries are still one of the greatest risks to disease spread from unit to unit and the #MuckFreeTruck campaign, led by AHDB, NPA, Red Tractor and BMPA, is urging producers, processors and hauliers to ensure all lorries are properly cleaned, especially in light of the risk of African swine fever and other diseases.
"Don't be afraid to challenge the driver of a dirty lorry. Let your haulier know up front that you will be inspecting vehicles and won't accept a dirty lorry, should one ever turn up. It may seem like a drag to refuse a lorry, particularly after a long morning preparing to load pigs but the cost of a disease outbreak will be far worse. A few difficult conversations are worth it to reduce the disease risk."
Producers, hauliers and processors are all being asked to share their opinions on the challenges of keeping lorries clean.
3. Before you go
"Make sure you have set aside time for everyone to check essential tasks have been completed before leaving," Ms Dimmack added. "The NPA produce a Tidy Units poster with a checklist for producers to run through to help make sure welfare is put first and the unit is left tidy and secure.
"It includes points like ensuring the pigs have enough bedding for overnight, checking whether any pigs need moving to the hospital pen, and making sure all dead pigs are put in the dead bin and the dead bin is locked."
MORE INFORMATION
Search for 'biosecurity' and 'Pig Health Scheme' at pork.ahdb.org.uk
For information about staff training and induction visit: pork.ahdb.org.uk/skills-training/
For the Tidy Units poster, go to: www.npa-uk.org.uk/Tidy_Units_poster.html