The pig industry has always been a forward- thinking sector and, as technology advances, the opportunities continue to grow. Ahead of the British Pig & Poultry Fair, two leading producers outline what the future holds for them
Constant investment, growth and adaptation in pig rearing are key elements to the success of Moss Valley Fine Meats.
Stephen Thompson, his wife Karen and son Oliver operate a batch farrowing business at Povey Farm, Sheffield. There they have 2,500 pigs, including 210 sows, the majority of which are Large White x Landrace. They breed their own replacements, and run a closed herd, finishing pigs at around 86kg deadweight.
The herd is highly biosecure, enabling them to keep antibiotic usage very low. "This means the pigs grow like stink," said Mr Thompson. This combination saw them win the Special Achievement Award at the 2019 National Pig Awards.
The ethos on the farm is for continued improvements, and 2019 saw the completion of a large butchery expansion. Before that, Mr Thompson had a rolling project to replace the farrowing accommodation following a fire in the weaning block in 2012. "That site was an insurance rebuild," he explained. "But it showed us what we could do."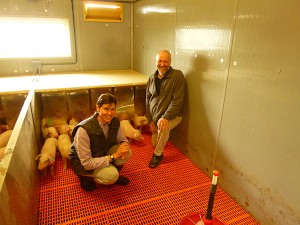 The next project is to replace the fattening sheds, and that's where visiting the Pig & Poultry Fair will be of particular value to Mr Thompson. "We will look at what's going to go into this building – we usually come back from the Fair with something."
His next technological development will be to mechanise the farrowing accommodation and feeding sows. "We use a lot of milk and are hand-mixing at the moment, so mechanisation will be time- saving and reduce labour."
Mr Thompson has high hopes for the industry in the coming years, seeing Chinese demand as a big driver. He also believes education is key to the sector's future. "Anyone in farming needs a good education, whether scientific, nutritional or in IT – even if it's not used for the actual farming, it's good back-up."
Optimistic outlook
Charlie Thompson from Bridge House Farm, Northampton, has a similarly optimistic outlook. "We have a huge opportunity, with the current situation in China and the chance to export breeding pigs and pork to fulfil the global protein demand," he said.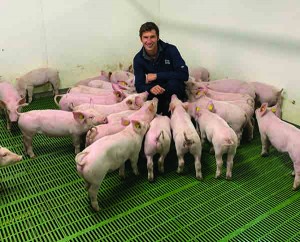 "We're setting up a quarantine unit for export to China. No-one has exported a significant volume of breeding pigs from the UK and Chinese farms will be looking to restock after African swine fever (ASF)."
The 650-strong sow herd is a high-performing nucleus unit for Genesus, a Canadian-based genetics company. Producing pedigree breeding pigs for the UK market and export, Mr Thompson's pioneering approach won him Innovation of the Year 2019 at the National Pig Awards.
And the Fair has contributed to that, offering networking and new product ideas. "Life can be quite isolating on a pig farm, and therefore we try to take all members of the team along – it's so important," he said.
Part of the farm's innovation has been into ultra high frequency (UHF) electronic identification (EID).
"The piglet gets an EID tag within six hours of birth, this allows us to accurately track their progress – it makes it much easier for every task on the unit," explained Mr Thompson.
Another recent investment has been a state-of-the-art Roxell Feeding System.
"In every pen the pigs are weighed and put on a diet which changes daily according to their growth needs," he said.
"The system has saved us 5p per gilt per day, which, with over 2,000 growing gilts, is £36,500 a year. Feed conversion efficiency is absolutely essential as that's the biggest driver of farm profitability."
So if he could give one bit of advice to his younger self, what would it be? The answer, perhaps, is unsurprising, given what drives this forward-thinking farmer: "Always keep innovating".
The British Pig & Poultry Fair takes place on May 12-13 at Stoneleigh Park, Warwickshire. Tickets are free – for more information please visit www.pigandpoultry.org.uk.