Bovine TB (bTB) in pigs is a relatively small problem, statistically speaking, when compared with the vast scale of Britain's TB problem in cattle.
Yet for the few pig farmers unlucky enough to be affected, the disease can have huge consequences in the form of restrictions they can be stuck with for years because of the lack of a credible policy for bTB in pigs.
As Defra consults on proposed changes to its TB policy on non-bovines, as part of its wider TB eradication strategy, pig farmers and their representatives are calling for a fresh approach that is consistent, proportionate and fair.
The consultation, published at the end of August, makes a number of recommendations intended to deliver 'sensible, proportionate and affordable control measures' to control TB in non-bovines.
Much of it is intended to bring the non-bovine policy into line with that already in place for cattle.
Key proposals include:
Extending the duty to report suspicion of TB to all non-bovine species
Applying to all non-bovine species a duty on vets to carry out an inquiry on a premises where they believe a live animal or carcase might be affected by bTB
Applying powers to require keepers of all non-bovine species to have any animal tested for bTB by a specified date
Clamping down on non-statutory testing and vaccination of non-bovines
Enabling inspectors to require specific animals to be isolated and to prohibit the movement of animals on to or off of premises, except under licence
Granting inspectors powers to require market and show operators to manage the risks posed by potentially affected animals, including removing them from the premises
To pay specific rates of statutory compensation for all non-bovine species compulsorily slaughtered to control bTB at a rate of 50% of pre-defined values for certain categories of each species.
As well as bringing more consistency across the species, the proposals are intended to speed up the process when bTB hits pig farms.
Damaging impact
The consultation notes, for example, that while in the past Government-funded testing has been carried out with the permission of the animal keeper, there have been occasions when testing has been refused. Defra wants powers to change this.
Paying compensation at a rate of 50% of 'proxy values for healthy non-bovines', unpopular with some farmers, partly reflects a belief bTB in non-bovines has less of an impact on the various sectors as a whole than it does in cattle because cases are comparatively rare.
For individuals, however, breakdowns can be extremely damaging.
In early 2010, a single pig from Sally Lugg's award-winning Primrose Herd of traditional breeds, located near Redruth, tested positive at the abattoir for bTB. Since then, Sally estimates 3,500 pigs from the herd have been through the abattoir, none of which have been found to be infected with bTB.
Yet the farm remains under TB movement restriction, unable to sell any animals for breeding. This is the result of a long and complex stand-off between Sally and the local Animal and Plant Health Agency office, dating back to how the case was handled at the start.
The dispute has centred on Sally's refusal to allow her pigs tested because, she says, of a lack of trust over the test, although she acknowledges her own stubbornness has played a big part in the dispute dragging on for six-and-a-half years.
"I refused the test because it has never been validated and its results can't be trusted. But they also refused to accept abattoir surveillance, as they have done for many commercial herds in other counties.
"People think we are mad not to have agreed to the test, but it has become a matter of principle and we are too far down the road now."
While acknowledging the unique nature of her case, Sally believes it is symptomatic of a wider lack of clarity over Defra's policy on TB in non-bovines.
She welcomed the attempt to bring more consistency to the policy but feared the real motive behind the proposals was to give Defra more powers for compulsory testing and slaughter in cases like hers.
"As soon as compensation is mentioned I think they are going to have every right to come onto your farm and slaughter all your animals if they suspect they have TB," she said.
A Defra spokesperson said the Department already had the power to remove and slaughter pigs suspected of having TB from farms as part of the Animal Health Act.
Regional inconsistency
Another pedigree pig keeper, who asked to remain anonymous, has expressed concern at the proposals.
She insisted pig farmers should receive 100% compensation as is the case for cattle because bTB is sometimes spread to outdoor pigs by badgers, which most farmers are still not allowed to control.
The consultation also failed to clear up the current uncertainty and regional inconsistency over whether mandatory testing of pigs or sheep should happen in the event of a cattle TB breakdown, she added.
NPA chief executive Zoe Davies said the consultation failed to fully address the biggest problem – the length of time some farmers are being kept under restriction.
"We have got into a ridiculous situation where a cattle herd can be out of restrictions within 60 days or 120 days, but a pig unit, where the risk of spread is far lower, can be under restriction for at least two years.
"This not only causes problems for anyone who wants to export, but is very difficult to manage on a standard outdoor breeding unit as the piglets have to be sent to approved finishing units, which is not that easy in a large pyramid."
The lack of clarity over testing of live animals means APHA officers will sometimes want to see almost the entire breeding herd go through the abattoir before being prepared to lift restrictions.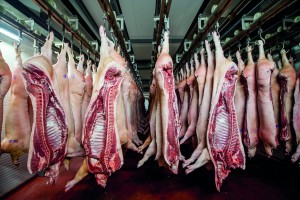 Proportionate response
Zoe said: "We need a sensible, proportionate response and an agreed policy on how to deal with TB.
"We would like Defra to accept that pigs really are a spill over host for TB and do not constitute a real threat for onward spread or transmission so should be treated on a sensible risk managed basis.
"We also need far better communications between the APHA and pig owners and keepers and vets."
Defra's deputy chief veterinary officer Simon Hall acknowledged dealing with TB in non-bovines was a 'really difficult issue'. He said: "We don't have a particularly effective test so we have to design a control programme around that. We just need to evolve a proportionate solution that enables us to be satisfied a pig herd is at an acceptably low level of risk of infection before we can allow it to trade normally without endangering other species.
"The consultation is a chance for anybody who has got any fresh opinions or thinking to put them forward. Bovine TB in pigs is not a great concern in respect of pigs but it is small part of the story of TB in cattle."
Limitations on the TB test
Professor Jim Scudamore, chairman of the Pig Health and Welfare Council (PHWC), explains the limitations in testing pigs for TB:
"The TB skin test used in cattle is not validated under UK conditions although it is the OIE recommended test for international trade. In addition, the test may be difficult to perform in large numbers of pigs.
"The Gamma interferon (IFN-γ) blood test currently routinely used in bovines to supplement the skin test in the UK does not work in pigs.
"It is difficult to validate tests when disease is limited to small numbers of animals. Industry funding is probably the most likely route for developing and validating tests such as the gamma interferon test. Defra is unlikely to spend any money on validating tests for species that are seen as spill over hosts only."