The pig sector's position in the debate over food production and climate change was one of the key topics discussed at the 'Pigs and poultry – optimising production' event, at the Moredun Research Institute, in January. David Burrows reports
The pig industry would benefit from a more detailed analysis of the sector's environmental impact, according to Scottish Pig Producers (SPP) chief executive Andy McGowan.
Addressing the 'Pigs and poultry – optimising production' event, at the Moredun Research Institute (MRI), near Edinburgh, Mr McGowan suggested that the current set of greenhouse gas emissions data being used by the Government could be skewed unfairly against his sector.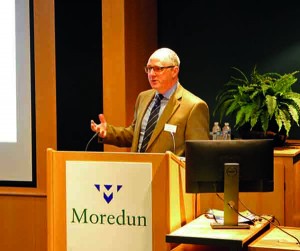 "We think the carbon emissions figures being submitted into the Scottish Government are far too high," he explained.
Speaking to Pig World after his presentation, he said moving to net zero carbon was a key policy for the Scottish Government. "They are all over this, but I want the figure for our sector to be accurate rather than global," he said.
The results could cast a positive light on those running indoor systems, he added, given that higher feed conversion rates should result in improved efficiency and lower emissions.
Producing emissions data is notoriously tricky and hotly debated. The NFU has made similar noises in relation to what it sees as 'twisted' analysis of some data being presented on agricultural emissions.
Pressure has intensified in the past six months following a number of reports highlighting the role of livestock in climate change. Farming organisations were angered, in particular, by the BBC's reporting and programmes like Meat: A threat to our planet?
Indeed, the debate is far more nuanced than: 'go vegan to save the world'. NFU deputy president Guy Smith said recently: "We think there is some pretty twisted analysis going on trying to suggest to consumers that the easiest way to stop climate change is to stop eating meat. You can't generalise. Different ways of producing meat have different carbon footprints."
In a high profile report on climate change and land use, published in January, government advisory body the Committee on Climate Change acknowledged that comparing the environmental impacts of food production 'can be challenging'.
It called for a reduction in 'the most carbon- intensive foods', citing beef, lamb and dairy. Pork was recognised as less greenhouse gas-intensive than most methods of ruminant production, although it generally has a higher footprint than plant-based proteins. On meat substitutes, the CCC noted that industry figures showed significantly lower environmental impacts than their meat counterparts, but the evidence base 'is still developing'.
UK farmers expect that more detailed analysis of their products' carbon footprints will confirm they have less impact than global production averages. Mr McGowan pointed out that output per pig has jumped 30% in the past 10 years, but at the same time, emissions have fallen by 22%.
"If you support efficiency then you are going to get to that zero emissions target," he explained, adding that indoor pig producers could have most to gain from accurate emissions data.
"The drift over the last 10 to 15 years has been that outdoor rearing is a proxy for good welfare – and it doesn't matter what we think if the supply chain thinks that. However, if carbon becomes 'a bigger thing' that could be positive for indoor producers – the feed conversion is higher [with] outdoor pigs eating more soya and that's a large part of the emissions in the diet."
Greener Pig Feed
Producers need to seriously consider alternatives to soya – an essential ingredient in pig diets – as it becomes too expensive and increasingly tainted due to its links to ecological destruction. Indeed, Mr McGowan noted that half the emissions from pig production are wrapped up in the soya used.
Complete replacement of soybean meal is possible 'without impacting performance', according to Professor Jos Houdijk, head of monogastric science research centre at SRUC. Research has shown that rapeseed is an extremely promising alternative to soya for finishers, although the results with growers were 'less clear cut', he said.
Faba beans and peas are also possible alternatives, and are even showing potential health benefits. "Provided the diet is nutritionally balanced, we can replace all soya without any consequences on production," Professor Houdijk said. So far, however, the trials on peas and faba beans, including the Green Pig project, which finished in 2012, have been small scale.
Beans are cheaper tonne per tonne, but cost more than soya when measured in per unit of protein. However, with demand likely to increase in Asia (in the long term) the global market could well be squeezed.
Production costs could also rise as retailers and foodservice companies try to make good on their commitments to use only sustainable soya – which currently comes with a premium.
Animal feed is responsible for 97% of the embedded soya in food retailers' products. As of October 2019, only 27% of all soya consumed in the UK was covered by a deforestation- and conversion-free soya standard. This was up from 15% the previous year, according to figures from the UK Roundtable on Sustainable Soya, which counts most major supermarkets and the likes of Tulip, Cranswick, Fefac and the NPA among its signatories.
Scrutiny from the public, NGOs and investors has all intensified on soya. In January, Greenpeace published a report showing how rising demand for chicken in the UK is fuelling deforestation due to increased demand for soya for feed.
Of the supermarkets that did provide data on their use of soya in animal feed, the tonnages for poultry were considerably greater than for pork.
Indeed, use of soya in pig diets has fallen in the past 10 to 15 years to around 8%, thanks to the introduction of more rapeseed and sunflower oil, as well as distillers' grains and synthetic amino acids. However, it remains an important ingredient thanks to its high protein content (more than 40%) and balanced amino acid composition – and, currently, year-round availability in predictable quantities.
Another alternative discussed at the event was insects. Research shows there could
be considerable environmental benefits to rearing insects for animal feed instead of soya, especially if fed on substrates that would otherwise have been wasted. European regulations currently prohibit feeding of insects to livestock, but the rules have recently been relaxed for aquaculture. There is hope that this will also be the case for pigs and poultry, with a decision expected sometime this year.
However, insects are unlikely to replace all the soya in pig diets, and the insect feed sector will take time to scale. "We are a long way off commercial viability," said Máire Burnett, technical director at the British Poultry Council. "[Due to the regulations], we can't even do small trials yet, but we are hoping to see changes this year."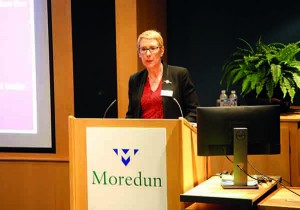 Food companies and consumers will need convincing that this is a safe, ethical idea.
Nip Tail Biting in the Bud
Tail biting costs the UK pig sector around £10.4m a year due to carcase condemnation, but researchers believe they are finally beginning to understand more about this unpredictable problem.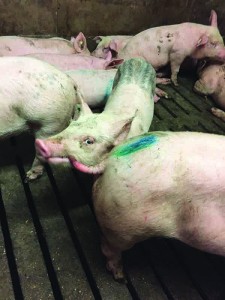 Routine tail docking is not permitted under European law and early intervention is key given that it can spread quickly through a group.
Rick D'Eath, a reader in animal welfare and behaviour at SRUC, and colleagues have been using 3D cameras and machine vision software to automatically detect an early sign of tail biting, pigs holding their tails low.
The technology they have developed, he explained, can detect low tail posture with '75% accuracy'. "That's not perfect but it's good enough," he said, not least because the cameras are snapping thousands of detections in each pen every day.
"Low tail posture is an early warning sign of tail biting and farmers can pick up on this during inspections," D'Eath explained. "But we're working on technology that could help them out."
SRUC has now secured funding to test its machine in the 'real world' and determine what the potential savings for farmers could be. They are 21 months into a three-year project involving eight commercial farms covering a diverse set of systems.
Other researchers at SRUC are working with new machine-vision technology that can automatically identify individual pigs using their facial biometrics.
A new project is underway to identify different 'expressions' in pigs and assess how individuals 'feel about their environment', explained SRUC senior researcher Emma Baxter.