Salmonella outbreaks in the EU have an economic impact of around €3 billion a year, and recently some acute cases have caused big losses on UK pig farms.
According to the European Food Safety Authority (EFSA), there are more than 100,000 cases in humans each year, which has led to a large programme of action across Europe. A coordinated approach by all EU actors on zoonotic diseases helped reduce human cases of salmonellosis in the EU by almost half between 2004 and 2009.
In 2003, the EU set up an extended control programme for zoonoses, considering Salmonella as a priority. Enhanced Salmonella control programmes for poultry were implemented in all EU member states.
While symptoms in pigs are often so mild it's impossible to tell if herds are infected, in serious cases piglets will start wasting away with diarrhoea and sometimes die, while mature pigs may present flu-like symptoms. In all cases, feed conversion becomes worse.
Dr Richard Smith, of the Animal and Plant Health Agency (APHA), has spent the past five years trialling three different prevention measures – disinfection, vaccination, and moving outdoor pigs on to fresh land. He said the impetus for the study came about from the successful work done by the poultry industry to tackle Salmonella Enteritidis.
The consistent decline in poultry Salmonella has reduced human illness. For control of infection in pig herds, the next biggest species affected, it was important to establish what exactly was effective.
Method one:
Moving pigs around
The first method that was trialled was moving pigs around different outdoor sites. In response to anecdotal accounts of improving health and performance after pigs were moved to new land, a study was set up on nine farms where all pigs were kept outdoors – three finishers, five breeders, and one breeder-finisher.
Visits were arranged every three months for a year, with one before the pigs were moved, one shortly after they were moved, and then two follow-up visits.
During the visits, the highest detection rate of Salmonella was from pooled faecal droppings from pigs, with infection also detected from pooled water, rodents and wild birds. According to Dr Smith, combining results from the pooled and individual pig faeces samples indicated that levels dropped by half, on average, after the pigs were moved to the new site. Even on the fourth visit, levels had not risen to those of the original visit. However, the results were not consistent between the nine farms.
Dr Smith said: "Some variability was shown in results from individual farms, but a year after the move, six farms maintained a lower prevalence than at the original site. The findings provide evidence that more frequent moves of groups of pigs to clean land may help reduce Salmonella levels in outdoor herds."
Why Salmonella needs to be tackled
Salmonella is a bacterium that can cause an illness called salmonellosis in humans. In the European Union (EU), more than 100,000 human cases are reported each year, with an estimated overall economic burden of approximately €3 billion a year.
The most common types reported in people are Salmonella Enteritidis and Salmonella Typhimurium.
EU control programmes on poultry flocks have reduced Enteritidis in hens and subsequently led to a significant and sustained reduction in human cases.
The next most frequent source of infection in the EU is pig meat, and this is the most common source in some countries.
Reported human cases of Salmonella Typhimurium are increasing, as are outbreaks linked to events where pigmeat is consumed, such as hog roasts, putting pressure on the industry to act.
Control measures that are effective for Salmonella can also help minimise a range of other pig diseases.
Method two:
Sow vaccination trial
The next trial involved eight farms on which sows were vaccinated alongside eight control farms, all indoor breeder-finisher units with 100-600 sows. All had Salmonella present in pigs, and some had clinical salmonellosis.
The farms were followed for 14 months with four sampling visits: the first was a baseline test, the second was when half the progeny on the farm were from vaccinated sows (around six months into the study), the third was when all the progeny were from vaccinated sows (around 12 months), and the fourth was a final follow-up at 14 months.
The sows that were vaccinated received Salmoporc STM, a live attenuated vaccine, by subcutaneous injection, before each farrowing.
Analysis showed that the vaccinated farms had significantly reduced Salmonella prevalence over time. In addition, a higher proportion of vaccinated farms became free of clinical symptoms in comparison to the control farms. "The risk of a pig on the vaccine farms having Salmonella had halved from visit one to four for the vaccinated farms, whereas the control farms had similar prevalence at visits one and four," said Dr Smith.
Method three:
Two trials on disinfection
A series of laboratory and field trials concluded with a controlled study. On 10 farms, two near-identical finisher buildings were selected. One was cleaned by a contractor using APHA cleaning instructions and a selected glutaraldehyde & QAC-based product, whereas the other building was cleaned by the farmer as usual, using common disinfectants, such as chlorocresol, peroxymonosulphate, iodine, glutaraldehyde, QAC and formaldehyde.
Pig faeces samples were collected from buildings before pigs were emptied, after disinfection, when new pigs were introduced and then before those pigs went to slaughter.
The likelihood of finding Salmonella in intervention buildings was significantly lower than in control buildings after disinfection and at the final visit. Dr Smith said the findings from all the trials showed farmers should consider what the disinfectant will be used for.
"Glutaraldehyde with formaldehyde and glutaraldehyde with QAC products were the most effective for surface disinfection," he said. "Chlorocresol products were most effective for boot dips, although also changing boots is better than dipping alone. Cleaning and disinfection must be done effectively and at effective concentrations or it may increase contamination. Clean and dry surfaces as well as possible before applying disinfectants. Pre-soaking with detergent-sanitisers helps speed up washing and reduces some bacteria. Pooled water in troughs and feeders will dilute disinfectants and stop them working."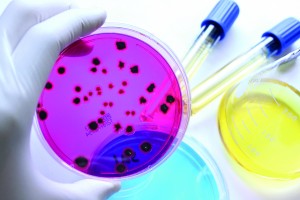 Dr Smith pointed out that, although each of the methods resulted in clear benefits, the results weren't uniform across each of the farms. He also highlighted that Salmonella control on a farm is multifactorial, and there is no 'silver bullet'. It is therefore preferable to select a number of interventions targeted specifically to the individual farm situation to make progress in controlling Salmonella.
"Outdoor farms come with different issues, so it was a case of finding interventions that could also work there and giving farmers a pointer on what would work," he said.
"Factors relating to on-farm control can be grouped into internal and external biosecurity, feed and water, treatments and methods to increase immunity. It is important to remember that not all controls are effective or practical for all farm types.
'We want to ensure farmers and their vets have the evidence to make decisions on Salmonella control and these studies have assessed the effectiveness of some options that could be considered."