Chloe Ryan discovers a spirit of enterprise at Cornish Charcuterie, the 2017 National Pig Awards Producer Retailer of the Year.
When Fionagh and Richard Harding bought a 350-acre farm outside Bude, in north Cornwall in 2006, they had zero experience. In fact, their view of farming was based – in their own words – on nothing more than listening to The Archers.
But they've become an unlikely success story. They put the farm into organic conversion and populated it with livestock before launching their own charcuterie range that's now sold throughout the UK.
A measure of their success is that they won Producer Retailer of the Year at last year's National Pig Awards, in recognition of their range of fermented sausages, air-dried meats and soft pates and rillettes. The products are sold under the brand name Cornish Charcuterie and are made mainly with pork from the company's 12 British Lop breeding sows. The range also incorporates products made from beef and lamb.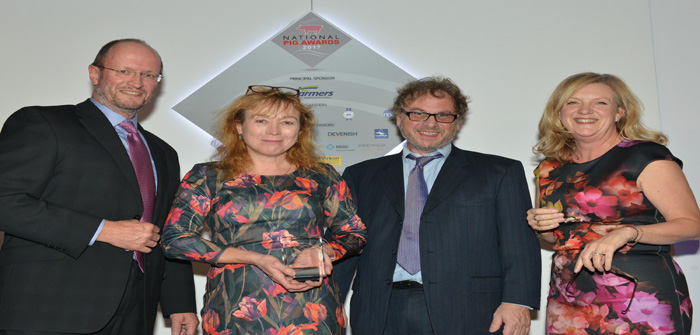 Cornish Charcuterie supplies its products to 400 retailers throughout the UK. But the family's business base is at Norton Barton Artisan Food Village near Bude, where the enterprising couple and their children also own a number of other artisan food brands including North Coast Cider, the Cornish Distilling Company, POPTI Cornish Bakehouse and cheese brand Whalesborough Farm Foods.
So how did the couple go from city-dwelling Archers listeners to award-winning farmers and food producers in just 12 years?
It was a near-tragic experience that prompted the start of a completely different lifestyle. "We were both investment managers in the City. Our eldest daughter was very ill when she was born and we thought she might die," said Fionagh. "She didn't. She's now a very healthy 21-year-old but it made us reassess what we wanted to do with our lives.
"We took up farming with absolutely no experience. We put the farm into organic conversion and populated the land with livestock chosen for its relevance to the area and for easy handling – North Devon cattle, British Lop pigs and Black Welsh Mountain sheep, in addition to the turkeys, geese, chickens, ducks, quails and alpacas.
"Despite being given unlimited advice and very generous help by local farmers, it soon became apparent to us that to make a living out of farming was not only going to be far from easy but unlikely – diversification was our only option. We quickly realised we would go bankrupt if we didn't add value. Over the years we focused more on the pigs and products from the pigs and that's where charcuterie came in."
The couple started off making sausages, bacon, pork pies, fresh pates and rillettes, but found short shelf life products are very difficult to manage because everything is being made to order.
"We couldn't make a success of it, so we were looking to see where there was a niche or gap in the market, and when we started, charcuterie was very small," said Fionagh.
Most of the charcuterie products are supplied direct to farm shops and delis around the UK, but the busuness is now branching back out into chilled products aimed at the foodservice market.
Fionagh stressed that it has not been an easy journey. "In the early years, cash flow was negative and put an enormous strain on resources," she recalled. "We worked through this by doing as much as we could ourselves and working double shifts. Typically, after a day on the farm we would work until 1-2am getting ready for local markets and trade shows."
When they started out, producing stock was incredibly labour-intensive. "Our batch size was 16 jars, which took four hours to cook and required constant supervision," she said. "It was a massive step up when we purchased a £30,000 autoclave capable of cooking 180 jars in three hours without needing to be watched the whole time. Our investment focused on efficiency and productivity and we are now at the stage where we can build stock in the quieter months and stay ahead of demand."
Opening the Norton Barton Artisan Food Village was a key moment for the business. In August 2016, the couple were also awarded an LDO (Local Development Order) by Cornwall Council to enable them to develop the site over the next 15 years.
"Our vision is to create a group of quality artisan producers happy to work together to develop a thriving business community," said Fionagh.
With an eye to their future expansion they recently added a marketing manager to the business, while also developing a new website and introducing new branding to give their products greater shelf presence and customer appeal.
In addition, the company's processing area has been expanded in recent months with the development of a new butchery area, with a maturation chamber and drying room for cured meats being built to cope with increased demand.
In line with their commitment to the production and sale of a vibrant and relevant range of quality charcuterie products, using only the finest ingredients, Fionagh and Richard's 2017 target was to secure a 36% increase in sales over the previous year's figures. This is something they have achieved, Fionagh said.
Starting with just an idea and a great deal of hard work the Hardings have created businesses with combined sales of £565,447 in the 12 months ended June 2017 and now employ 19 members of staff.
The Hardings' children are now growing up and taking an active interest in the business. Daughters Lily and Kitty have set up a chocolate-making workshop business. William has started the planting for a Christmas tree enterprise, and the youngest, 14-year-old Benedict is 'a master salesman and helps out in the shop', Fionagh added.
While the primary production has adapted, Norton Barton is now one of the largest breeders of British Lop pigs. Due to demand the farm can't supply all the primary products so they now also buy in from other local producers.
In the next three years Fionagh says the aim is to grow to employ around 40 people in 'quality jobs in a fabulous work environment generating decent profit and producing quality products in which they can take pride in'.
To do this there is yet more diversification on the cards: there will be a distillery producing Cornish apple brandy; last year a tea room and woodland nature trail opened to encourage visitors to learn about sustainable food production from British Lop Pigs.
The newly opened butchery and maturation room will have a viewing gallery to allow visitors to the Artisan Food Village to see the charcuterie through its various stages of production.
"With the pigs born and reared on the farm and tea rooms utilising our produce, visitors will get a truly farm to fork experience," Fionagh said.
The Hardings are currently putting up a 178sqm building which will house a new bakery. Next year they hope to start work on a new 200sqm distillery with tasting rooms and viewing gallery.
After all that, Fionagh has one main ambition left to fulfil: "I want to retire!"