ForFarmers has launched a new new data analysis and benchmarking tool for pig producers. Here we find out more about it.
Among the various product launches at the recent Pig and Poultry Fair, one of the most interesting was ForFarmers' Agroscoop.
Developed in association with Agrosoft, the international feed company describes the product as a new and innovative system for helping pig producers realise the potential of their herds' performance.
Shortlisted among the top innovations at the Fair, the tool has been designed for all pig producers currently or wishing to use Agrosoft for their data monitoring. It provides pig producers with a greater understanding of current herd performance and highlights various potential areas for improvement to help future-proof their businesses.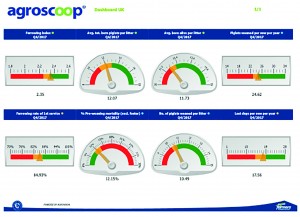 THE BENEFITS OF DATA ANALYSIS IN PIG PRODUCTION
"In a market where it is becoming commonplace to have multisite businesses, the data recorded has naturally grown in volume and complexity. Agroscoop has been designed to interpret that data to provide easy-to-read and accessible reports," said Beth Austermuhle, the commercial manager overseeing the implementation of the tool.
"Agroscoop not only allows producers to maximise their on-farm performance, it also saves time in an environment where time is money. We are aiming to help support producers efficiently and effectively manage their business.
"Having the ability to know exactly how your herd is performing in real time to enable you to realise profit potential or take remedial action is becoming more important, especially when also aiming to reduce reliance on antibiotics and maintain the high welfare standards of British pork production."
THE FEATURES OF AGROSCOOP
At the forefront of Agroscoop is the tool's dashboard, which centres around eight key industry production parameters. A red, amber and green system is used to show the unit's performance against their own business targets, which can be set with ForFarmers.
Some of the more interesting parameters include:
Number of litters <10 live born piglets;
The proportion of irregular repeat services per time period;
Parity distribution over time;
Number of piglets born by gilts in relation to age of first service; and
The ForFarmers' team discusses with producers the analysis and data in detail in order to develop business and performance objectives, as well as identifying areas of improvement.
BENCHMARKING
Agroscoop's ability to track on-farm performance against an industry standard allows for the possibility to benchmark against comparative farms in both the UK and North West Europe.
By setting specific targets, Agroscoop helps to keep both multi- and single-site farms competitive and supports maximum performance.
"Agroscoop has been created with the needs of the producer at its core," Mrs Austermuhle said. "It has been designed to take high volumes of complex data, analyse it and present the results in easy-to-read, accessible reports, which will enable our customers to identify areas of improvement to get the best performance from their businesses".
Yorkshire producer Vicky Morgan spoke about her experience with the product. "I really like Agroscoop. The dashboard is visual and the dials are easy to read, so I can clearly see where improvements can be made. The suite of Agroscoop reports help highlight specific areas of concern as well as areas where we're doing well.
"I use individual targets for each unit so we can really strive for maximum performance from my pigs."
The tool is free for ForFarmers customers, but it is available for other producers as well. ForFarmers officially launched Agroscoop at this year's Pig and Poultry Fair, where it was also entered into the Innovation Trail. After being judged against strict criteria, it was shortlisted in the top Innovations judged to make a difference to the future of the pig industry.