Norfolk outdoor producer Rob Mutimer was elected as the new chair of the NPA in June. Pig world editor, Alistair Driver spoke to him about his business, his thoughts on the big industry issues and how he sees the future for the pig sector.
In amongst all the issues currently facing the pig sector, the NPA's new chairman has identified one overarching aim for the industry as he embarks on his three-year term.
"I really hope we can continue to build, so there is a way for young people to come into the pig industry and make money and a good living. My father arrived with very little apart from half a dozen sows – I am not sure that's the way in now, but I do hope that we remain an industry that can bring new people in," Rob Mutimer said, as he became the very first guest on Pig World's new Pigs Today podcast.
Mr Mutimer was elected as NPA chair in March, having served three years as vice-chairman, supporting Richard Lister, who stood down as chairman after six years in the role.
"I thoroughly enjoyed the three years I have done with Richard and I just hope a I can do as successful a job as he has done – it is quite phenomenal what Richard has achieved over the last six years."
Mr Mutimer is a second-generation farmer. The family have kept outdoor pigs at Swannington, in Norfolk, since 1973 – Rob and his wife, Helen, now run 750 sows on the site, with progeny grown on in tents to 30-35kgs, before being finished on four different sites with 15 miles.
His father had two farms and passed one over to his brother, who was keen on the arable side, and one to him.
"My grandfather bought this farm at Swannington back in the late-1960s and he described it as the worst farm in Norfolk, as it was a sandpit, which didn't grow any arable crops, and around that house was a bog, which did not provide much grass for the cattle. But it is ideally suited for outdoor pig farming," he said.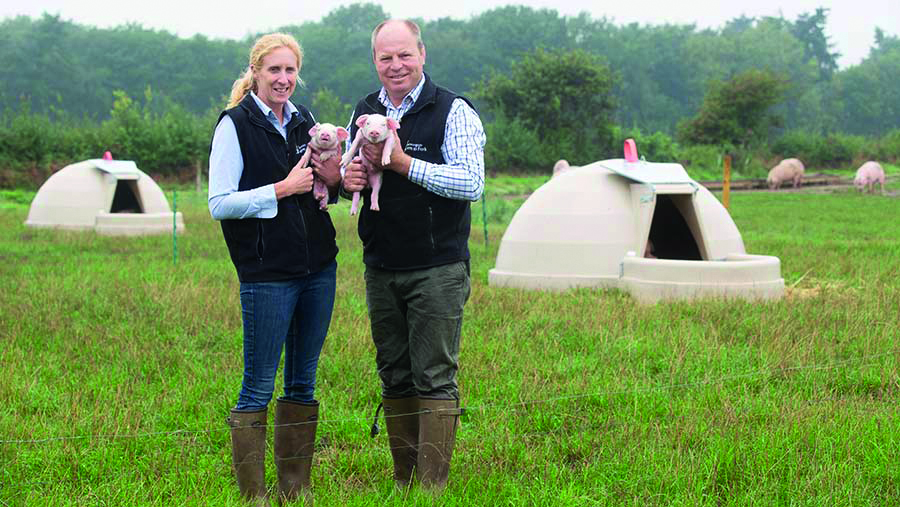 Mr Mutimer highlighted the unique challenge for outdoor pig producers of having to keep animals outdoors 365 days a year, 'whether it rains, snows, freezes, or just as importantly, is very hot in the summer'.
But there is a reward for the extra cost and difficulties involved. "We have been on the Waitrose supply chain since 1997 and over a long period, I believe that has paid a reasonable premium," he said.
They also run a flock of sheep, 'which has never made any money, but is looking quite profitable at the moment'. Our interview was put on hold for a few days due to lambing. "It was fine – I just hope the price holds," Mr Mutimer said.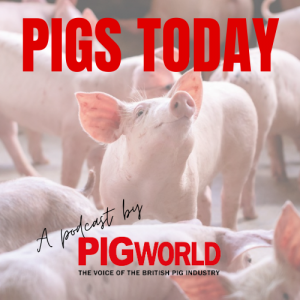 About 15 years ago, after long period of low commodity prices, they added another string to their bow in the form of a butchery business, which now supplies 150 pubs and restaurants in and around North Norfolk. "We were 100% reliant on pigs at the time. It didn't feel easy having eggs in one basket," he explained.
That side of the business has more than served its purpose over the years, but it suffered badly during the COVID-19 pandemic. "We were taken off at the knees when all the pubs and restaurants we supply closed their doors – our sales dropped by 85% overnight" Mr Mutimer said.
Things improved in August as people 'went out to eat out', before the second wave came – the butchery business has made no money over the past year and it is only the Government's furlough scheme that has kept the costs down and the business afloat.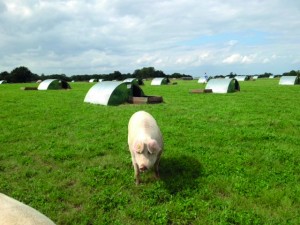 On the pig side, the industry appeared to be getting through relatively unscathed from COVID for most of last year, and even benefiting as retail demand soared during lockdown, supported by AHDB's pulled pork campaign.
But by the autumn, the picture darkened as COVID issues in abattoirs forced plant closures and hit China exports, resulting in pigs backing up on farms, compounded in the New Year by the collapse of EU pork exports, a falling EU market and soaring input prices – the pig sector's 'perfect storm'.
Like thousands of others, Mr Mutimer's own unit was affected, with an extra 1,000 pigs on farm at some points and average weights up to 100kg, compared with the usual 83-84kg.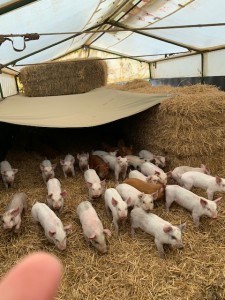 "We did put contingency plans in place, but it went on for much longer than we anticipated – it started in early November and we did not get our weights down until mid-March," he said, praising his staff, who have been 'absolutely brilliant to a person over a very difficult winter with the vagaries of the weather and the extra pigs on farm'.
The wider industry, he added, has generally coped 'very well', he added, praising the willingness of some processors, including his own, to help producers get pigs off the farm when the pressure was at its highest.
But while the situation has improved markedly since January, the past 12 months have taken a huge toll on producers.
As ever, the small NPA team has been hugely active fighting the industry's corner. Mr Mutimer and Mr Lister, along with other producers around the country and NPA staff featured repeatedly in the media, keeping the profile of perfect storm high, which undoubtedly played a role in Defra hosting a roundtable event to address the multiple issues, attended by two senior Defra Ministers – an unprecedented show of interest in the sector from the top of the Department.
"Since then, things have started to move in the right direction and I hope Defra will take seriously our claims of financial loss because some producers really have taken an absolute financial hiding on overweight pigs through no fault of their own," he said.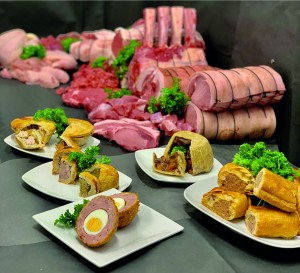 There might soon be an even bigger challenge. Mr Mutimer said it was inevitable something is 'coming down the track' on farrowing crates, possibly soon – and stressed the NPA would be 'on the front foot' doing everything it can to protect the indoor sector and ensure there is no repeat of the 1999 sow stall ban.
Farrowing crates protect pigs and staff and not enough research has been done to conclude that viable alternatives are available, he stressed.
"If there is going to be a modification to farrowing methods in this country, it must not be a knee-jerk reaction thrust onto the industry in a short period of time – we will work with Defra to come up with a sensible solution, but we must be given a good period of time in which to explore other methods of farrowing."
"We were told in the 1990s that there would be a premium for sows not kept in stalls and tethers. But we all know what happened then – the market collapsed, lots of foreign pork came in. We were left high and dry and 40% of the industry exited."
He cited more pressure on environmental issues, the opportunities for a previously unsupported sector in the new domestic agricultural policy, the need to develop new post-Brexit trading markets outside of China and the ever-present threat of animal welfare activists, as some of other key issues on the NPA's agenda.
He said the NPA was well positioned to continue fight the industry's corner on the vast range of topics it deals with on a weekly basis.
"The NPA is a very small organisation that can be very fleet of foot. We have got a small and very effective team, led by Zoe – it is my job and the job of the board and the Pig Industry Group (PIG) to support that team and give them guidance as to what we are actually experiencing," he said, adding that he was 'absolutely delighted' with the range of people on the PIG, from the allied and farming sector, following the recent elections.
"I am sure we are going to see some really big challenges – the pig industry has always been faced with challenges and it has always overcome them and often gone on from strength to strength," he said.
"In my 25 years on the farm, there have always been murmurings of doom and gloom ahead for the pig industry and some of them have come true, but I can say I have a thoroughly enjoyed my time and it has provided my business with successful income.
"You mustn't get too low when things are going badly wrong or too excited when things are going really well because they tend to change quickly."
This article was taken from the May issue of Pig World magazine which you can subscribe to here.