AHDB crunches the numbers from a range of retail data to reveal an optimistic outlook for pork sales.
Pig meat has proved to be a go-to in-home meal option during 2020, as we spent more time at home and cooked from scratch more often. Pig meat has seen significant retail volume growth every month since March 2020, and overall in the last 52 weeks, volumes have grown +8.3% (Kantar, 52 w/e 27 Dec 2020). This is an additional 79,000 tonnes of pig meat sold in 2020.
Processed pig meat contributed the most to uplifts, with sausages growing by 23.8K tonnes and bacon increasing by 19.1K tonnes. According to Kantar Usage, sausages and bacon have benefited from more in-home hot breakfast/lunch occasions, and while sliced cooked meats have grown at a slower pace due to the loss of takeout lunches, they have still seen strong volume uplifts of 9.5K tonnes over the last year.
Primary pork also saw growth for all cuts due to its affordability compared with other proteins – a significant factor for money-conscious shoppers. Fastest-growing cuts include belly, diced and ribs, as consumers experiment through scratch cooking. However, pork roasting contributed the most to growth of primary pork with volumes up 3.5K tonnes.
This growth in retail is welcomed due to the closure of eating-out establishments. During 2020, we estimate the eating-out market for pig meat saw volume decline by 54%. However, we predict the strong growth in retail, coupled with an increase in takeaway and delivery, has outweighed these losses, netting out at volumes being +1% at the end of 2020.
Pork performed well over Christmas
Christmas is an important occasion for pork, being 21% more likely to be bought in December compared with other months of the year. Coronavirus delivered a Christmas like no other and 2020 was the biggest ever Christmas for food retail, with food and drink sales, excluding alcohol, growing by £912m to £8.1bn (Kantar, 4 w/e 27 Dec 20). However, this was not enough to outweigh the losses we saw in the out-of-home market, which declined by £1.4bn.
Grocery
With grocery sales up 11.7% year-on-year, 2020 saw the strongest Christmas growth ever in retail – a stark contrast to the previous year when sales saw minimal growth. Online was the big winner, with an extra £695m spent in the four weeks to Christmas, benefiting those retailers with a strong online presence. The 'big Christmas shop' grew in size, with the average basket up £8.58 compared with the previous year. Consumers also shopped around less, in a continuation of shopping habits seen throughout 2020.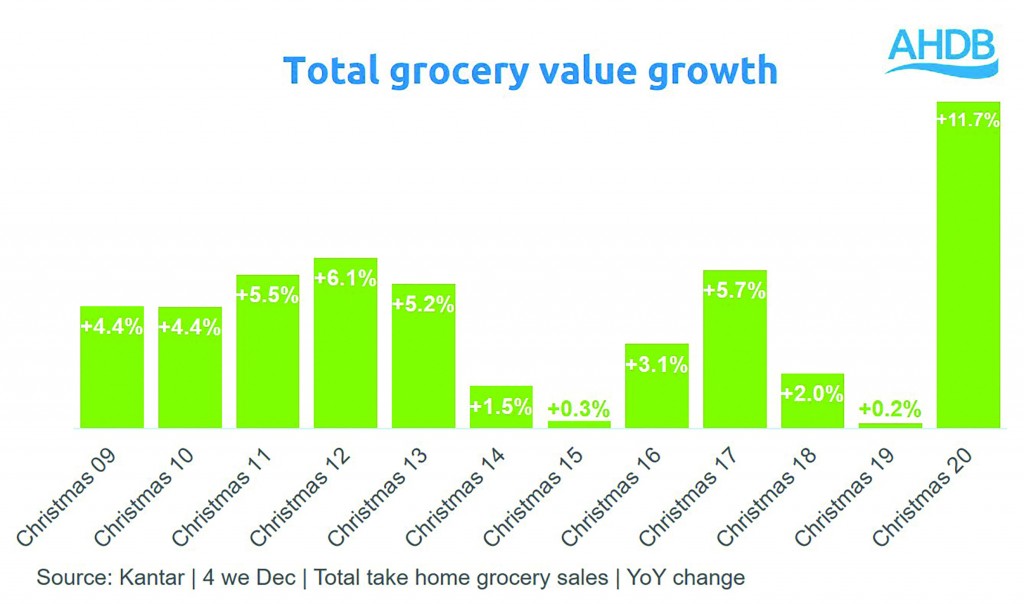 Meat, fish and poultry
Red meat enjoyed the best Christmas on record, outperforming both turkey and whole fish. Roasting joints and gammon saw an uplift of £62m in the two weeks leading up to Christmas compared with the average two weeks of 2020. All roasting joints saw volume growth, but gammon was bought by more households (26%) than any other Christmas cut. Turkey remained an important part of Christmas, being the second most popular protein, but more households adopted the trend of buying smaller birds and crowns.
With many Christmas gatherings this year being smaller than usual, it is no surprise that smaller cuts did particularly well across all proteins. Despite shoppers buying smaller joints, an increase in the number of households buying roasting joints meant we still saw volume increases across most proteins.

Pork roasting was the fastest-growing Christmas cut, up 25% on the year. New shoppers drove the increase in volumes. Leg roasting joints contributed the most to volume growth, but shoulder and loin also saw strong growth during December.
Processed pig meat also had a great Christmas, with volumes up 9.8%. Bacon contributed the most growth (+1.9K tonnes), followed by sausages (+1.3K tonnes). However, pigs in blankets struggled, with volumes declining 5%. Those consumers who had to have a last-minute smaller Christmas may have forgone the ready-made pigs in blankets and had home-made instead.
Outside of Christmas, sliced cooked meats also had a great December, up 12% on the year. Consumers are still eating more lunches at home – a meal where ham sandwiches are one of the most popular dishes.
There are several learnings from this year and opportunities for pig meat next Christmas. This year, customers broke with tradition and many switched to pork. As people look to return to a more traditional Christmas next year, reminding consumers of the great taste of red meat will help maintain momentum and keep the new tradition.
Shopping online has been a huge trend of 2020. How can meat make its online share equal to that of in-store? Retailers can't put meat right at the front of the store to attract people, but they can advertise on the homepages of their websites.
With many planning a bigger Christmas than usual in 2021, party foods can capitalise on additional social gatherings.
How does demand for pig meat look in 2021?
Despite entering 2021 in another national lockdown, we anticipate a return to some normality in the second half of the year.
Overall retail volumes for red meat, including pig meat, are not predicted to achieve volumes seen in 2020, which were bolstered by panic buying. However, as pork has a lower price point, this is likely to appeal to price-conscious consumers in the current economic situation. This will benefit retail volumes of pork, which we anticipate will continue to be higher than 2019 levels. Consumers opt for comfort food and traditional dishes during times of economic uncertainty; we have seen before that this leads to a boost for sausages and bacon.
During the second half of 2021, lockdown is expected to ease, and the eating-out market will start to reopen. However, foodservice is not predicted to fully recover to levels seen in 2019. This impacts pig meat more than other red meats as 13% of pig meat volumes typically go through this market (compared with 11% for beef and 7% for lamb). A big portion of pig meat sold out of home is through food-to-go, which will start to see a recovery but potentially not as fast as other parts of the market, as working from home becomes more of the norm for some. Foodservice volumes will benefit from increased takeaway and delivery participation. However, for pig meat, takeaway and delivery only account for 1% of foodservice volumes so increases in this area are not big enough to compensate for eating-out losses.
Growth in retail and takeaway volumes are not predicted to outweigh the losses in the foodservice market. As a result of these anticipated trends, total pig meat volumes for the full year 2021 are expected to be down -2% year-on-year, and when comparing with 2019, being a more typical year, volumes are down slightly at -1%.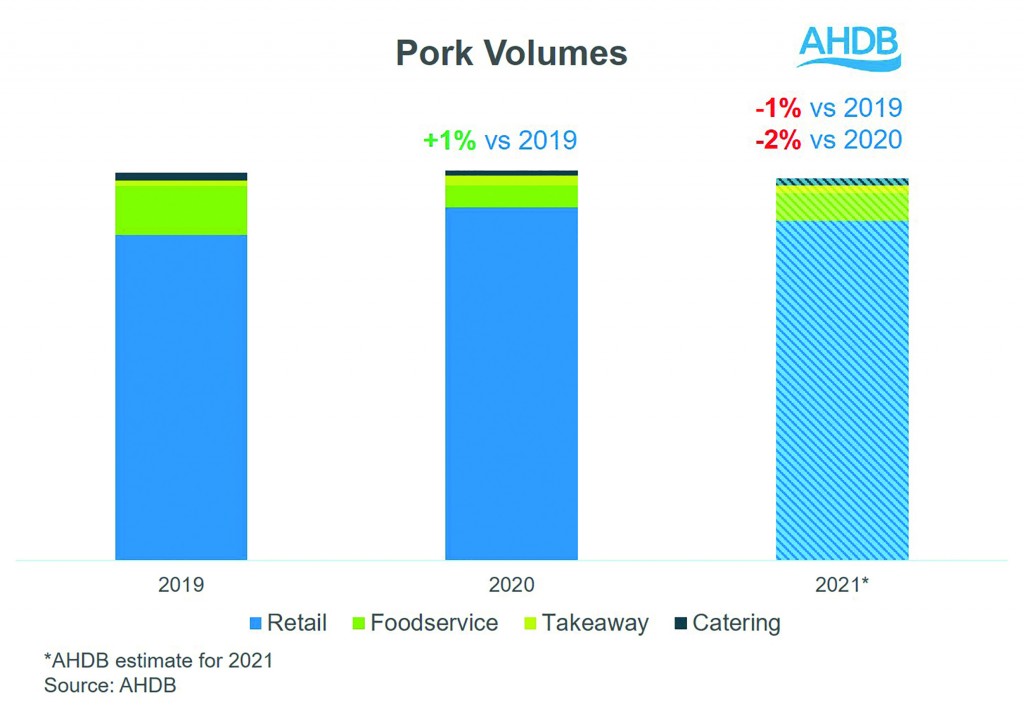 Opportunities for pig meat
Maintain affordability but ensure this is across the whole carcase to avoid balance issues. Continue to push versatile cuts such as pork shoulder and medallions, which AHDB is doing as part of the Love Pork campaign
Innovate pig meat in the food takeaway and delivery market. Consider how top dishes out-of-home could be transferred to being delivered instead
Address health concerns by communicating the health benefits of pork
In the longer term, look to maintain and build consumer trust, demonstrating where farming values (animal welfare, environmental stewardship and expertise) are shared with consumer sentiment
On AHDB's website, there is more information about the AHDB outlook scenario for pork and other sectors, as well as more retail and consumer insights.