It has been a busy two years for Meryl Ward.
She departs her role as chair of AHDB Pork's board reflecting on significant progress achieved during her time in charge, but also on what AHDB needs to do to deliver the vast potential wrapped up in its new three-year strategy.
As part of AHDB's main board, Meryl has played her part in overseeing the levy body's Change Management Programme, which, under the chairmanship of Sir Peter Kendall, has forged much closer working relations between the six sector boards. 'One AHDB' is the unofficial tagline.
She chaired the interim steering group for the new Agritech Centre for Innovation Excellence in Livestock (CIEL) and was at the helm during AHDB Pork's expanded export drive, the successful Pulled Pork campaign, publication of the first Real Welfare stakeholder's report, the launch of the electronic medicine database, (eMB-Pigs), new education and training initiatives and much more.
"There is a huge range of activities, with communication at the heart of everything," Meryl said when we met at Uncle Henry's farm shop, part of the family's farming business, in Lincolnshire.
"The new branding has led to much greater recognition of AHDB's work within the wider stakeholder community, but there is still much more to do.
"I think the breadth and depth of activities AHDB is involved in is quite poorly understood outside the organisation. Its work as the independent, evidence-based organisation is crucial at this point of agricultural change."
She is delighted with AHDB Pork's new three-year strategy, which outlines various priorities and actions within AHDB's over-arching vision across its six sectors.
Allaying some of the fears voiced within the pig sector about the 'One AHDB' project, she stressed that checks are in place to ensure levies paid by the pig sector benefit the pig sector, and that the pig board, 'and nobody else', is responsible for setting its own strategy, agreeing the activities and allocating the budget across them.
About Meryl
• Married to Steve. They farm more than 2,000 acres in North Lincolnshire
• The farm includes a 2,000-sow indoor pig herd, cereals, all of which go to the pigs, potatoes, sugar beet, oilseed rape and an anaerobic digester
• A retail business, Uncle Henry's Farm shop, sells produce from the farm and incorporates a butcher's, café and conference facilities
• Previously a BPEX board member (2003-2012) before becoming chair in 2015
• A co-founder and treasurer of the British Pig Industry Support Group in 1998
• David Black Award winner in 2010
• Awarded MBE in 2013 for the improvement of pig welfare
• Former member of the Farm Animal Welfare Council
• Chairs the Lincolnshire Rural Support Network.
But she added: "The bit that I am not so happy about is the criticism levelled at AHDB Pork that it is not seen as a leader in the new collaborative working approach. I thought that was unfair and I absolutely dispute it."
She pointed to her own 'cross-sector, collaborative' business and a CV that includes skills and education work and time on cross-sector industry bodies like the Farm Animal Welfare Committee. "Where collaboration adds value to the business, AHDB Pork is at the forefront of this way of working, but we also recognise that certain activities are best delivered as sector specific," she said.
Meryl acknowledged that she had 'completely failed to get AHDB to understand' her concerns in this area. "Pigs are a monogastric animal and we have a uniqueness that is partly about us being a very small, consolidated and unsupported industry.
"Relative to the value of the product, the pork levy is approximately three times the size of that paid by any other sector. Sixteen levy payers contribute half of the levy total, and the lack of subsidy has meant that the industry has had to respond rapidly to market signals.
"We are responsible for spending £9.5m of pork industry levy money and the staff must remain focused on the needs of our levy payers."
Which leads onto another concern with the 'One AHDB' concept – whether sufficient specialism will be retained within what is a relatively small pork team. In some areas, such as exports, market analysis and communications, there have been clear benefits as staff have shared expertise and knowledge with other experts in bigger teams.
"But in marketing, for example, we have ended up with a much smaller pork-specific team and it remains to be seen whether the method of bringing people in as the workload goes up continues to work effectively for pork," Meryl said.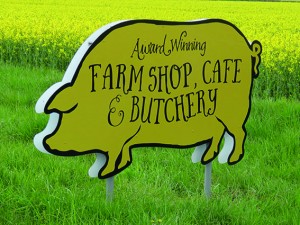 As part of the strategy, the board secured an extra £1m of marketing funding over the next three years. As we met, a submission had just gone into Defra for a campaign to promote new products and recipes for the lucrative mid-week market.
"We can't sit there and do nothing about falling demand," Meryl said. "Tackling the huge mid-week market is a really big challenge that requires pulling together the whole supply chain to reposition pork as a convenient healthy mid-week meal.
"We can't afford to be light in the promotional team. We need the best brains on it, we need to push it hard and we really need Defra to sign it off soon, so we can start in October. We are at a crunch point."
Meryl highlighted the 'incredibly successful' Pulled Pork campaign, along with the growth of Chinese exports, electronic movement licences and the introduction of isotope testing, which helped restore confidence in British meat post-horsegate, as prime examples of how the pork levy has delivered enormous value back into the industry.
"The challenge for the board now is to drive forward the next projects that, like these, will really deliver the big long-term returns for levy payers," she said.
"If there is one thing I would put my money on in the current strategy, it is developing a new carcase classification that reflects the real value of pork in the marketplace.
"If you combine this with an electronic ID and traceability system, the opportunity for improved eating quality and our pig hub data, such as the Real Welfare programme and electronic medicine records, you have the opportunity for much improved efficiency and a fantastic sales proposition."
Meryl said she decided to stand down at the end of March after one two-year term in order to restore some balance in her working life. So what next, now she's back in the ranks?
"It's been really enjoyable – I have loved it. I am gutted, actually. It was a dream job. But we have a thriving business here and the balance was wrong. I struggled with the volume of work at home as well. I'm really looking forward to getting back to the business and excited that we have now got our three children working with us.
"But my involvement in pig industry activities off-farm will not change, even though I don't have the formal AHDB role. I will still be out there trying to make a difference.
"I wish my successor all the very best and will make sure they have the best possible induction. I won't be treading on their toes, although I will always be there for support if they need me.
"I would also like to thank the members of the pork sector board for their independent thought, strategic oversight and hard work on behalf of the industry. We are extremely lucky in our pork industry to have many talented individuals who are prepared to contribute to AHDB committees and other industry bodies. They are the life-blood that keeps the organisations on track – AHDB would be foolish to lose those contacts."
Meryl had one final parting piece of wisdom for AHDB and its leadership team. She recalled a recent interview she did with two Nuffield scholars about her own business.
"I finished by saying it is the people that are most important. You can't do anything without the right people.
"They said that was exactly the conclusion a group of scholars had come to from their international travels, and one coined the phrase: 'Culture will always eat strategy for breakfast'.
"And that is what AHDB has to get to grips with. It has a fabulous strategy, but unless it gets the culture right, it will not deliver it to anything like its full potential and leverage the maximum out of that £66m of levy money."