You can still book your place for the first major industry event in more than 18 months.
Pigs Tomorrow, jointly organised by Pig World and AHDB, will take place at the Jurys Inn hotel, near Hinckley, in Leicestershire, on Tuesday and Wednesday, September 21 and 22.
The two-day conference will feature a dedicated International Outlook Conference on day one, including:
Victoria Prentis, Farming Minister
James Hamilton, Gira,
Nick Giordano,US National Pork Producers Council
Ash Gilman, Cranswick's head of agricultural strategy
Jonathan Eckley, AHDB's head of Asia Pacific.
Day two, the Innovation Conference, will feature sessions on some of the biggest topics of the day, including:
Farrowing Systems of the Future, featuring the NPA's Zoe Davies, ARM Building's Tim Miller and Lincolnshire producer Gareth Virgo
New Red Tractor standards, featuring RT's Georgina Crayford and Pigs Board chairman Stewart Houston
Meeting the environmental challenge, featuring the NPA's Lizzie Wilson, AHDB's James Holmes and Farmex director Hugh Crabtree
Pig health update from Eduardo Valazquez from sponsors, Ceva
What makes an award-winning business, with Charlie Thompson, from Bridge House Farm
Marketing update from AHDB's Angela Christison and Liam Byrne.
Rugby legend to provide after-dinner entertainment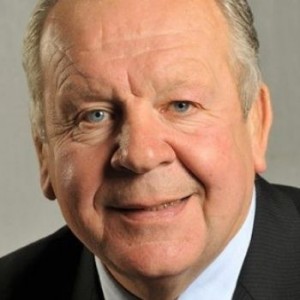 England rugby legend Sir Bill Beaumont will provide the after-dinner entertainment at the end of day one.
He famously captained England to their first Grand Slam win for 23 years in 1980, playing for England 34 times in all between 1975 and 1982, and led the British Lions to South Africa in the same year.
Sir Bill has enjoyed an equally illustrious career post-rugby, in television and the media, including being the longest serving team captain on BBC's 'A Question of Sport' with over 300 appearances, and as a rugby administrator. He was chairman of the Rugby Football Union from 2012 to 2016 and has been chairman of World Rugby since July 2016.
Meanwhile, Sir Bill is managing director of the family textile business in Lancashire and was awarded the Queen's Export Award in 1996. He also awarded the OBE in 2008 and was knighted in 2019.
Live event
Pig World publisher Simon Lewis said: "We are delighted to finally be able to welcome people to a live event.
"We have got a great of line of high calibre speakers discussing some of the industry's hottest topics, alongside trade stands, a gala dinner and plenty of opportunities to let your hair down. We have had a good response so far, but there are still tickets available – it is an event not to be missed and we would love to see you there!"
Angela Christison, AHDBs sector strategy director for pork, who will be chairing the first day of the conference said: "This year's event is going to be very special; the industry really needs to come together in these challenging times.
"There is such a lot to update on including developments in the global pig trade, changes in our home market and potential new production requirements. It's a timely opportunity to understand, question and discuss many factors that will impact the future of the industry."
PIGS TOMORROW app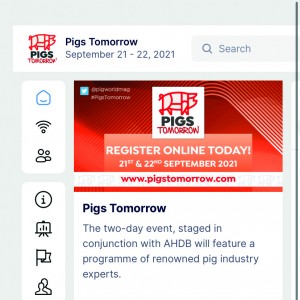 In order to complete registration, please download the Pigs Tomorrow mobile app, which stores all the information for the conference in one easy-to-use system.
Following registration online you will receive an email containing a video demonstrating how to download and register the app, as well as information on how to utilise it.
If you have registered but haven't received an email, please contact: [email protected]