Rabobank's latest report on global pork trade has shown that competition between exporters has escalated and is likely to continue to do so.
This is likely to lead to a weakening of Europe's position in the market, while Brazil and the US are expected to benefit. Animal welfare and sustainability requirements will increase alongside this, and countries implementing effective animal health measures will succeed. Global pork consumption looks set for growth until 2030.
Disease challenges
Rabobank report that the global picture continues to show disease pressure affecting trade, although trade policies and mitigation efforts could slow the effect. With vaccines and gene editing testing ongoing, some producers could soon see results. Eva Gocsik, senior analyst – animal protein, at Rabobank, said: "African swine fever (ASF) continues to impact importing countries in Asia directly and European exporters indirectly through trade restrictions, reshaping global trade patterns."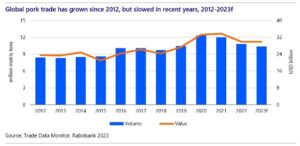 Country-specfic challenges
Brazil has seen its competitive edge increase due to cost efficiency through changes in shopping, labour and pig production costs. Ms Gocsik said: "Brazil has benefited from recent developments in global markets in this regard, and it's emerging as a remarkable player. Despite an increase in production costs, Brazil maintains its production cost advantage over European exporters in particular." Brazil has secured 24% of Chinese pork imports, making it China's second largest supplier.
The EU-27+UK market is expecting to see 2023 production decline by 8% compared to 2022. The rise in production costs as well as costs associated with increasing sustainability and welfare standards is thought to be the cause.
The US and Canada continue to be low-cost pork exporters, with access to affordable feed and key markets. Sustainability initiatives may increase the value of the meat but exports will remain central to the global trade, particularly within the North American bloc.
China has seen pork production return to pre-ASF levels in 2022 and annual pork imports are expected to land around 2.5m-3m metric tons. Southeast Asian countries like Vietnam and the Philippines remain crucial importers, despite their increasing self-sufficiency. However, competition among exporters is expected to increase as the market gets smaller.
Growing pork consumption
"Despite disruptions, global pork consumption is set to grow through 2030, with a projected 0.7% compound annual growth rate from 2022 to 2030," said Ms Gocsik. Easing inflationary pressures and further recovery from ASF in Southeast Asia and Asia are expected to support consumption recovery in 2024. In addition, population growth and economic development will drive consumption growth in the longer run in many parts of the world, such as Vietnam, the Philippines, Brazil, Mexico, and China. The ongoing decline in consumption in Europe will be offset by growth in other parts of the world.