Zoetis has launched a new live vaccine for Porcine Reproductive and Respiratory Syndrome (PRRS) in most European Union countries.
Suvaxyn PRRS MLV contains a modified live European PRRS virus strain, grown in a unique cell line for  whole herd protection against PRRS.
The company said the product offers piglet vaccination from the first day of age, securing immunity before the risk period which lasts until the end of the fattening. Pig protection is established 28 days after vaccination, and lasts for 26 weeks after vaccination in fattening pigs, and 16 weeks after vaccination in gilts and sows. The vaccine reduces viremia and nasal shedding of the virus.
The product was approved by the European Commission in August 2017, following a comprehensive program of clinical studies reviewed by the European Medicines Agency (EMA), which confirmed its efficacy. The European public assessment report is available here.
Common side effects include a short-lived increase in body temperature (0.5°C on average and up to 1.4°C individually) within four days of vaccination, and, in sows, local reactions in the form of swellings which resolve without treatment within five to 32 days.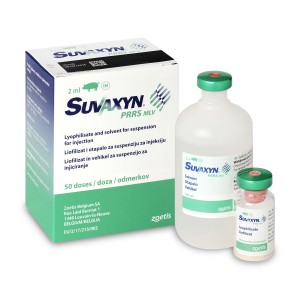 Monica Balasch, Associate Director, Global Biologicals Development, for Zoetis, said: "In Europe, PRRS is known for severe impacts on reproduction including lowering birth rates, increasing abortion, stillbirth, mummified, as well as weak live-born piglets, and death.
"In clinical studies, we found excellent results vaccinating pigs from the first day of age. It is safe to be used as the earliest protection in piglets, and to protect the whole herd against PRRS, as it is also safe for use in gilts and sows. The new vaccine represents a flexible alternative to allow for new customised PRRS control programs developed by veterinarians for producers."
Alvaro Aldaz, Director, Commercial Development and Innovation, Swine, for Zoetis, said the vaccine had been developed using a 'very innovative' vaccine technology which brings swine veterinarians a new advanced PRRS control tool. "As well reducing viremia, nasal shedding and lung lesions in fattening pigs, the vaccine has been proven to overcome maternal immunity, which increases the efficacy of the vaccine when given to piglets during the first days of life," he said.
PRRS affects pig industries around the world, causes reproductive losses, lowered farrowing (birth) rates, increase in abortions, stillbirth, mummified fetal pigs, as well as weak live-born piglets, and deaths. It also causes respiratory disease in pigs, impacting growth performance and is often complicated with other bacterial and viral co-infections.