May saw EU pig meat production fall by 4% compared to the previous year, to just over 1.9 million tonnes, according to the latest Eurostat figures.
Slaughter was also down 4% on the month last year, to 21.0 million head, indicating broadly stable carcase weights.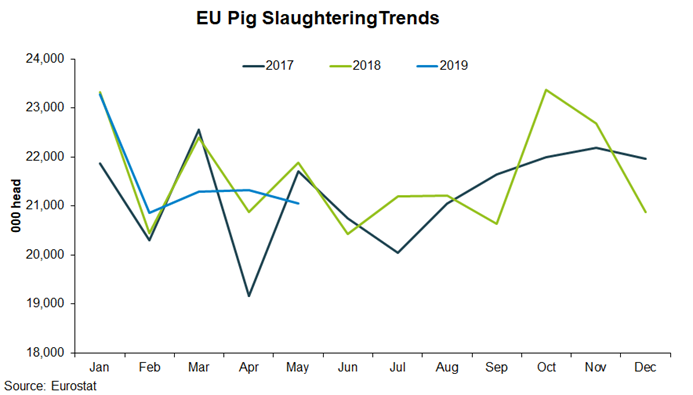 This decrease was particularly influenced by a marked reduction in production reported from Denmark (-30% year-on-year). Reported Danish production does tend to be volatile, perhaps indicating variation in the reporting period between years.
The rest of the country breakdowns show a more mixed picture for pig meat production during May. Poland also reported a large year-on-year decline of 10%. In the EU's largest producer, Germany, production also remained lower in the month, with volumes falling by 1% onthe year to 429,000 tonnes. Germany actually had fewer bank holidays in May this year, so on a working day basis the decline would be larger.
AHDB analyst Jennie Tanner said: "In contrast, in the EU's second-largest pig meat producer, Spain, production for May rose slightly compared with the previous year. A small increase was also reported from France.
"For the year to date, EU pig meat production was down 1% compared to the same period in 2018 at just under 10.1 tonnes. The number of pigs slaughtered was also down 1% at 107.8m head, again showing stability in the average carcase weight."
Year-on-year, production in Germany is down 3% to 2.2m tonnes. Year-on-year production in Spain is 3% higher than the same period last year, making up for some of the drop in German production.