A leading wholesaler has apologised to a Suffolk farmer's wife after she exposed a clear case of misleading labelling.
Joyce Cooper was shopping for a large joint of pork for the Christmas table in the Makro store in Ipswich, in December, when she noticed the joints had been labelled twice.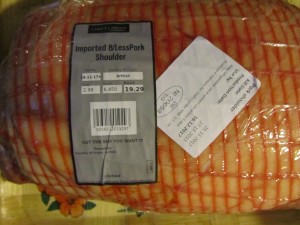 The original 'white' label clearly stated: 'Produced in Germany', but a second grey label, which Mrs Cooper believed was intended to cover over the white one, described the origin as 'British'.
Asked to clarify where the meat came from, the meat department manager confirmed it was German, but said Makro 'always re-labels its meat'. After being told this was misleading, he said he 'ought to take them off', Mrs Cooper said.
The mislabelled products were still on sale in the store a week later, however, although a visit to the Norwich Makro store showed the German pork was labelled correctly there.
Having purchased and photographed a mislabelled product as evidence, Mrs Cooper contacted Suffolk Trading Standards, which carried out an investigation.
Operator forgot
It found that new label printing scales had recently been installed in the butchery, with the section for country of origin set to British.
The operator 'forgot' to change the country of origin to Germany, a problem that was rectified after being brought to the store's attention, the investigation found.
By the time of the store visit, all the 'imported b/less pork shoulder' was correctly labelled as German on both the EU and Makro labels, while other products were also compliant.
The Trading Standards officer requested that the store makes final checks on its labels to ensure no country of origin clash happens again and asked it to pass this information up to the head office for immediate dissemination to all stores and to ensure staff are properly trained.
The officer described the mislabelling as a 'mistake' and said steps had been taken to ensure there is no repeat.
After being contacted by Pig World, a Makro spokesperson said: "Thank you for drawing this to our attention and we'd like to apologise to the customer, as this is an error. The grey label is the scale weight and price label and it should have been printed with the correct traceability information from the scales.
"Please be assured, it is not designed to cover the original label, as the two should bear the same origin information. We have picked up directly with Makro Ipswich to ensure this does not happen again."
But Mrs Cooper was not entirely satisfied, pointing out that it had taken a more than a week for the labelling to be corrected after she had raised it with the store.
If you see evidence of misleading labelling, please take a photograph, inform the store and let us – and Trading Standards – know.