The British Pig and Poultry Fair is the place to find new and exciting products that will help your business run better and more efficiently.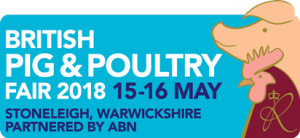 This year, there will be more than 360 exhibitors at the Fair, which takes place at Stoneleigh in May, showcasing a wide range of products covering all aspects of pig production. These will include a number of new products, which can be easily located in the Fair's New Product Innovation Trail.
"This was a new initiative for the 2016 Fair and worked well for visitors, so we will once again be promoting the innovation trail directly to producers to help them find what is new and plan their day," event organiser Alice Bell said.
"The Pig and Poultry Fair represents a unique opportunity to catch up on the latest technology and innovations coming onto the marketplace.
"Whatever your part in the pig sector, you can pretty much guarantee there will be something there for you!"
Consumer research taken from the 2016 event highlighted how much producers value this aspect of the Fair. It showed:
The top reason for visiting was to see new products (74%), followed by speaking to suppliers and exhibitors (65%) and networking (55%)
64% planned to make a purchase and 79% planned to make changes to their business as a result of their visit
92% of visitors rated the Fair as valuable for their business.
Fair exhibitors with a new product still have time to be included on the innovation trail. This can be done by submitting new product information in section 6 of the catalogue entry form in the online exhibitor manual.
Ms Bell added: "Entering your product into the New Product Innovation Trail is a great way to raise awareness to Fair visitors of the new products and services you have available to them."
You can see examples of some of the new products that will be on display in the April edition of Pig World. 
Pig World New Product Award 
Pig World will again be presenting an award to the best new pig product innovation on display at the Fair. To enter the competition, won in 2016 by Rattlerow's groundbreaking Aardvark Farrowing Hut, all you need to do is tick the box on the new product entry form. Our judges will pick the winner at the Fair.
Pig World publisher Simon Lewis said: "We are big believers in innovation and this award recognises those delivering new and exciting technology for the pig sector."
About the Fair 
The British Pig and Poultry Fair, a Royal Agricultural Society of England event, partnered by ABN, takes place on May 15 and 16 at Stoneleigh Park, in Warwickshire.
The event is free to attend, but you need to register to gain entry, which
is quick and easy via the website: www.pigandpoultry.org.uk