US exports of pork have remained fairly stable so far this year, at around 25,000 tonnes per week. However, in early October, USDA data shows weekly exports rocketing to over eight times this at 211,000 tonnes. This is the highest weekly exported since July 2014.
These figures should be treated with some caution. The figures represent the volumes of product reported by US exporters in that week. However, USDA revealed that the high figures reported, in week ending October 10, included product that was actually shipped in previous weeks.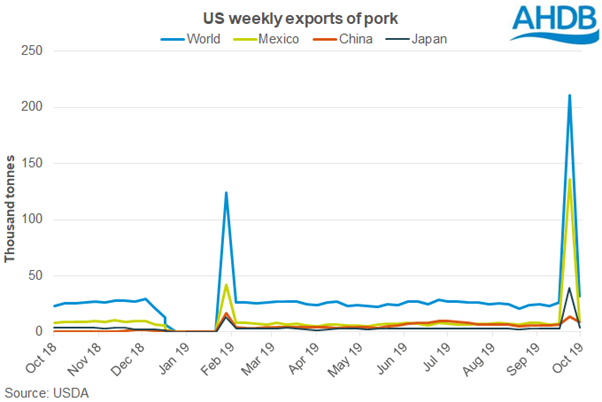 Production this year has continued to grow, which is likely a reflection of an expanding herd and improved sow productivity. In the year to September, production totalled 9.1 million tonnes, 5% more than the same period last year. Additionally, stocks of pork in cold storage recorded a decline in both September and October, traditionally stock building months.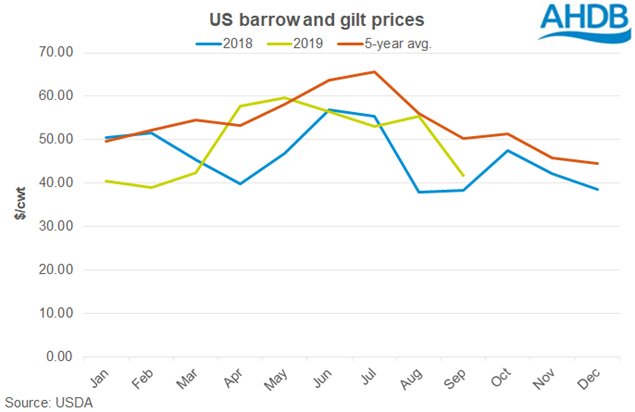 Ample supplies have continued to weigh down hog prices as finished pig prices continue to track below the five-year average. Futures markets have continued to remain volatile.
Exports of pig meat (including offal) have shown some recovery following the slow start to the year. In July and August, shipments were up 30% and 21% respectively. Exports to Mexico, the largest destination for US pig meat, have returned to their pre-tariff levels, following the removal of the retaliatory tariffs in May.
Shipments to China have increased by five-fold on the year. Last month, the Chinese government announced that it would allow a set volume of US pork to enter the country without the additional import tariffs of up to 72.5%. However, it is unclear what this volume is and when it would be allowed to enter the nation.
Even with the tariffs in place, domestic Chinese pig prices have firmed to the extent that some US product is now competitive.
Exports to the rest of the world actually decreased in August, as shipments to Japan (-19%) and Canada (-11%) declined on the year.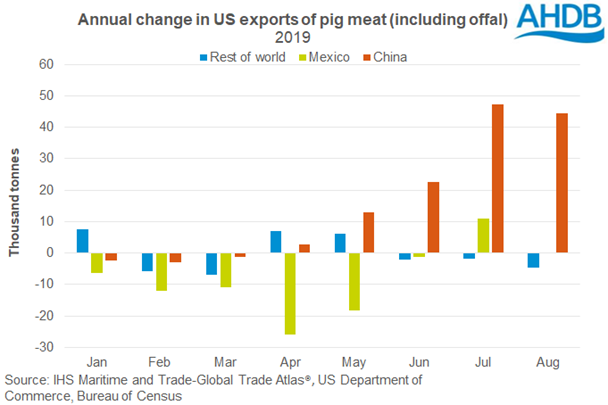 AHDB analyst Felicity Rusk said: "With production expected to increase to 13 million tonnes next year, the US is in a favourable position to increase exports. That could be to China and other nations affected by the outbreak of African swine fever, or to fill secondary demand as other major exports direct supplies into China."