During July, exports of fresh/frozen pork fell by 10% when compared to a year earlier, to total 16,400 tonnes, with a decline in value of 9%, to £22.3 million.
Exports to China are down 17% (-575 tonnes) in July 2018 compared to the previous year. Trade with Denmark is also notably lower in July, down 40% (-1,200 tonnes) to total 1,800 tonnes. However, exports to some countries have shown positive changes in trade.
Deliveries to the high value US market increased 82% in July to total 950 tonnes. Meanwhile, shipments to Sweden also recorded strong growth, totalling 800 tonnes, a 146% (+477 tonnes) increase on the year.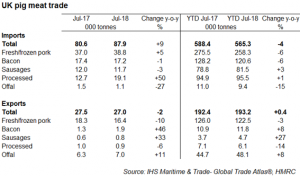 In contrast to the fresh/frozen pork trade, data from HMRC reports that offal exports rose by 11% in July compared with the year earlier, totalling 7,000 tonnes. China, the largest market for UK offal exports, commanding a 48% share of UK offal exports, increased shipments during July, up 32% to total 3,340 tonnes.
Chinese tariffs on US pig meat products, along with the strengthening of the US dollar against the Yuan in recent months, is likely to have reduced the competitiveness of US products in Chinese markets. Overall the value of offal to China totalled £3m, a 48% rise compared to July 2017.
During July, HMRC reported imports of fresh/frozen pork to be up by 5% (+1,800 tonnes) on the year, totalling 38,800 tonnes. Shipments from Germany and Spain both increased significantly, by 47% (+3,000 tonnes) and 27% (+800 tonnes) respectively.
Shipments from Denmark, the largest exporter of pork into the UK, decreased by 10% (-1,300 tonnes) during July to total 12,000 tonnes. Average import prices fell by 13% on year earlier levels in the month to £1.83/kg; this resulted in the value of imports falling by 8% to total £71m.
EU competes on price as pork exports grow in July
In a continuation of the trend recorded in June, EU exports of fresh and frozen pork rose by 3% in July compared with a year earlier, to 164,000 tonnes, according to data from Eurostat. However, export prices across the region remained around 14% lower than a year ago, leading to the value of July exports falling by 9% year-on-year to €359 million.
Pork exports to the EU's largest market by volume, China, actually fell by 5% year-on-year (2,500 tonnes) in July, returning to the recent trend of decline following a brief upturn in June. Exports to Japan, the EU's leading export market by value, remained stable at 27,000 tonnes, although falling export prices to Japan eroded the value by 7% year-on-year. Pork shipments to Hong Kong also fell by 44% (4,500 tonnes) on the year.
The overall volume growth in EU exports was attributable to South Korea, the Philippines and notably Ukraine, importing an additional 15%, 24% and 400% respectively. Exports to Ukraine have grown significantly over the past year to 3,700 tonnes in July, making it the eighth largest destination for EU pork in the month.
The decline in EU pig offal exports slowed in July, falling 1% on 2017 to 100,000 tonnes. Shipments to Hong Kong continued to fall (-7,600 tonnes), although this was offset by trade with Vietnam (+3,300 tonnes), the Philippines (+1,900 tonnes) and a number of other smaller markets, particularly in Africa.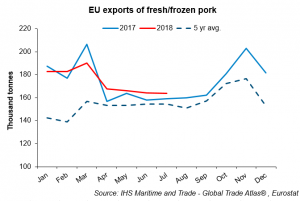 Year to date (January – July) exports of fresh/frozen pork are running at around the same level as in 2017, although remaining above the five year average for this period, at 1.22 million tonnes. However, export prices are 9% lower than the same period last year, meaning value is down by 8% at €2.76bn.
The value of trade to China is down by 19%, and in the year so far, it is around half what it was two years ago. This is largely due to the modernisation of pig production and the herd in China, which has led to increasing domestic supply. However, with African Swine Fever (ASF) now discovered in around twenty sites, at least some of this supply could be under threat, depending on how the outbreak is managed.
2019 US hog contracts are well supported by the news, despite increased tariffs being in place and the US not necessarily being first in line to increase shipments to China. Exporters in the EU may be in a better position to replace some of this volume, as long as ASF does not become an issue closer to home.