The UK's pork export market performed well in August, with shipments of fresh/frozen pork up 17% on the year, at 21,300 tonnes.
Average export prices were considerably higher (27%) and, as a result, the overall export value of pork reached £34.4 million, nearly 50% more than last August.
Unsurprisingly, the growth was mainly driven by increase in shipments to China. The outbreak of African swine fever continues to support demand for overseas product. In August, UK pork shipments to China were nearly double that of the previous year.
Taiwan is also emerging as an important market for UK pork exports, having achieved access last year – over 400 tonnes was shipped in August alone.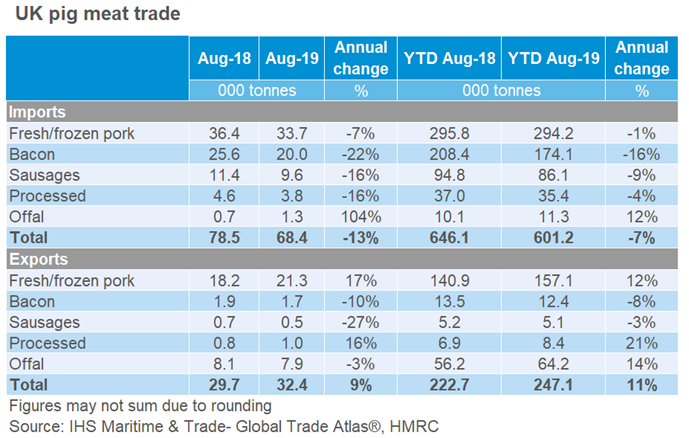 At 33,700 tonnes, UK imports of fresh/frozen pork in August were 7% lower than in 2018 Shipments from individual suppliers were mixed; imports from Denmark were down by over 15% (-1,900 tonnes) but Ireland and some smaller suppliers increased trade.
Rising prices in the EU and a weaker sterling: euro exchange rate meant the average import prices were up by 16% on the year. Therefore, the total value of supplies was 8% higher than last year, at £73.3m.
AHDB analyst Felicity Rusk said: "Imports increased earlier in the year, likely due to stockpiling ahead of the original March Brexit deadline. Though another Brexit deadline is just around the corner, it seems unlikely there will be a similar uplift in imports this time. Prices are much higher than at the start of the year, particularly in Europe.
"High prices on the Chinese market also mean this is an increasingly significant draw for European pork."