Supply continued to be extremely tight with many producers scraping around to find sufficient to cover commitments, according to this week's Pig Marketing Summary from Thames Valley Cambac.
The Summary reported that demand was very good although a couple of processors chose to instigate a short week in advance of the Bank Holiday.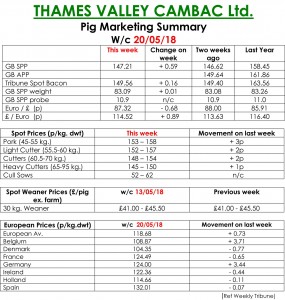 For week commencing May 20, prices improved through the upward movement of SPP, up 0.59p/kg to 147.21, but all contract contributions stood on.
The fresh meat market was in buoyant mood, desperate to source a good number of cutters possibly in anticipation of decent barbecue trade for the forthcoming Bank Holiday.
Prices generally improved by a couple of pence. The cull sow market saw decent demand leading to a strong stand on price. In Europe, the impassé between processors and producers in Germany finally gave way, and prices improved five cents. This was mirrored by Belgium, which tracks very closely to the German market. All quotes in sterling were tempered, however, by a weaker Euro, which ended the week down 0.68p/kg at 87.32p.
Demand was steady and curtailed in some cases by lack of realistically priced straw. The demand for straw from straw burning power stations is putting a great strain on a finite resource, the Pig Marketing Summary reported.
Supply of both 7kgs weaners and 30kg stores continued to be plentiful. The prices announced by the AHDB saw the weighted average for a 30kg pig fall by £5.29 to £47.50 and the weighted average for a 7kg rise by 26p to £37.64.