This week's Slaughter Pig Marketing Summary, from Thames Valley Cambac, reported that trade followed the trend of recent weeks, with odd factory breakdowns and steady demand – not unusual for January.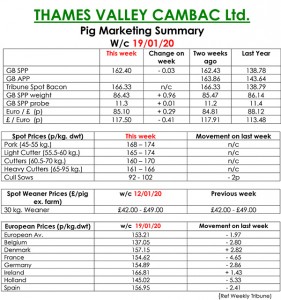 Some of the majors cut kills again, but the slack was gathered up by others. This led to numbers being all square by the end of the day with very little rolled. Anecdotal evidence suggests a ramping up of exports to China again after a lull of 2 or 3 weeks.
All contract contributions stood on, and with a virtually static SPP, contract prices remained similar. Supplies were little changed but weights are starting to edge up again. Indeed, the latest SPP sample quotes the highest weekly weight ever at 86.43kg.
The fresh meat market remained very quiet, with little demand emanating from the high street, but prices were stand on. The cull sow price eased back again, under pressure from continued price falls in Germany- the threat of ASF continuing to have an adverse effect on domestic trade.
In Europe, the German woes continued the affect neighbouring markets with heavy falls in all quoted countries with the exception of the resilient Danes and Irish. Prices quotes in sterling were enhanced however by a stronger Euro that ended the week up 0.29p at 85.10p.
The Weaner Marketing Summary, for week commencing January 12, reported that demand continued to be dogged by a lack of decent fattening accommodation, and hence little spark in the market.
The prices announced by the AHDB saw no quote given for a 30kg store pig, and the weighted average for a 7kg weaner fall by £1.75 to £41.26.