The latest June Agricultural Survey figures, published by Defra, recorded stability in the English female pig breeding herd, at 327,000 head.
This seems reasonable, as, despite recent improvements to profitability, producers went through a more difficult period in late 2018. High production costs have probably been prohibitive for expansion plans.
Despite this, AHDB is still anticipating a small increase in the UK herd overall. Reports indicate that there is expansion underway from the integrated outdoor sector in other regions of the UK.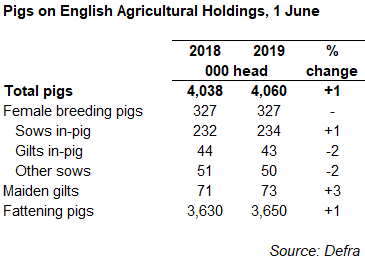 AHDB senior analyst Bethan Wilkins said: "The latest figures also could suggest English producers are now becoming more willing to invest in expansion. Although in-pig gilts were down by 2%, sows in-pig increased by 1% and maiden gilts were 3% higher year-on-year. Some optimism about the outlook, perhaps inspired by the situation in China, maybe influencing producer intentions in the near future.'
The total number of pigs in England was about 1% higher compared with June 2018, at 4.1 million head. However, these numbers should be viewed with caution, as trends are not always reflected in subsequent slaughter levels. Last year's figure was perhaps a little high, given slaughter levels at the end of 2018.
Ms Wilkins added: "Despite the uncertainty around the pig census results, we also believe pig numbers to be on an upward trend. Although there were some challenges to productivity last year, the latest data indicates the herd has recovered and is now improving again. This should push the pig herd to higher levels."