Last week, AHDB Pork established that the volume of pig meat that could relatively easily be shipped to China falls short of the supply gap likely to open up this year. This week, the organisation is discussing how Chinese consumption of pork and other meats may be affected as a result.
Beth Wilkins, a market intelligence analyst at AHDB, said: "It seems likely there will be less pork available for consumption on the Chinese market this year. Even if pig meat imports pick up by 50% compared to 2018, returning to around 3 million tonnes, a 5% fall in production would still leave a supply gap of around 1.5 million tonnes. Some reports suggest production could fall even more sharply.
"Chinese pig meat consumption is therefore expected to decline this year. Consumption has already been under pressure in recent years, influenced by high domestic prices experienced around 2016 when production dropped due to industry restructuring. With prices likely to return to these highs if supply shortages start to develop, consumption can consequently be expected to fall. A 3% fall in consumption at a national level would be equivalent to the supply gap estimated above."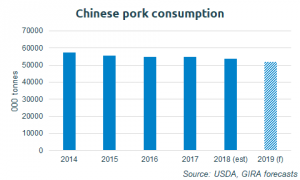 On top of this, reports suggest that urban consumers are already starting to avoid pork due to safety concerns.
Ms Wilkins added: "African Swine Fever poses no real risk to human health, however Chinese consumers are particularly cautious about food safety due to a number of previous food scares. It is difficult to anticipate how much this might impact demand, but it's likely this could limit the potential pork import opportunities China presents this year. There may be longer-term concerns too, with the risk that consumers might permanently turn away from pork to alternative proteins, stunting the potential for the market in the future.
"Of course, if Chinese consumers increasingly substitute pork with other meats, there will be growing opportunities for other meat suppliers. Chicken is likely to be the primary substitute, as it is most similar in terms of product and price to pork. Reports suggest that chicken prices have already risen since ASF first broke out in China. Within wealthier, urban areas, some consumers may also switch to beef and sheep meat, providing opportunities for suppliers of the other red meats."