The UK's pork export market performed strongly in May, with fresh/frozen pork shipments up 31% on a year earlier, at 21,200 tonnes. This was the highest figure for May based on records going back to 1997.
Average export prices were also a little higher, so export value was up by just over a third, at £31.5 million. The growth was driven by shipments to China, which more than doubled compared to a year earlier, at 7,200 tonnes. This is unsurprising given the ongoing African Swine Fever crisis in China.
There were also smaller increases to most other key trading partners, reflecting the relative price competitiveness of UK pork compared to product from other EU exporters.
UK offal exports, on the other hand, declined by 4% on May 2018. Trade with individual countries was mixed, as can be seen below: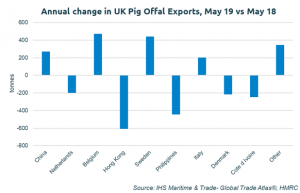 AHDB analyst Bethan Wilkins said: "At 32,600 tonnes, fresh/frozen pork imports in May were 16% lower than last year. There were lower imports from nearly all suppliers, but particularly Denmark (-18% or -2,300 tonnes). With rising EU pig prices and a falling pound, average import prices were 15% higher.
"The total value of supplies was therefore only 3% lower at £71.5 million. The poor competitiveness of imported product, and higher imports earlier in the year due to Brexit stockpiling, likely subdued import demand."