AHDB said its latest estimates show that pig production costs in the second quarter of 2019 have improved.
It said the average cost of production stood at 148p/kg (£124/head). This was over 9p/kg lower than the previous quarter and 2p/kg lower than the same time a year ago.
Unsurprisingly, feed prices were the main driver of the reduction in production costs. Feed costs were estimated at 88p/kg for Q2 2019, 8p/kg less than in the previous quarter.
While finished pig prices were considerably higher than the previous quarter (+5p), they still remained below the same point last year. During Q2, the EU-spec APP averaged 148p/kg. As such, producers were on average breaking even. This follows 9 months of producers being in a loss-making position.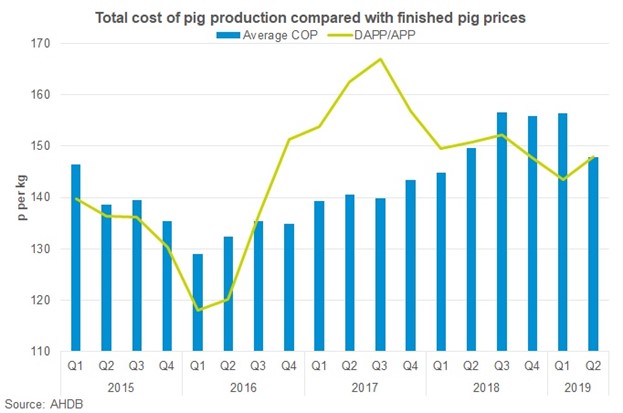 AHDB analyst Felicity Rusk said: "Looking ahead to the rest of the year, finished pig prices have lacked direction for several weeks now. However, there is optimism as we head towards the festive period. Meanwhile, feed prices have declined in recent months. With plentiful supplies of wheat, barley and soyabeans, feed costs are likely to remain at a lower level. Therefore, we could see some improvement in margins in the future.
"However, Brexit is just six weeks away. With no further detail on how the UK will be trading with the EU and the rest of the world, it is difficult to look ahead with any clarity."