In contrast to the latter half of 2017, the new year got off to a slow start for the pork retail market.
Fresh/frozen pork sales volumes for the 12 weeks ended 28 January recorded a marginal decline on year earlier levels, driven by falling sales volumes during the final 4 weeks of the period. Nonetheless, with rising retail prices, the value of the market was still 3% higher year-on-year.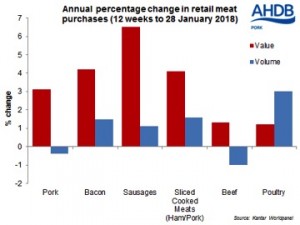 The other red meats also recorded declining sales volumes across the same period. However, fresh/frozen poultry sales increased 3% on the year. In contrast to the other meats, poultry prices were 2% lower than year earlier levels, which may have attracted shoppers.
Nonetheless, processed pork products recorded a more positive performance in the 12 weeks ended 28 January. Bacon and ham sales volumes both increased 2% year-on-year, and sausages were up 1%. With rising retail prices, value growth was even stronger at 4% and 7% respectively. Growth in these categories compensated for the decline in fresh pork, meaning total pig meat sales volumes were up just over 1% on 2017 levels during the period. The value of the market overall was 5% higher.