In the 12 weeks ending 25 March, retail sales volumes of fresh/frozen pork have declined by 2.5% year-on-year, according to the latest data from Kantar Worldpanel.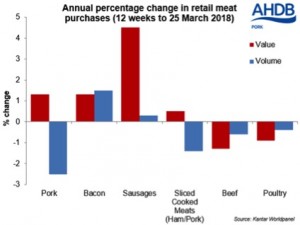 Shelf price is likely influencing consumers. In the 12 weeks ending 25 March the cuts with the highest average price increases (belly, loin roasting and shoulder roasting joints) also all recorded the largest declines in volumes sold. Conversely leg roasting joints, which recorded a 16% decline in average price, recorded a 35% increase in volume sold.
The performance of processed pork during the 12-week period was mixed. Bacon remained steady on the year in terms of average price, and recorded a 1.5% increase in volumes sold. Also, while pork sausages recorded a 4% rise in average price, volumes sold remained steady. Sales of ham were down 1.5%, with the average price rising by 2%. Altogether, this meant total pig meat sales during the period actually remained just ahead (+0.5%) of year earlier levels, while total value grew by almost 3% driven by an increase in average retail prices.